Cobb disappointed with Rays' season results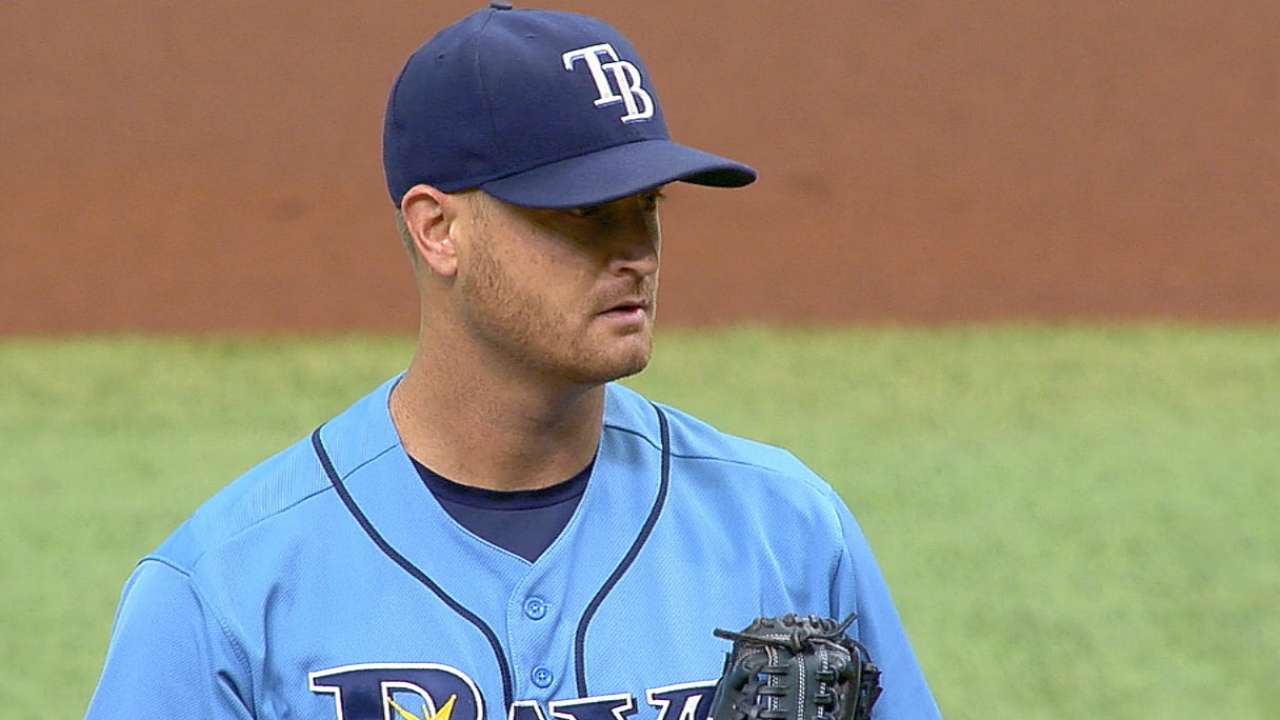 ST. PETERSBURG -- For Alex Cobb, the reality began to sink in earlier this homestand. The rest of the month, he'll be starting in games without any real postseason implications -- for the Rays, at least.
Tampa Bay is still mathematically alive in the American League playoff picture, but the club entered Thursday night's game with a 67-73 record and a slim shot of reaching the postseason for the fifth time in seven years. The Rays have built their successful model around playing meaningful games in September, and for all but a few games in 2009 and '12, they've done exactly that.
"It's never been this way, so yeah, it feels extremely weird," said Cobb, who starts Friday night's series opener against the Orioles at Tropicana Field. "Seeing guys getting called up, I remember when I was getting called up ... the excitement that was going on in September, that's been a part of this organization ever since I've really been here. I kind of feel bad for the guys that are getting called up and they don't get to experience how much excitement September can bring. I guess we've been spoiled in that way, because a lot of guys don't understand that. A lot of guys haven't even made the playoffs in their career.
"It's weird. It's the first time I've dealt with it. It's a terrible feeling, which is good. You want guys to be upset about this and not let it happen next year."
Throughout the season, there was a sense in the clubhouse that the Rays would turn everything around, that they would bounce back from 18 games below .500 and be just as relevant as they have been every year since 2008. And they did, to a certain extent, putting together a 37-19 stretch from June 11 to Aug. 15 that put them back at .500 and renewed their hopes.
Since then, they've gone 6-12 entering Thursday.
"I felt like that could be the turning point for us, and we just never kept the ball rolling," Cobb said. "Just kind of dudded out on us. It's weird. It's a deflating feeling."
Rays manager Joe Maddon said he appreciated Cobb's honesty, but claimed he avoids looking at the standings, not wanting their position to affect his preparation for each day's game.
"From my perspective, my way of dealing with all this is focus on today, try to win tonight's game. After you've done that, try to win tomorrow night's game," Maddon said. "That's how we got back to .500. I know the math is horrific, if there's any math at all, but I'm just worried about winning tonight's game."
Adam Berry is a reporter for MLB.com. Follow him on Twitter at @adamdberry. This story was not subject to the approval of Major League Baseball or its clubs.