Despite giving up run, Geltz impresses Maddon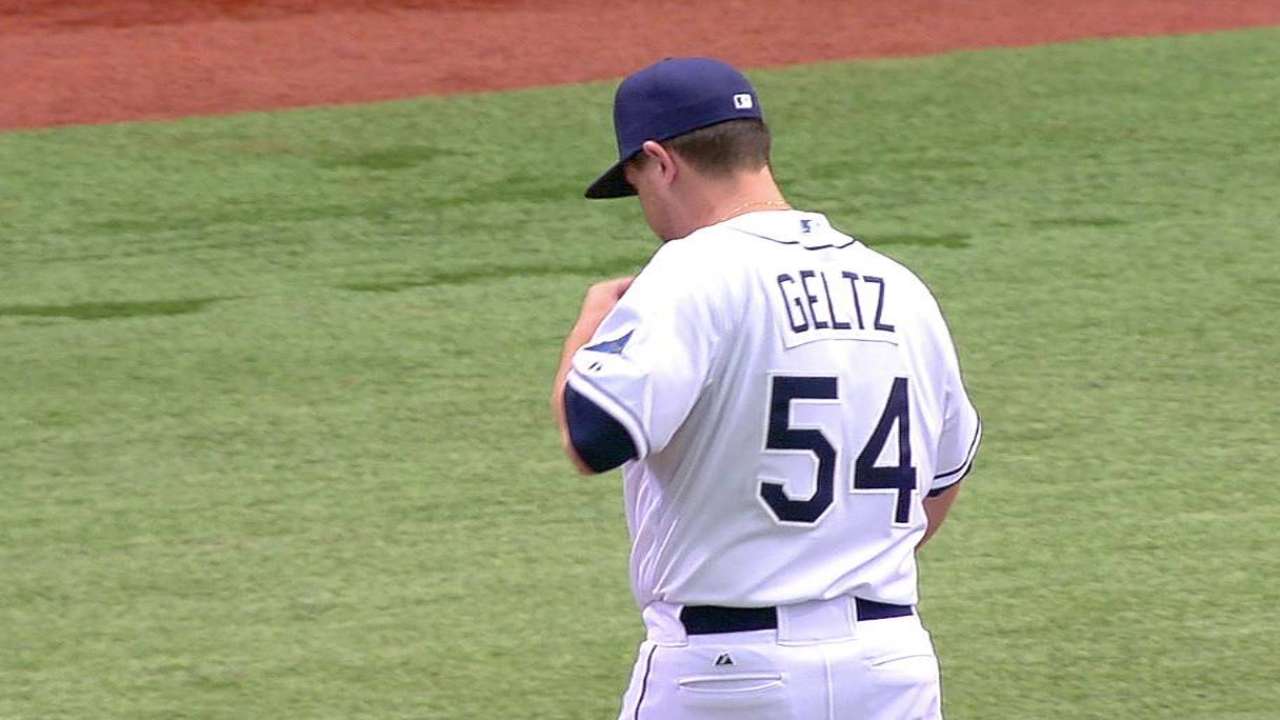 ST. PETERSBURG -- September callup Steve Geltz was thrust immediately into the action Monday, making his Rays debut in a 4-3 walk-off win vs. the Red Sox in 10 innings, but things did not go according to plan for the right-hander.
Geltz was brought in with the Rays holding a 3-2 lead in the eighth inning, the tying run on second and two outs to face No. 3 hitter Yoenis Cespedes. After running the count full, Cespedes laced a 3-2 slider through the left side for a game-tying single.
"I knew that I like Geltz's stuff," manager Joe Maddon said. "I really thought he could do it."
Geltz came back to strike out Mike Napoli on a 95-mph heater to end the inning, but the Rays had lost the lead.
"He just left the slider up a little bit, but I really liked the way he came back and got Napoli," Maddon said. "So there's a lot of growing going on, a lot of growth moments for the young bullpen guys."
Bringing in Geltz was an interesting decision, though, as Jake McGee, the team's de facto closer, was warmed up and ready to go in the bullpen.
McGee had a 1.31 ERA, 80 strikeouts in 62 innings and 15 saves in 16 opportunities. Geltz had two career innings pitched.
But it was Geltz, who wasn't even on the Rays' 40-man roster until Monday, thrown into the fire. And, well, fire burns. As Cespedes' hit found the hole, all McGee could do was look on from the 'pen, hands on his hips.
Maddon said he wants to avoid extending McGee for more than three outs at a time, and that the left-handed McGee was up in the eighth primarily as a deterrent to keep the Red Sox from bringing David Ortiz into the game as a pinch-hitter.
So Geltz was Maddon's plan all the way, and the Rays skipper still liked what he saw, especially on the strikeout.
"He showed the fastball against Napoli," Maddon said. "You can see the real power in the fastball. He's not a tall guy, but he throws the ball well."
David Adler is an associate reporter for MLB.com. This story was not subject to the approval of Major League Baseball or its clubs.