Coaching staff likes Kiermaier's aggressive play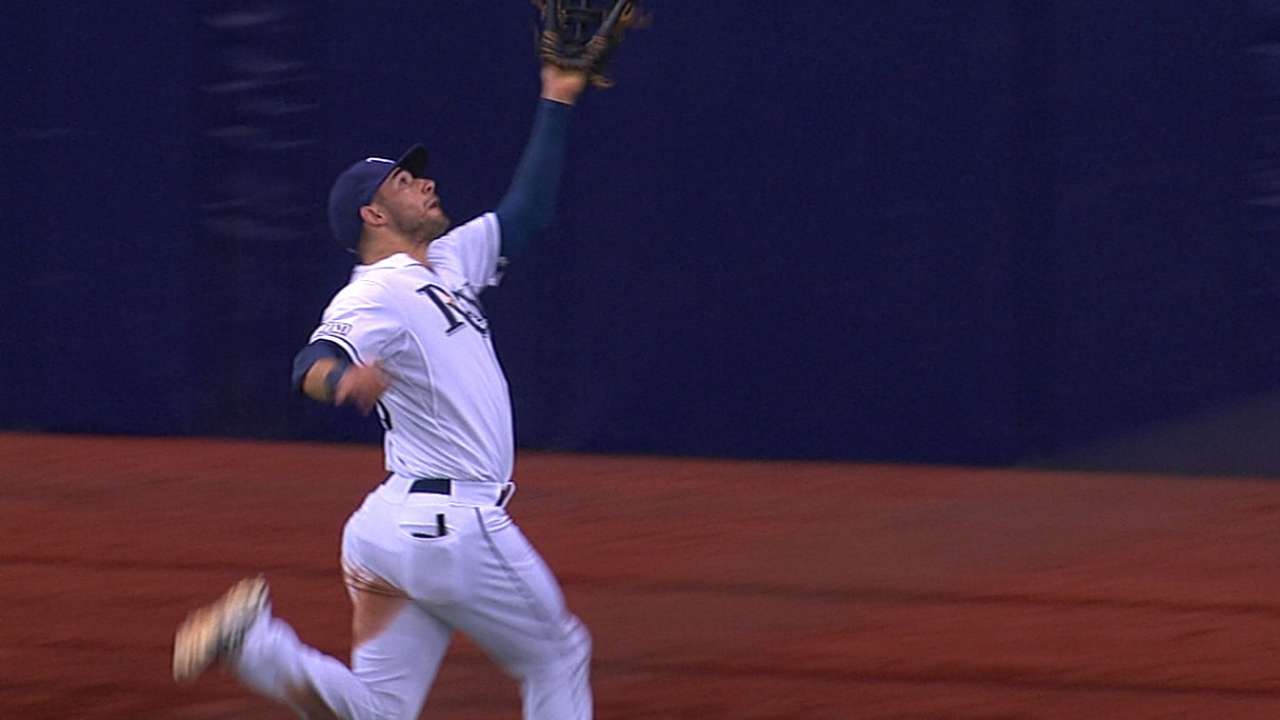 ST. PETERSBURG -- The Rays and their fans have embraced the way Kevin Kiermaier plays. The rookie outfielder's hair-on-fire style of play has been a breath of fresh air. He's made diving catches and thrown out runners ever since joining the club. On the flip side, he's been burned by his aggressiveness on occasion.
In that vein, Kiermaier is working to become a smarter player.
"Just try and pick your spots," Kiermaier said. "When to be aggressive and when not to be. Those balls hit right at me, when it's tough to have backup even if guys are sprinting right over, I've got to be aware of that and know that if I do miss it, the guy's going to probably get a triple because anything I don't keep in front of me on this turf is going to go to the wall. It plays really fast."
Kiermaier has an awareness about being wiser, but he doesn't intend to curb his obvious enthusiasm for playing the game.
"For me, big situations in games, I want to try and make that play for our pitchers," Kiermaier said. "And you know I have been over-aggressive at times, but there's been other times where it's paid off for me. [Manager] Joe [Maddon] and the whole staff are always telling me, 'If you're going to make a mistake, make an aggressive one.'"
Outfield coach Dave Martinez, who played superlative defense during his playing days, noted that Kiermaier is "starting to realize a little bit about when to back off."
"Myself, I love the fact he's aggressive and ready at all times to throw the ball," Martinez said.
Martinez allowed that the coaching staff doesn't want to tell Kiermaier too much, because they don't want to curb the aggressive way he plays.
"That's why we don't," Martinez said. "I remember as a young player, taking pride in my defense. You want to try and catch every ball. You want to try and throw everybody out.
"You start learning the league. You know when to back off. When to throw at the right time. I think he's starting to do that. Slowly but surely he'll learn, what balls he should [go for], what balls he shouldn't in certain situations. Where he can go a little harder than in others or a situation when he needs to back off. But he's done phenomenal, and it's a joy to watch him go out there and play."
Bill Chastain is a reporter for MLB.com. Adam Berry is a reporter for MLB.com. Follow him on Twitter at @adamdberry. This story was not subject to the approval of Major League Baseball or its clubs.