Amid tough stretch, Escobar gets scheduled day off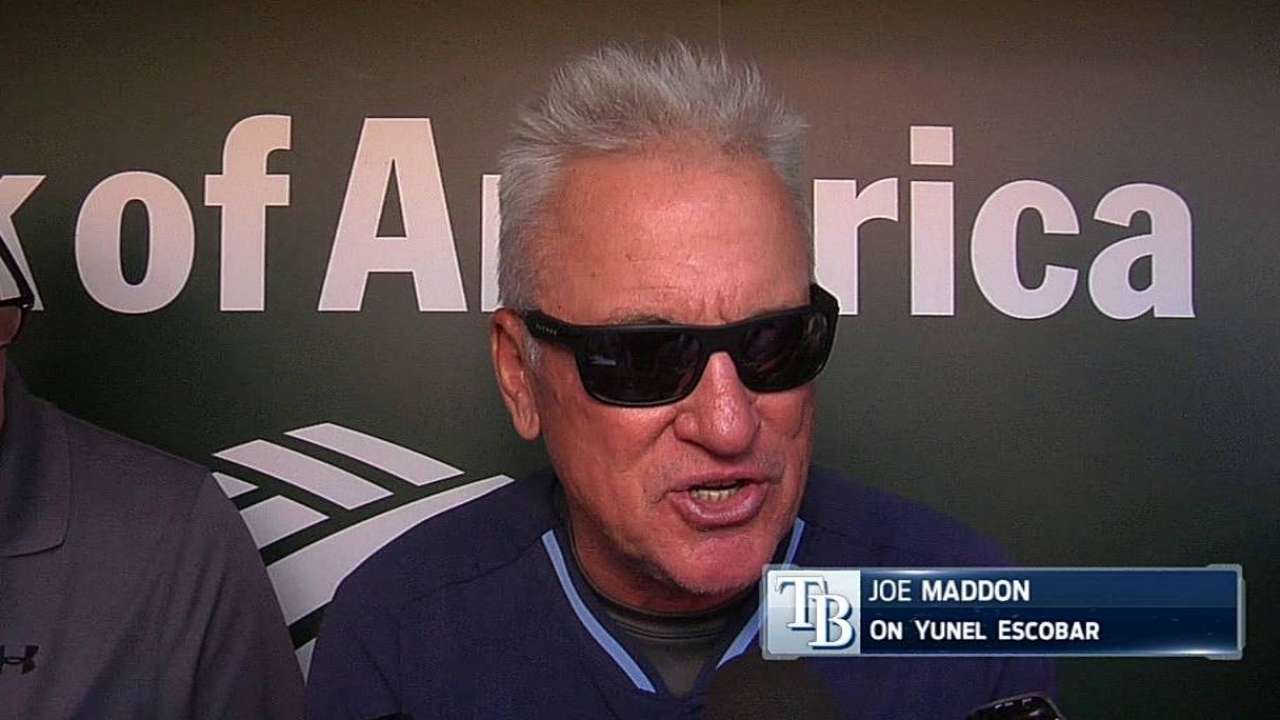 ST. PETERSBURG -- Rays shortstop Yunel Escobar, who was not in the starting lineup for Saturday night's game against the Red Sox at Tropicana Field, received a scheduled day off unrelated to his recent string of throwing errors.
Escobar had made three errors in Tampa Bay's past two games -- all throwing errors on potential double-play balls. The latest miscue, in Friday night's series-opening loss to Boston, allowed an inning to continue in which starter Chris Archer eventually surrendered a grand slam to Mookie Betts that gave the Red Sox an 8-0 lead.
"I've been wanting to give him a day off for a couple of days, and it's nothing to do with him making the mistake [Friday]," said Rays manager Joe Maddon, who started Ben Zobrist at short. "I think it's wise to give him a day off, especially when we have a run where we have no days off."
The Rays are in the midst of playing 20 games in 20 days -- Friday's series opener was the start of a 10-game homestand immediately following 10 straight games on the road.
Escobar, who was superb defensively in 2013, has not been this year, as his 15 errors are eight more than he made last season. But he said his arm is not hurt and his health is not a reason for his struggles.
"I feel great. I'm 100 percent," Escobar said through an interpreter Saturday. "I just think that that's part of the game, and there are things I can't control right now, but I'm OK. I'm not hurt or anything."
Escobar was recently placed on revocable waivers and claimed by the A's, sparking trade rumors, but he was eventually pulled back by the Rays. Escobar said Saturday that the waiver situation had affected him initially, but he's past it.
"That affected me a little bit, because I plan to be here for years to come," Escobar said. "[But] that doesn't affect me anymore. I'm just coming to the field and trying to play hard every day, and just things are just not working out right now."
Escobar's hardly alone -- the Rays have made errors in six consecutive games, their longest such streak since 2012, and have nine total in that span. The team has 73 errors compared to 59 in 2013, the second-lowest mark in Major League history.
What happened to the infield chemistry from last year?
"It's the same four guys. That's the thing," Maddon said. "It just happens in our game sometimes, where maybe it doesn't play as well from one year to the next. And it hasn't played as well this year.
"Why would there be no chemistry this year as compared to last year when there was great chemistry? It's just one of those unexplainable things."
David Adler is an associate reporter for MLB.com. This story was not subject to the approval of Major League Baseball or its clubs.