Maddon speaks with Escobar amid trade rumors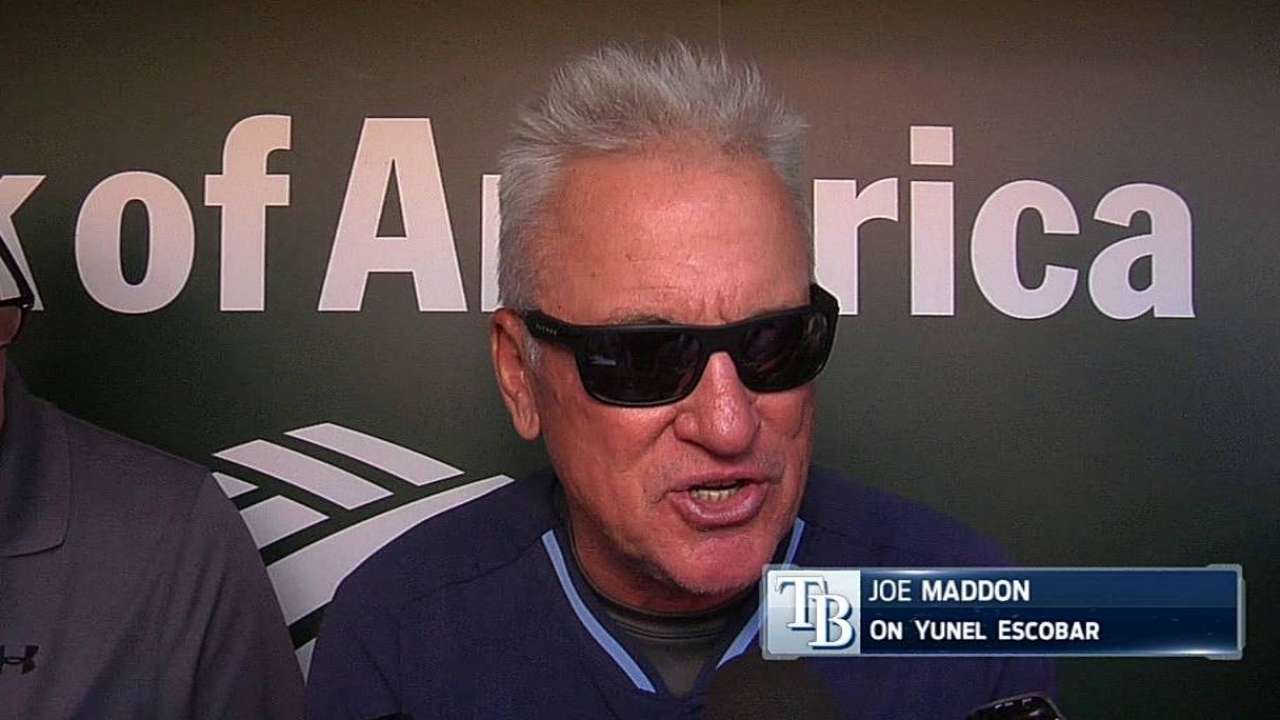 BALTIMORE -- Rumors of Yunel Escobar's departure via a trade seem to be premature, at least according to Rays manager Joe Maddon.
According to multiple reports over the weekend, the Athletics claimed Escobar, which would have meant the two teams had until Tuesday afternoon to come to an agreement about making a trade or not.
Due to those reports, Maddon spoke to Escobar on Monday to discuss the situation, ostensibly to ease the mind of the Rays' starting shortstop.
"I called him in," Maddon said. "I knew he was upset. It was obvious.
"...I told him [Rays executive vice president of baseball operations] Andrew [Friedman] and I spoke about it and I was able to tell him that we're very, very pleased with what he's doing. We can see him continuing to get better with us. To not be worried about anything happening."
Maddon was pressed further when a reporter followed by asking, "Nothing's going to happen?"
Maddon replied: "That's what I got from Andrew."
Once Major League Baseball's July 31 Trade Deadline passes, players must clear waivers in order to get traded. So clubs routinely place their players on waivers as a matter of procedure so they can make their roster liquid. If a player clears waivers he can be traded. If another team claims the player, the teams can work out a deal. Being put on waivers at this time of year is no indication about how a club feels about a player. It's simply good business. However, that information is supposed to be confidential.
"What happened was, first of all that never should have been reported, that's privileged information regarding the waiver situation," Maddon said. "It happens to everybody out there. That's the funny part. Everybody goes through this process, but nobody ever reports them on it.
"I did talk to [Escobar] today to [ease] his mind. And this is a baseball process. It happens to a lot of big leaguers. The difference is I'm dealing with a guy here who works a lot on emotion. So I had to make sure that Yuni understood our position on it. And try to get him to go out there and play with a clear mind."
Escobar's contract pays him $5 million this season and he is signed to a two-year, $13 million deal for 2015 and 2016 that also includes a club option for 2017.
"Yesterday during the game, I got a few calls from different people. I wasn't expecting that," Escobar said through an interpreter. "It was a big hit for me to learn what was going on. But I feel a lot better after talking to Joe. I'm good now.
"I'm happy to be here. This is where I want to be in this organization. It's been like a new beginning and I don't want to go anywhere."
Bill Chastain is a reporter for MLB.com. This story was not subject to the approval of Major League Baseball or its clubs.