Maddon encouraged by conversation with Torre
Executive vice president of baseball operations will make decision on protest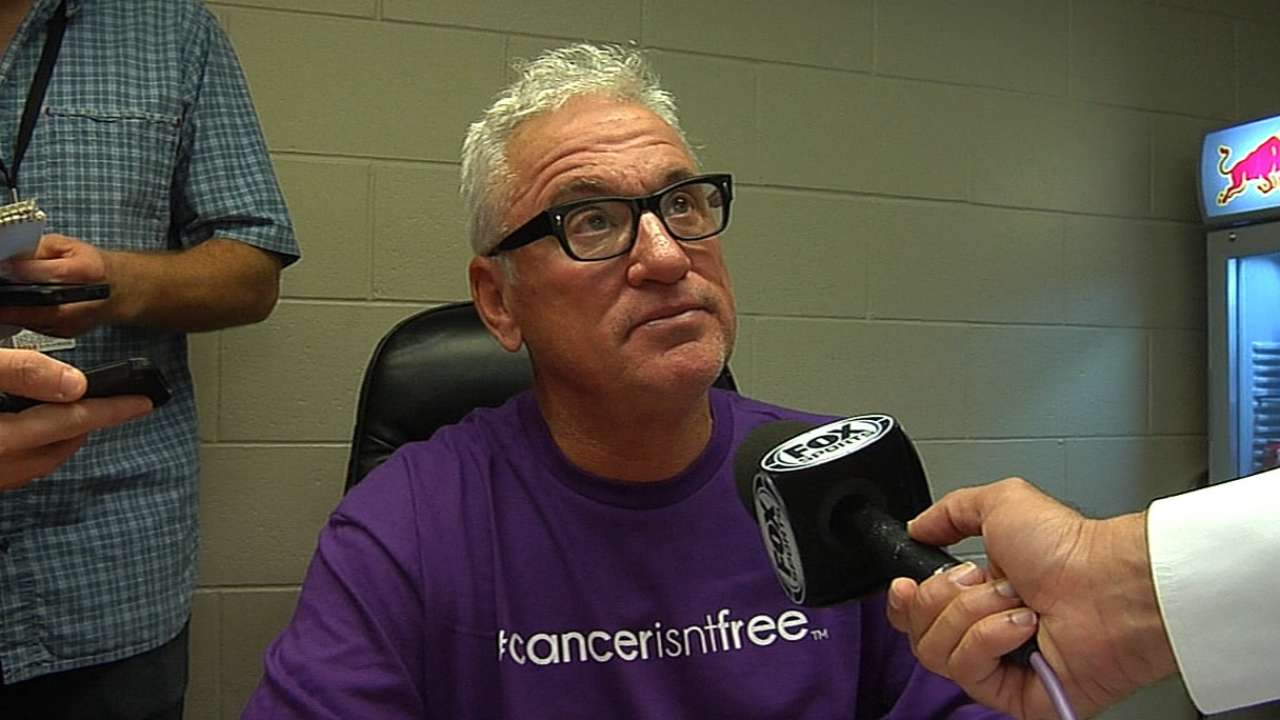 TORONTO -- Rays manager Joe Maddon has an "adequate amount of hope" that his team's protest of Saturday's game -- a 5-4 extra-inning loss -- will be upheld after having a brief conversation with executive vice president of baseball operations Joe Torre.
The two talked for five minutes prior to Sunday's series finale against the Blue Jays, and Maddon was pleased to hear that Torre feels the protest is valid. Maddon now has to submit an email based on everything that happened from his perspective and he said Torre will look more diligently into that matter Monday and make a decision from there.
Although protests aren't typically upheld -- it has happened twice since 1986 -- Maddon believes the rules in place give his team a chance to get the game replayed from the fourth inning, which is when the incident in question occurred.
"Any time you get with Joe, it's always fair and you will be listened to," Maddon said. "You can't ask for anything more than that. I'm looking forward to seeing what he has to say."
The protest came as a result of a replay challenge during the fourth inning of Saturday's game. The Blue Jays challenged a call on a pickoff play at first base, but Maddon contends the next "play" had occurred -- making it too late for a challenge -- because the pitcher had toed the rubber and the next batter had entered the batter's box.
There is, however, some nuance to the rule, Maddon said. What he was likely referring to is language found later in the same section (II.D), which states: "The Crew Chief shall have the final authority to determine whether a Manager's Challenge is timely. The judgment of the Crew Chief regarding the timeliness of a Manager's Challenge shall be final and binding on both Clubs, and shall not be reviewable by Replay Review or otherwise."
Maddon was told Saturday by crew chief Bob Davidson that the play could not be protested because it had to do with replay. In Maddon's opinion, however, the protest has nothing to do with replay -- that's not what he protested -- and everything to do with getting to replay. Torre confirmed that is a situation where a protest is valid.
"It's two separate issues," Maddon explained. "The one part that there is no nuance, whatsoever, almost like the heart and soul or crux of the system, is pitcher on the rubber, batter in the box precludes anything else from happening. You can't do anything else at that moment, that was the locking mechanism.
"That was emphatically described to us as being the locking mechanism in all the meetings. So it should be everything after that should not have occurred. … It's tantamount to inadmissible evidence. It's no different than in a courtroom situation when information is gotten illegally or inappropriately that you can't utilize it. Otherwise, let's take the rule out and put it in the garbage can."
Davidson believes that Blue Jays manager John Gibbons challenged just in time, but it will ultimately be Torre who has the final say.
Chris Toman is a contributor to MLB.com. This story was not subject to the approval of Major League Baseball or its clubs.