Myers eased back into lineup as designated hitter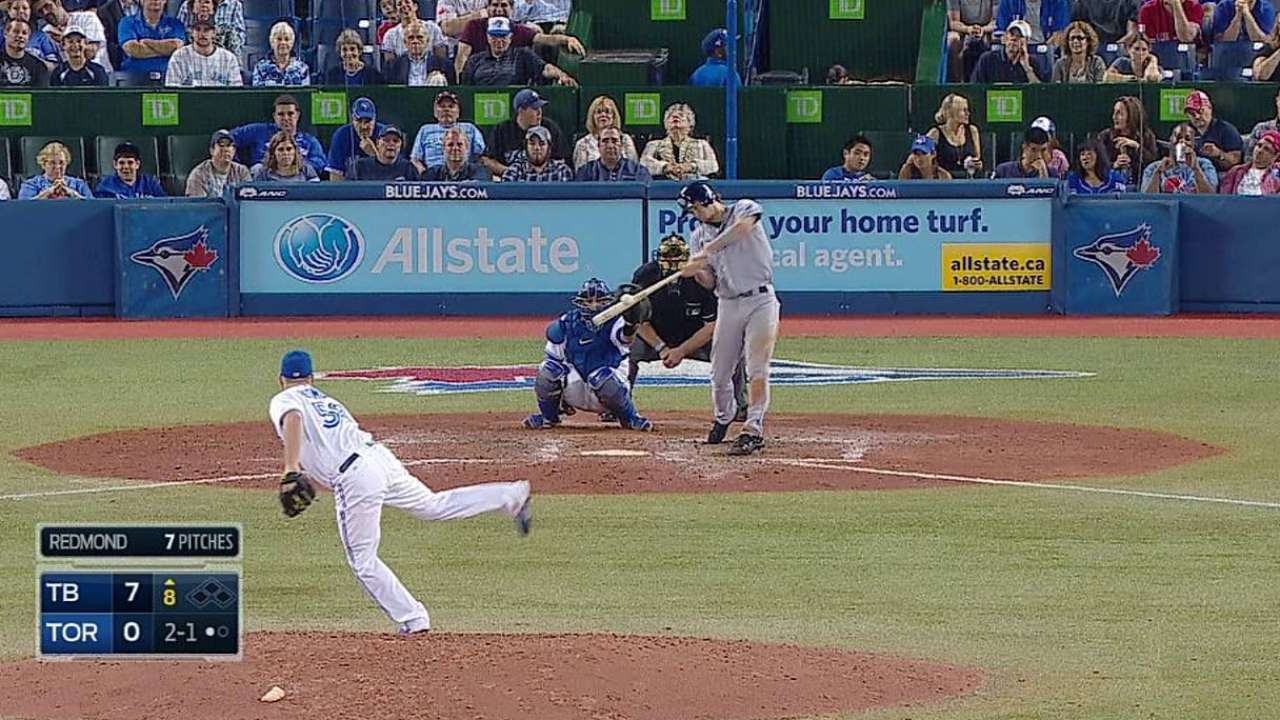 TORONTO -- Since returning from the disabled list after missing 70 games with a fractured right wrist, Wil Myers has had to get used to life as a designated hitter.
Saturday's tilt against the Blue Jays marked the fourth consecutive contest that Myers was penciled in as Tampa Bay's DH. The 23-year-old has yet to play the field since rejoining the Rays on Wednesday, but manager Joe Maddon says that is not indicative of any long-term plans with the outfielder.
Part of the reasoning behind that is strategic -- at least it was when Maddon drew up the lineup for Saturday's game with right-hander Jeremy Hellickson on the mound.
"Hellickson is a fly-ball pitcher, and [Myers] hasn't been out there as much," Maddon said. "He's going to be out there, but I thought with Hellickson pitching and a lot of fly balls, the other guys have been out there more often."
Myers has primarily played right field since making his Major League debut last June, and Maddon said he can expect to start seeing some action out there in the days ahead.
As for his bat, Myers struck out looking in six of his first eight at-bats since coming off the DL before homering in the eighth inning of Friday's 8-0 win. It was Myers' first hit since May and his sixth home run of the season.
Despite the swing-and-miss tendencies he has shown lately, Maddon believes the 2013 American League Rookie of the Year Award winner looks strong at the plate.
"Right now, it's a matter of his confidence," Maddon said. "Physically, he looks really good, the bat is quick. Just be aggressive in the zone and get to the pitches that he likes, and not foul them off -- that's the next step."
Myers had a feeling he was going to square something up before he took Toronto right-hander Todd Redmond deep to cap off the Rays' blowout victory on Friday.
"I felt something when I was on deck, something I hadn't felt," Myers said following the game. "I can't tell you what it was, I don't know what it was. But I was able to put a good swing on a good pitch."
Chris Toman is a contributor to MLB.com. This story was not subject to the approval of Major League Baseball or its clubs.