Myers among injured Rays gearing for return
Maddon says his young outfielder may play before the end of club's homestand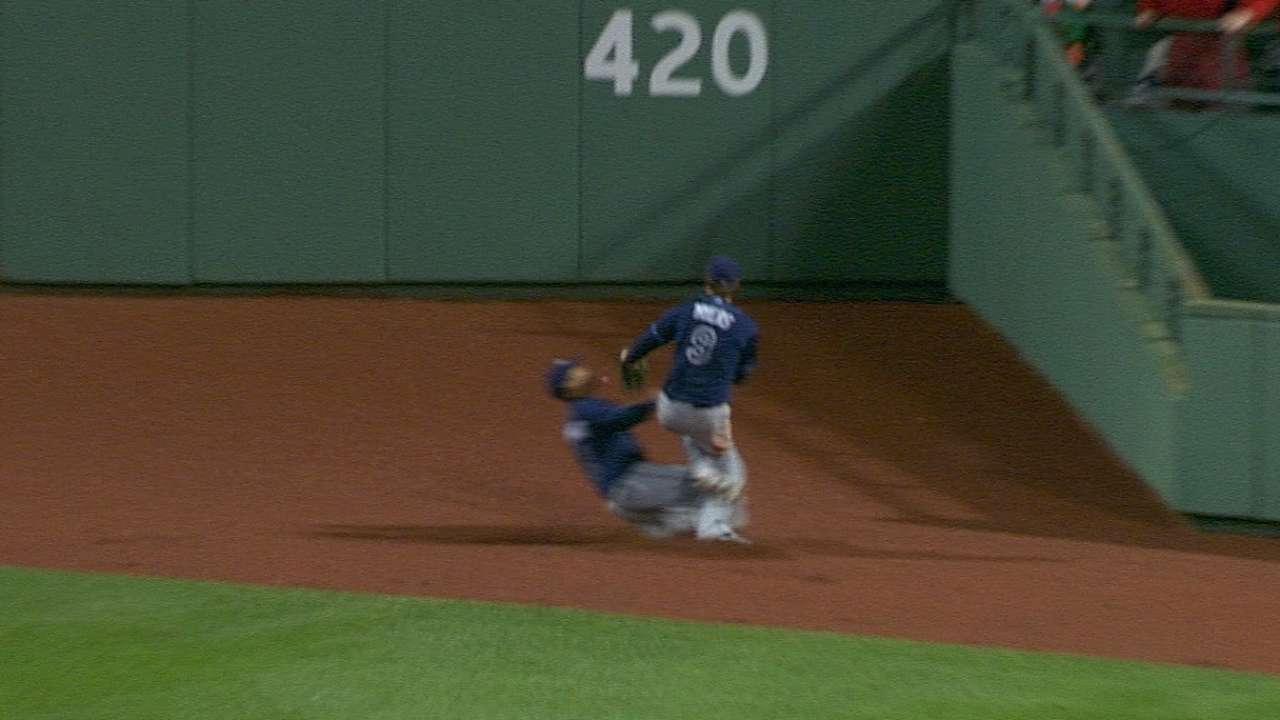 ST. PETERSBURG -- Of the Rays' walking wounded, Wil Myers (right wrist fracture) appears to be the closest to returning to action, according to manager Joe Maddon.
"Wil's getting real close," Maddon said before Tuesday's series opener against the Tigers. "He'll be hatched any day now. We'll wait and see. He's doing well."
Entering Tuesday night's action, Myers had played in six games in a rehab assignment with Triple-A Durham. On Sunday against Charlotte, he played the entire game at DH and hit a two-run homer in the seventh inning. He's batting .286 with two home runs and six RBIs.
Maddon allowed that Myers could return before the end of the current homestand.
Catcher Ryan Hanigan (left oblique strain) has been on the disabled list since July 17.
"Hanigan had another [good] day," Maddon said. "[Head athletic trainer] Ronnie [Porterfield] wants him to repeat today tomorrow and then we'll make that evaluation and get him playing."
Hanigan told reporters that he'd been pain free for a couple of days.
"When I first hurt it, I was real optimistic it wasn't going to be this long of a deal," Hanigan said. "But in the back of your mind, obliques can always be a real problem. ... Took longer than expected. It stinks."
Hanigan said he hopes to start activity on Wednesday.
"For me I don't feel like I'd need more than eight to 10 at-bats," Hanigan said. "If they want me to get more, I'll get more. I just want to get back with this team. Finish it out."
According to Maddon, David DeJesus (left hand fracture) is about at the stage Myers was at when he first began to rehab.
"I'm just excited to get out there," DeJesus said. "... We just made sure everything is all right. Is structurally OK. ... It's just something you're going to have to monitor. Just have to be smart with it."
DeJesus expects to play on Wednesday and speculated if he does it will be at Class A Advanced Charlotte.
DeJesus has been on the DL since June 19. Despite missing 51 games and counting, he has not been surprised by how long his return has taken.
"No, bones are like that," DeJesus said. "Especially in the area of the hands, those are the most important part as a hitter. You have to be able to swing a 32-, 33-ounce bat and swing it with force at a pitch coming 90 mph. Those little bones take the brunt of the force."
Bill Chastain is a reporter for MLB.com. This story was not subject to the approval of Major League Baseball or its clubs.