Rays ready to move forward without Price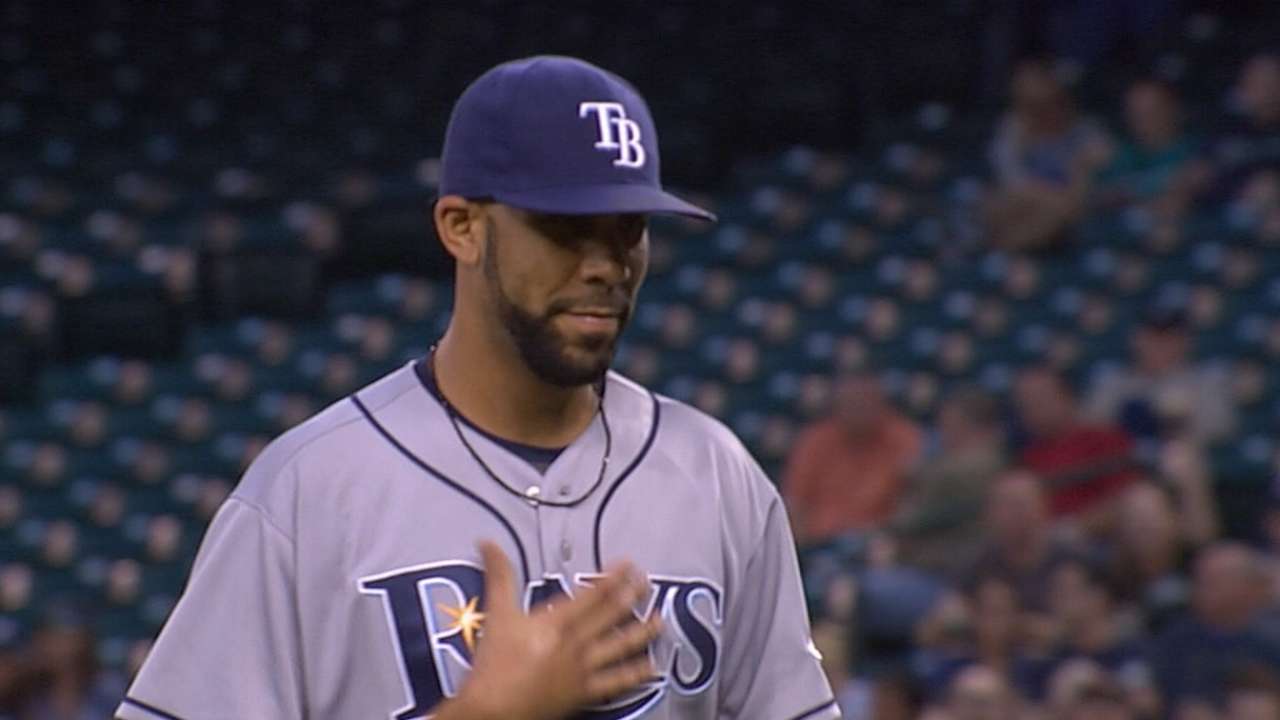 ST. PETERSBURG -- The locker David Price occupied inside the Rays' clubhouse is now empty after the team's ace was traded to Detroit on Thursday for left-hander Drew Smyly, infielder Nick Franklin and shortstop Willy Adames.
Though his former teammates made it clear he is missed, they appeared ready to try and continue the roll they enjoyed in July, when the team posted a Major League-best record of 17-6.
"This is just how we have to operate," Rays manager Joe Maddon said. "This is who we are. I think the players have done a wonderful job of understanding this moment, and I don't anticipate any let down or let up."
Added Alex Cobb: "We've had to move forward as an organization to try and make ourselves better. Not only now, but leading into the years to come."
Price had a large persona; not only on the field but inside the dugout and within the clubhouse. Evan Longoria noted that the team will have to "pull the collective weight of David on a daily basis, which will be tough."
"He brought a ton of energy to the ballpark," Longoria said, "so the goal for us should be to try not to dwell on the past. As tough as that may be, we have to move forward with the guys that we have.
"This game -- it's almost unfortunate -- but it does have a way of forgetting guys really quickly. And I know I'll never forget David and what he meant to this organization and what he means to me as a friend. … It has a funny way of moving forward. That's not meant to hurt his feelings or anything. But I'm sure he understands that once he gets into that clubhouse that he's going to have to put us behind him and worry about winning for the Tigers and their organization."
One of the main concerns in losing Price, aside from his pitching abilities, is the fact he normally gives most of the bullpen a day off by pitching into the seventh or eighth innings. Without that, the Rays will likely have to cover more innings with their bullpen. Maddon doesn't look at that as a negative, rather an opportunity.
"I think this is a time for other people to accelerate their games and then become more of a household name," Maddon said. "It's called opportunity, for me. When you get in these moments, and there's guys that have been clamoring for the moment, now here it is. Here's your opportunity. Go. Go take advantage of your opportunity. Here it is."
One other offshoot of the trade is the fact the Rays are once again in their familiar underdog role, which is a role the team seems to embrace.
"That's who we are," Maddon said. "I don't think that's ever going to go away. OK, we were picked to go to the World Series and win it by some people. That kind of went away. That's a very usual moment. We're definitely back into the underdog."
Bill Chastain is a reporter for MLB.com. Adam Berry is a reporter for MLB.com. Follow him on Twitter at @adamdberry. This story was not subject to the approval of Major League Baseball or its clubs.