MLB.com Columnist
Phil Rogers
Tight races lead to sellers' market at Deadline
Rays need to decide if chance at postseason is worth potential package for Price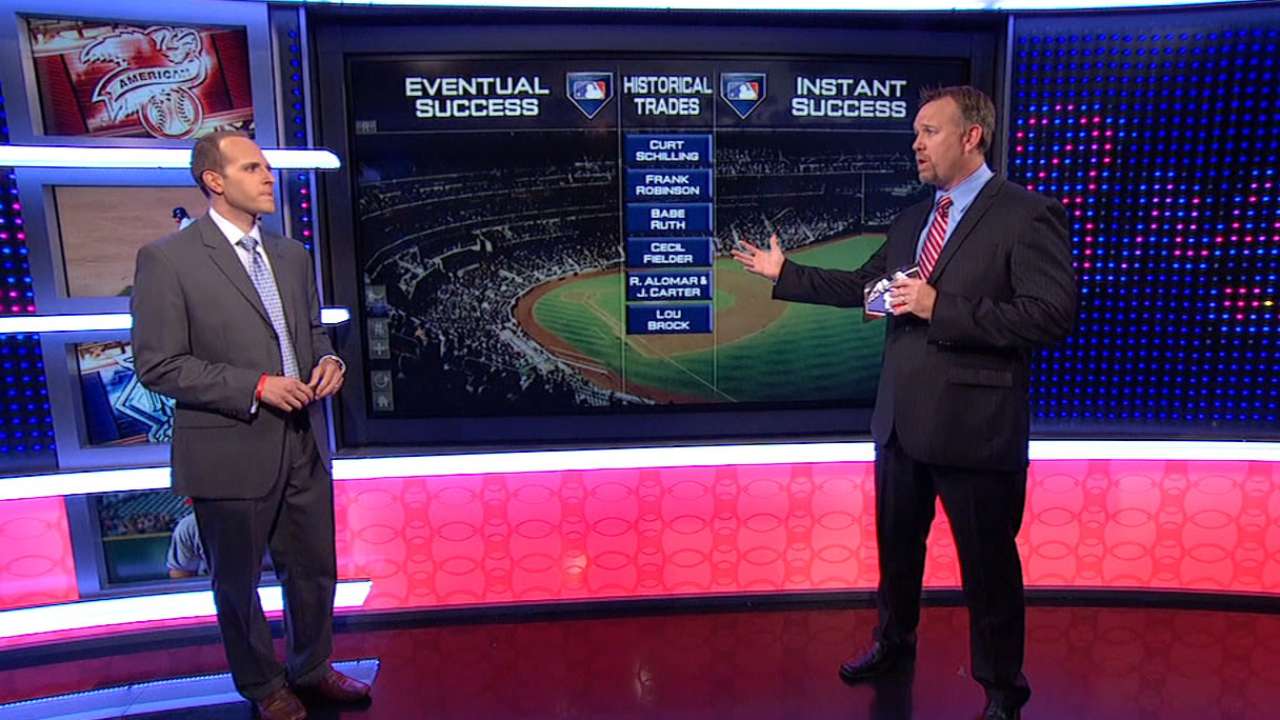 We've been hearing it since June, if not earlier.
This is a season of increased balance in a sport where it was already reigning supreme. There's less separation than usual between teams, especially in divisions like the AL East and NL Central, where the playoff-race possibilities are endless.
Look no further than the Tampa Bay Rays.
With a 29-46 record on June 20, it seemed that the odds had finally caught up to Joe Maddon and Andrew Friedman, arguably the top management tandem in Major League Baseball. But Maddon never lost faith, and now his team has morphed into an East Coast version of the Oakland A's, racing back into the playoff picture with a 24-8 stretch that includes a 9-1 record since the All-Star break.
Trade David Price? Maybe, but if you're following the script it seems just as likely -- maybe more -- that Maddon will be running him out for pivotal games in late September, and maybe even lining him up to start in the Wild Card Game.
On June 20, the Rays were 13 games behind Toronto in the AL East and had the worst record in the league, leaving them 11 1/2 games out in the Wild Card standings. But by beating the Brewers on Monday and Tuesday, with Alex Cobb and Jake Odorizzi following Price's lead on the mound, the Rays moved within seven games of first-place Baltimore and within 4 1/2 games of the second Wild Card spot, which is being held by the Blue Jays.
The bad news: They are still only sixth in the Wild Card standings, with the Angels comfortably ahead of a crowd that includes the Jays, Mariners, Yankees and Royals.
This is great news for fans in many cities. But for the executives representing highly motivated franchises looking to nail down division titles and avoid the win-or-go-home game to start the playoffs -- as well as for teams like the Jays, Royals and Mariners and Marlins, who would love any door into October -- the level of competitive balance is complicating the normal wheeling and dealing of late July.
"This is really a tough time to make a trade, any trade that will make any kind of a difference," one longtime scout said. "There's as much talk as usual but not as many players who are available, at least not players that you think might win you a game or two down the stretch."
Tampa Bay's recent rise illustrates what is happening across baseball. Rather than the strongest teams separating themselves after the midpoint of the season, many races have become tighter. That lessens the number of teams willing to give up on the season, which could turn August into as much of a period for trades as the hours before today's non-waiver Trade Deadline at 4 p.m. ET.
At the All-Star break, 17 of the 30 teams were within five games of the playoffs, and three others were within seven games. Through games on Tuesday night, that number had increased to 19 within five games and 21 within seven games.
Considering how far back teams like the Rockies, A's and Rays have come in previous Septembers, it is extremely tough for ownership and executives to deal players who are keeping their teams alive.
Hope is a powerful thing.
There are few true blue-chip players being made available by the nine teams that are currently more than seven games out of the playoffs, with the Red Sox's Jon Lester the notable exception. The Cubs would be getting a lot of activity around Jeff Samardzija and Jason Hammel but dealt both pitchers to Oakland in a blockbuster on July 5.
The Phillies have not been inclined to strip their roster and rebuild, and even if they wanted to their options are impacted by the no-trade rights and clauses held by Chase Utley, Jimmy Rollins, Cole Hamels and Cliff Lee. Hamels is being discussed with teams but it is possible that Marlon Byrd is the most impactful player traded by Phillies GM Ruben Amaro Jr.
The Rangers could shock the market by dealing third baseman Adrian Beltre, but they expect to bounce back from an injury-ravaged year to contend next season, so rival executives look at that possibility skeptically. Colorado views Troy Tulowitzki and Carlos Gonzalez as the cornerstones of future contenders, so it would take a Herschel Walker-like package of talent to interest the Rockies to move them.
Teams like the Twins, Astros, Cubs, Padres and D-backs are willing to make deals but don't have a lot of attractive inventory.
It's a classic sellers' market. The Red Sox and Rays could weigh trades of Lester and Price all the way until the 4 p.m. ET deadline on Thursday, looking to play one interested team off another as the potential return grows higher and higher.
Maybe a team like the White Sox will seize the opportunity to get a nice return for one of its infielders, Alexei Ramirez and Gordon Beckham, or find a team that wants to add Adam Dunn to its lineup. Maybe the Mets will be offered so much for second baseman Daniel Murphy that it does the deal while playing very well (13-7 since July 6).
Maybe the Rays swallow really hard and pull the trigger on a Price trade. Anything's possible in a fluid market. But the one thing we know for sure -- there aren't as many places to search for talent as the shoppers would like.
Phil Rogers is a columnist for MLB.com. This story was not subject to the approval of Major League Baseball or its clubs.