MLB.com Columnist
Roger Schlueter
MLB Notebook: Abreu's rookie year nearing elite status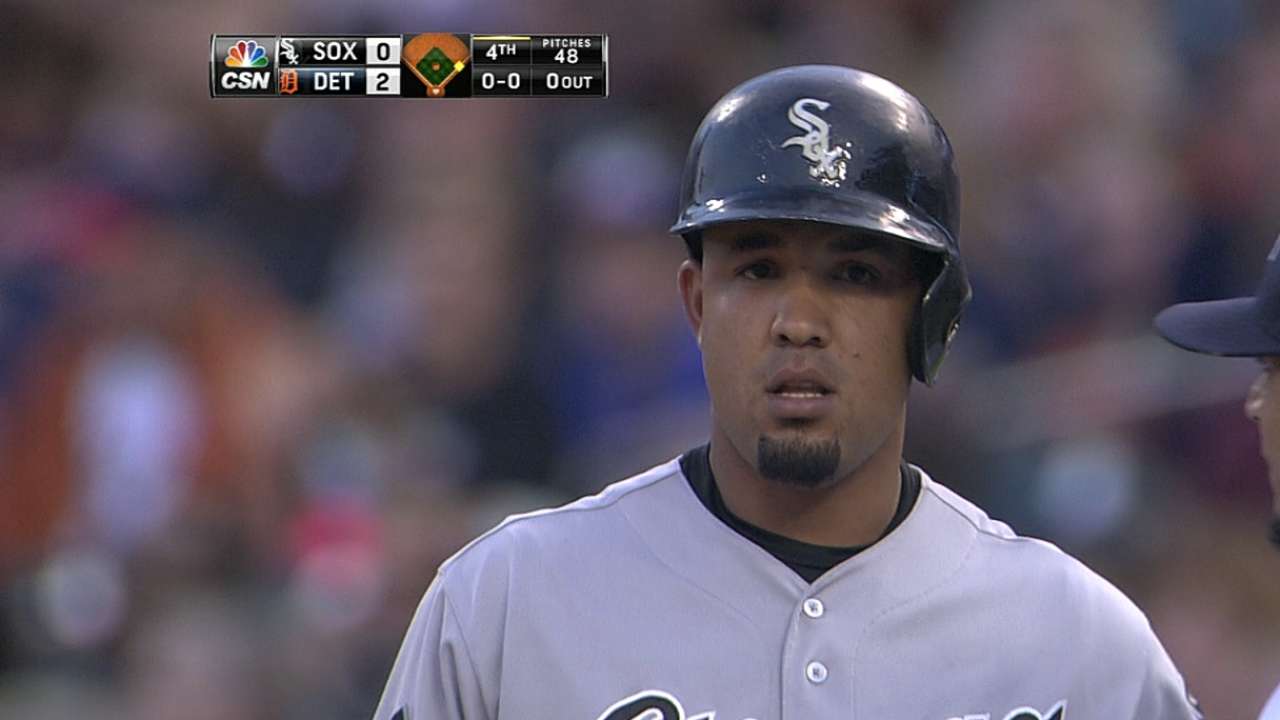 After a stint involving 11 games for the Indians in 1933, 21-year-old Hal Trosky played in 154 of the Tribe's contests the following year and set an imprint that few rookies have ever been able to match.
Collecting 206 hits, Trosky sent 89 of them for extra-bases, drove in 142 runs, and compiled 374 total bases. No other rookie has ever had that many extra-base hits, and only one -- Tony Oliva in 1964 -- has matched that mark for total bases. Two other rookies -- Walt Dropo (144 in 1950) and Ted Williams (145 in 1939) -- have surpassed the RBI total.
Trosky and Williams are linked in another way too as they are two of three rookies in Major League history -- along with Albert Pujols in 2001 -- to have at least 30 doubles, 30 home runs and 100 RBIs in their debut season. That's the kind of company looming in the not-so-distant future for White Sox rookie Jose Abreu, who needs just four doubles and 17 RBIs before the 2014 season's end to join Trosky, Williams, and Pujols in this particular 30-30-100 club.
On Wednesday, Jose Abreu singled, doubled and homered while driving in four runs in the White Sox 11-4 win over the Tigers. He now has 31 home runs on the season.
• His 31 homers through his first 92 career games tie him with Rudy York for the second most in history, behind Mark McGwire and his 33.
• At 31, Abreu is tied (with Williams in 1939, Jim Ray Hart in 1964 and Tim Salmon in 1993) for the 18th most by a rookie. Next up, at 32: Oliva (1964), Matt Nokes (1987), and Chris Young (2007).
• Abreu's 83 RBIs through his first 92 career games are the most for any White Sox player since 1914, surpassing Zeke Bonura's 81. Since 1914, the total is the fifth highest, behind Walt Dropo's 95, Rudy York's 94, Joe DiMaggio's 90 and Williams' 87.
• Abreu's 58 extra-base hits through his first 92 career games are the second most since 1914, behind DiMaggio's 64. • Abreu's three hits extended his hitting streak to 18 games -- the second time this season he has hit safely in 18 straight. According to the White Sox press notes, he is the second White Sox player with multiple 18-game (or longer) streaks in a single season, joining Eddie Collins. In 1920, Collins authored a 21-game and a 22-game hitting streak.
South Siders near southpaw history
Chicago's Jose Quintana improved to 6-7 as he allowed two runs in six innings in the White Sox win over the Tigers. The 25-year-old southpaw owns a 3.15 ERA this season, for a 126 ERA+. With his teammate and fellow 25-year-old portsider Chris Sale owning a 1.88 ERA (210 ERA+), these two could do something that hasn't been seen too often. In baseball history, there's been two pairs of left-handed throwing teammates, both in their age-25 or younger season, qualifying for the ERA title and posting an ERA+ of at least 125. The Pirates' Jesse Tannehill and Rube Waddell accomplished this feat in 1900, and the Athletics' Mark Mulder and Barry Zito did this 2001-03.
Jones flashing power from center
In an Orioles win, Adam Jones hit his 20th home run -- the fourth straight season he's reached the mark. Jones is the first center fielder in franchise history to have at least 20 in four straight seasons, eclipsing the three straight put together by Fred Lynn, who hit exactly 23 in 1985-87.
• Blue Jays right-hander Marcus Stroman improved to 7-2 with a 3.03 ERA as he allowed one run in seven innings and Toronto defeated Boston, 4-2. The 23-year-old rookie owns a 135 ERA+ in 16 games (11 starts). There have been 21 Blue Jays rookies to make at least 15 starts, with the highest ERA+ among them belonging to Juan Guzman, who posted a 142 in 1991.
Cole power
Cole Hamels hurled eight innings of six-hit, no-walk, eight-strikeout ball and came away a winner in the Phillies 6-0 victory over the Mets.
• Hamels owns a 2.55 ERA, which works out to a 145 ERA+. In 2008, he posted a career high 141 ERA+. There are three Phillies southpaws to have multiple qualifying seasons with an ERA+ of at least 140: Steve Carlton (1972, 1977, 1980-81), Eppa Rixey (1912 and 1916), and Chris Short (1964 and 1967).
• With this latest effort, Hamels improved his K:BB ratio to 3.41. In each of the past three seasons, Hamels has finished the year with a ratio of at least 4-to-1. There are four left-handers in history to have at least four straight seasons qualifying for the ERA title while ending with a K:BB ratio of at least four: Cliff Lee (six in a row), Sandy Koufax (four), Randy Johnson (four) and Johan Santana (four).
Rays on a roll
Alex Cobb fanned 12 in eight innings of three-hit ball and the Rays defeated the Brewers, 5-1. Tampa Bay has won 11 of 12 and 29 of 41. In July, the club is now 17-5.
• The 17-5 record in July gives the Rays a .773 winning percentage with one game left in the month. An 18-5 record would push that winning percentage to .783, which would stand as the 14th best for any July since 1914. Last season, the Rays posted an .808 winning percentage in the month, for the third best since '14. In July 1941, the Yankees set the standard with a 25-4 record for an .862 winning percentage.
• This July, Rays starting pitchers own a 2.71 ERA -- the second lowest for any starting staff for the month (behind the Padres' 2.35). Last season, Rays starters posted a 2.25 ERA in July, the 10th-lowest mark in this month for any club's starters in the live-ball era. The Padres' 2.35 would rank 17th.
Extra effort for Dodgers
Matt Kemp homered twice -- one of four Dodgers players with two extra-base hits as the team compiled nine altogether -- and the Dodgers defeated the Braves, 8-4. The Dodgers had last seen four of their players have at least two extra-base hits in a nine-inning game on June 11, 1953, when Brooklyn's Duke Snider, Jackie Robinson, Carl Furillo and Gil Hodges each had a pair in a 9-6 win against the Reds. The Dodgers had last compiled at least nine extra-base hits in a game against the Braves on Aug. 29, 1954, in the second game of a doubleheader. In that contest - an 11-4 victory over Milwaukee -- Brooklyn collected six doubles and three homers.
Ross is boss in July
Tyson Ross allowed one run in six innings and came away with his 10th win -- while lowering his ERA to 2.60 -- as San Diego defeated St. Louis, 3-1. In July, Ross is 4-2 in six starts, and owns a 1.10 ERA. Since 1914, Ross' 1.10 ERA ties him with Dutch Ruether (1919) for the 32nd lowest in a July for pitchers with a minimum of six starts. Over the past 50 seasons, Ross' mark is the 19th lowest.
Roger Schlueter is senior researcher for MLB Productions. This story was not subject to the approval of Major League Baseball or its clubs.