MLB.com Columnist
Phil Rogers
Lester, not Price, becomes most desired lefty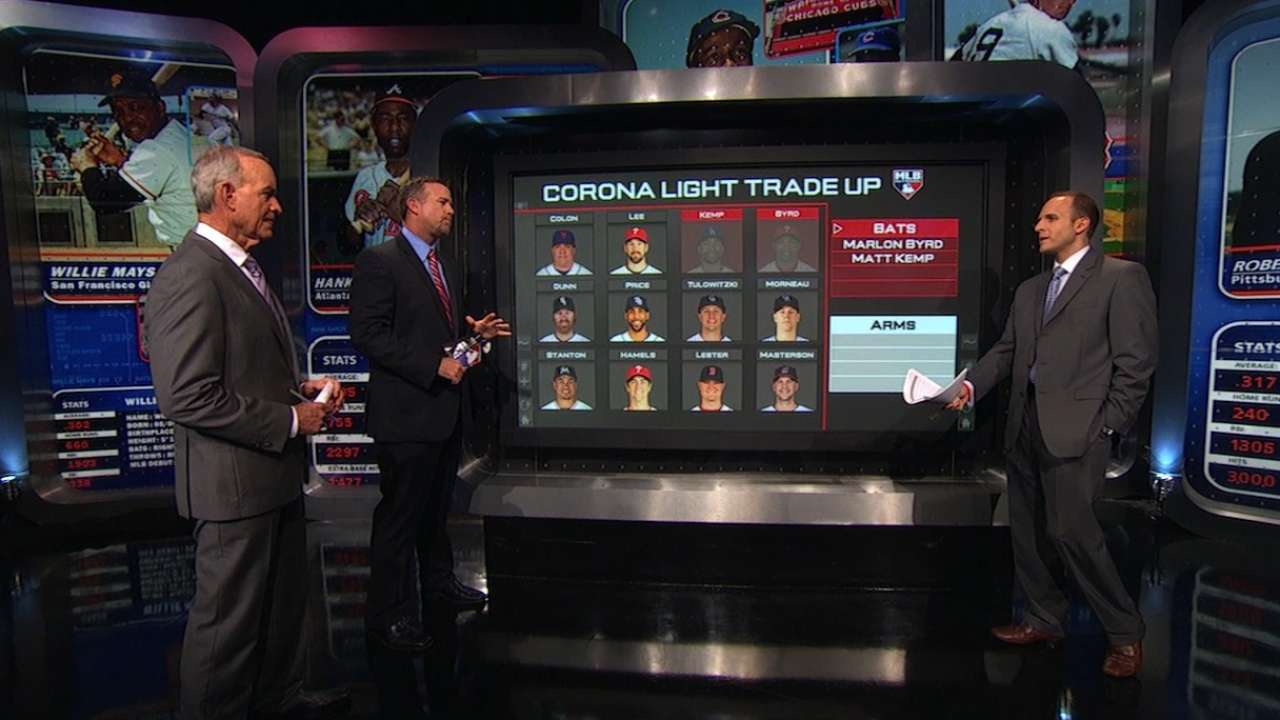 Head to head at Tropicana Field last Friday, Jon Lester left the mound with a 3-2 lead over David Price. But a high pitch count had allowed Lester to work only six innings, and the Rays scored quickly against the Boston bullpen, giving Price the victory.
It wasn't the kind of war between left-handers that Lester and White Sox ace Chris Sale had engaged in back in April, when they both took no-hitters into the sixth inning, but it was a good showing by Price and Lester. The notes taken by dozens of scouts on hand will do nothing to slow interest in either of them as the non-waiver Trade Deadline approaches on Thursday at 4 p.m. ET.
But the rally against Andrew Miller and Junichi Tazawa that cost Lester the win is proving huge in changing the complexion of the trade market.
Price was expected to be the best pitcher available, with a 28-45 start making it appear pointless for the Rays to hold onto him. But manager Joe Maddon refused to give up on his team, setting a modern-day standard for patience in terms of his relentless positivity, and he's been rewarded for a little more than a month now.
Tampa Bay has gone 19-5 since splitting a doubleheader in Baltimore on June 27, and it has caught the pack in the race for the American League's second Wild Card spot. It will be surprising if Rays president of baseball operations Andrew Friedman pulls the plug on the comeback with a Price trade, which could be a major advantage for the Red Sox and the Phillies.
In this game of musical left-handers, Lester becomes the biggest trading chip on the market, followed -- albeit not that closely -- by the Phillies' Cole Hamels and Cliff Lee.
Lester and Price have been among the hottest pitchers in the Majors this summer, continuing to roll out impressive starts after many others have begun to show wear and tear. Lester is 5-1 with a 1.54 ERA since June 1; Price is 7-3 with a 1.82 ERA in that span.
But that's not the only reason that they have been scouted so thoroughly by a dozen or more teams, including the Dodgers, Cardinals, Blue Jays, Orioles, Pirates, Mariners, Brewers, Braves and Marlins. Their contracts are far less risky than those of Hamels, Lee and White Sox right-hander John Danks.
Compared to trading for Hamels and Lee, the math in a Lester trade is simple. He is headed for free agency after this season, barring an 11th-hour move by the Red Sox to sign him to a contract extension.
Lester, 30, has been a bargain for the Red Sox. He's in his sixth and final season of control in a deal that pays him a total of $43 million, including the $13 million option for 2014 that Boston exercised after he outpitched Adam Wainwright in the World Series last October. A team trading for him at this point would owe him only a little more than $4.2 million.
Price, by contrast, has one final arbitration season in 2015 before reaching the free-agent market. He could seek more than $15 million for next season -- although most teams interested in him consider it a plus that they'll have him next year, not just this season. At this point, that's probably moot, as Price is giving Tampa Bay a chance to win. He could still be traded in the offseason, when teams not currently in contention (the Cubs, for instance) could join the bidding.
It has been only two years since Hamels signed his six-year, $144 million contract, and the $96 million due after this season will severely complicate any trade involving him. He opened the season on the disabled list with left biceps tendinitis, but he has been as good as Lester and Price lately. He's 30 years old, yet he has been among baseball's most durable pitchers, making 30-plus starts in each of the past six starts.
Lee, 35, is the senior member in the group of lefties on the market. He's made only two starts since spending more than two months on the DL with a flexor strain in his elbow, so he's more likely to be a trade consideration in August, when the waiver situation comes into play. He's due $25 million next year and has a $12.5 million buyout of his contract for 2016. That season could cost a team $27.5 million if he pitches 200 innings in '15, triggering a vesting option.
Depending on how much talent they are offered and how deeply they are committed to rebuilding manager Ryne Sandberg's roster, the Phillies could offer to pay significant portions of what is owed Hamels or Lee. It would be a real shock if they traded both, but left-handers rule this market and their position will be a lot better if the Rays turn down offers for Price.
Both Hamels and Lee have no-trade clauses in their contracts that allow them to block deals to 20 teams. They appear too expensive for many of the teams chasing Lester and Price, which could make it easier for teams like the Dodgers or Yankees to add them.
Don't completely overlook the Cubs in these considerations. They're always looking for some pitching to go with their collection of young hitters, and Hamels, Lester or Price (if he was available) would definitely jump-start their efforts to field a perennial contender. They've been expected to make a splash in free agency but a trade for Hamels could forestall that need. However, if they were going to trade a top prospect they would be more likely to seek a pitcher entering his prime, as Josh Beckett was when Boston acquired him for Hanley Ramirez in 2005.
The wheel is spinning, and it won't be long until we see where these lefties land.
Reporters weigh in
| | Jon Lester | David Price | Cole Hamels | Cliff Lee |
| --- | --- | --- | --- | --- |
| Why he would move | With the Red Sox realistically out of contention, it makes sense to try to get a top prospect and/or an impact player rather than lose the lefty for merely Draft compensation when he becomes a free agent in the offseason. | Somebody knocks the Rays' socks off with a deal they can't refuse. | He is probably the only player on the Phillies' roster who could net more than one top prospect. And the Phillies need more than one. | Teams that don't land Price, Lester or Hamels might take a shot at Lee returning to form for the stretch run. |
| Why he won't | Perhaps the prospect of leaving Boston will change Lester's negotiating stance, and an extension can be agreed on that will keep the lefty where he wants to be. | The Rays decide his value won't be that diminished in the offseason, and they can potentially ride him to the postseason. | Teams seem unlikely to meet the Phillies' steep asking price. | He has struggled in his first two starts following a two-month stint on the DL because of a strained left elbow. |
| Wildest scenario | Lester gets traded to a contender, only to return to Boston as a free agent this winter. | The Rays sign Price to a long-term extension. | The Dodgers give the prospects the Phillies want and Hamels heads to Southern California. | Phillies not only get a top prospect for Lee, but they don't have to pay a huge chunk of his salary. |
| Likeliest outcome | Lester gets dealt for one elite prospect, and perhaps some other promising young players. | He remains with the Rays. | He remains with the Phillies. | Lee clears waivers next month and is dealt before the Aug. 31 waiver Trade Deadline. |
| | -- Ian Browne | -- Bill Chastain | -- Todd Zolecki | -- Todd Zolecki |
Phil Rogers is a columnist for MLB.com. This story was not subject to the approval of Major League Baseball or its clubs.