Price, Jennings, Moore visit rec centers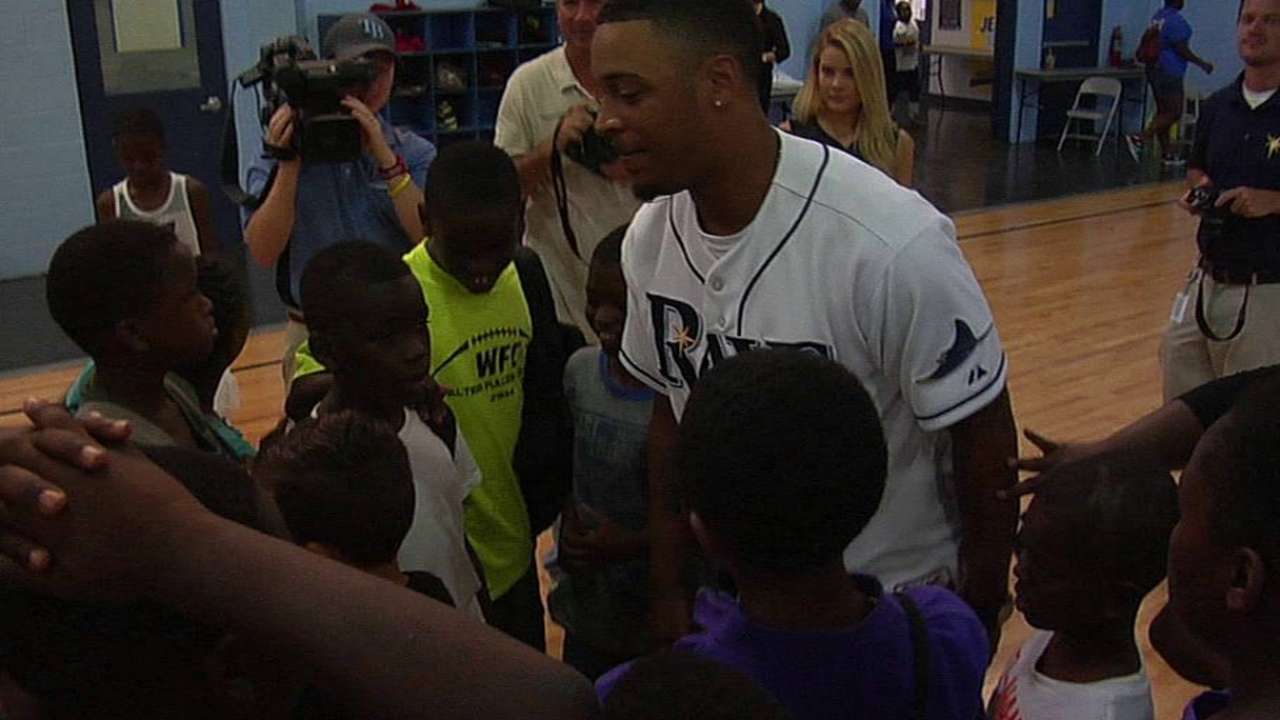 ST. PETERSBURG -- David Price, Desmond Jennings, Matt Moore and members of the Rays training staff visited recreation centers around St. Petersburg on Monday as part of the Rays Dugout Club's "Eat Well, Play Well" program.
Price, Jennings and Moore, who each sponsor multiple recreation centers, went to visit campers in their respective clubs -- "Price's Pals," "Jennings' Juniors" and "The Moore Corps."
"I've seen a lot of kids for multiple years," said Price, who has been with the program since it began in 2010. "A lot of them wear their Price's Pals shirts. It's cool to see them still having those shirts -- they haven't grown out of them yet. I see a lot of the same kids there, and that's always have a good feeling."
The "Eat Well, Play Well" program emphasizes health and wellness, staying active and eating healthy. Monday's event was the culmination of a six-week program that involved growing fresh vegetables in school gardens with the Edible Peace Patch Project, making healthy meals with All Children's Hospital's Fit4AllKids program and participating in physical activities with City of St. Petersburg Parks and Recreation.
"I can definitely make an impression on them," Price said. "I was never around anybody that was a professional athlete or anything of that nature, and I see the looks on their faces when I walk in. Whenever I get there, they're all yelling at me, because they're playing outside and stuff, and that's always cool."
On Monday, Price, Jennings and Moore, along with the Rays' trainers, spoke to kids about nutrition and led them through stretching and warmup exercises. Price, for example, did lunges with the Price's Pals campers at the Gladden Park and Campbell Park recreation centers.
"It's good for these kids to hear these messages," Price said. "Eating right is just as important as getting exercise. If you're eating great and you're not exercising, or you're exercising really well and not eating very good, I think you're kind of just playing for the tie."
Bill Chastain is a reporter for MLB.com. This story was not subject to the approval of Major League Baseball or its clubs.