Maddon: Early ejection a misunderstanding
Rays manager tossed in third after arguing from dugout, exchange with Wainwright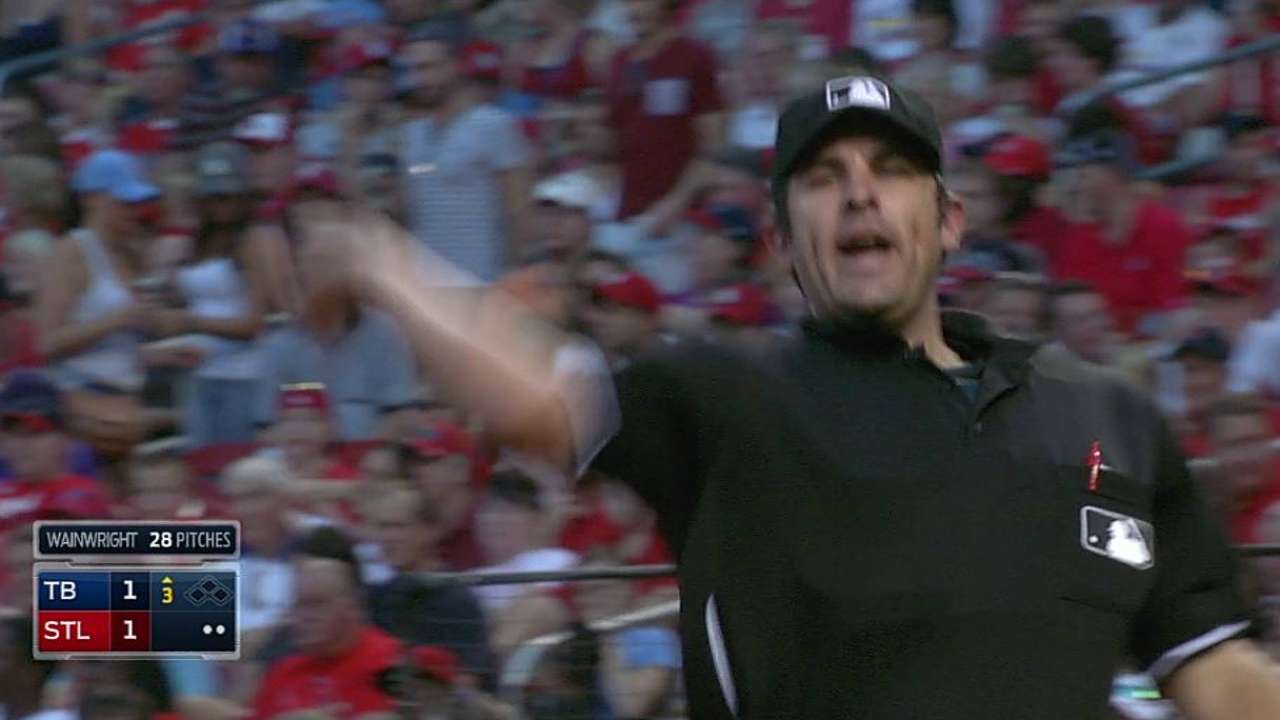 ST. LOUIS -- Rays manager Joe Maddon's night came to an end quickly Tuesday, when he was ejected during the third inning of the Rays' 7-2 win over the Cardinals in unique fashion.
Maddon admits that he started by arguing with home-plate umpire Mark Ripperger from the Rays' dugout about the size of the strike zone for Cardinals pitcher Adam Wainwright. When he heard Wainwright yell back, he directed his attention toward the mound.
"It was way too early to get kicked out, but it was a misunderstanding," Maddon said afterward. "I first started yelling at the home-plate umpire, I did. I did not want their pitcher to get a wide strike zone tonight. Then their pitcher starts yelling at the dugout. So I'm yelling at him, and the umpire thinks I'm yelling at the umpire and he kicks me out."
Wainwright, who was eventually chased in the fifth inning having allowed six runs, said he never directed his comments toward Maddon.
"I wasn't yelling at him, ever," the All-Star pitcher said. "I did say, 'That's enough,' though, which is the first time for me ever to do that. I felt like it was time to move on. I was ready to pitch, and the umpire was ready for me to pitch. Sometimes it's hard to pitch when the opposing manager is yelling."
After second baseman Ben Zobrist was called out on strikes as the second out of the third, he exchanged words with Ripperger. Maddon shortly thereafter emerged from the dugout after being ejected to discuss the matter, but he had no luck pleading his case to third-base ump Kerwin Danley.
It was Maddon's fourth ejection this season, but different than any he has had before.
"It doesn't happen every day," Maddon said. "Umpires yelling in your dugout, other players yelling in your dugout, you never stand for that. If anybody ever yells in our dugout, you just can't do that. Of course [I had to yell back]. There was no question."
Wainwright insisted there is no controversy, and Maddon all but made that clear, too. In fact, the ninth-year Rays manager thoroughly enjoyed it.
"Listen, I loved it. I thought it was tremendous, and I'm all about that. I thought it was great," Maddon said. "I'm not going to indict his professionalism, I just really enjoyed the exchange."
Alex Halsted is an associate reporter for MLB.com. This story was not subject to the approval of Major League Baseball or its clubs.