Ramos off paternity leave, ready for 'pen duty
Left-hander is expected to assume prime relief role, according to Maddon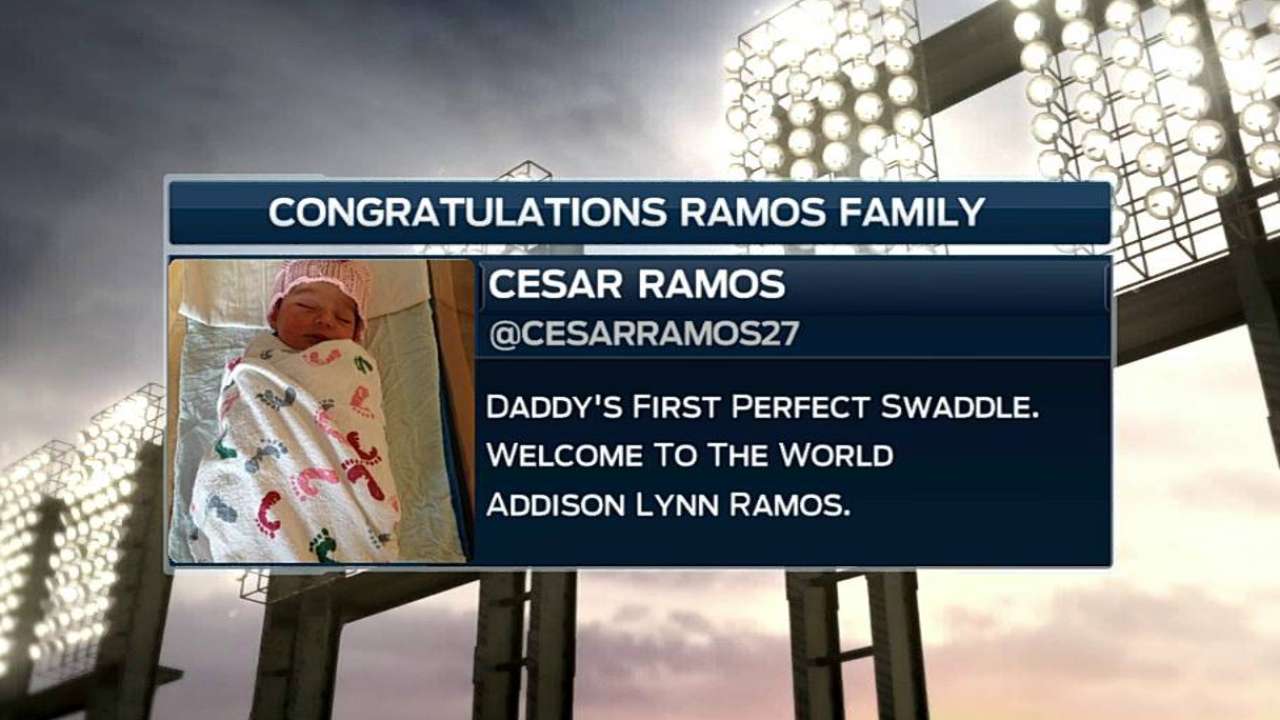 ST. PETERSBURG -- Rays reliever Cesar Ramos made his return to the clubhouse on Tuesday following the birth of his first child, Addison Lynn Ramos.
"It's awesome," Ramos said. "You always look forward to that day, and now it's here, and it's kind of hard to explain the emotions I went through. But I'm just happy. Good delivery and healthy baby, and all is well."
Ramos' daughter was born on Saturday, and the lefty was reinstated from paternity leave on Monday, but he was not present for the series opener against the Royals.
Ramos said that he didn't get much sleep at the hospital, when all he had was a fold-out chair, but he got a couple of solid three- to four-hour stretches in at home.
"I guess that's pretty good, from what I've heard from other stories," Ramos said. "Anything that gets past two hours, I'll take."
On Monday, with Ramos getting ready to come back, manager Joe Maddon spoke about wanting to get Ramos into higher-leverage situations out of the bullpen. After all, with the stress of being a new dad, what's a little bit more at the ballpark?
Ramos' fellow reliever, Jake McGee, is also expecting his first child. McGee's wife is set to have induced labor on Wednesday, so that the baby can be delivered on the Rays' off-day on Thursday.
Did Ramos have any advice for McGee?
"If he has the opportunity to deliver, definitely do that and be a part of that," Ramos said. "It's definitely a special moment that you can't ever take away."
David Adler is an associate reporter for MLB.com. This story was not subject to the approval of Major League Baseball or its clubs.