Maddon ejected in sixth inning against Tigers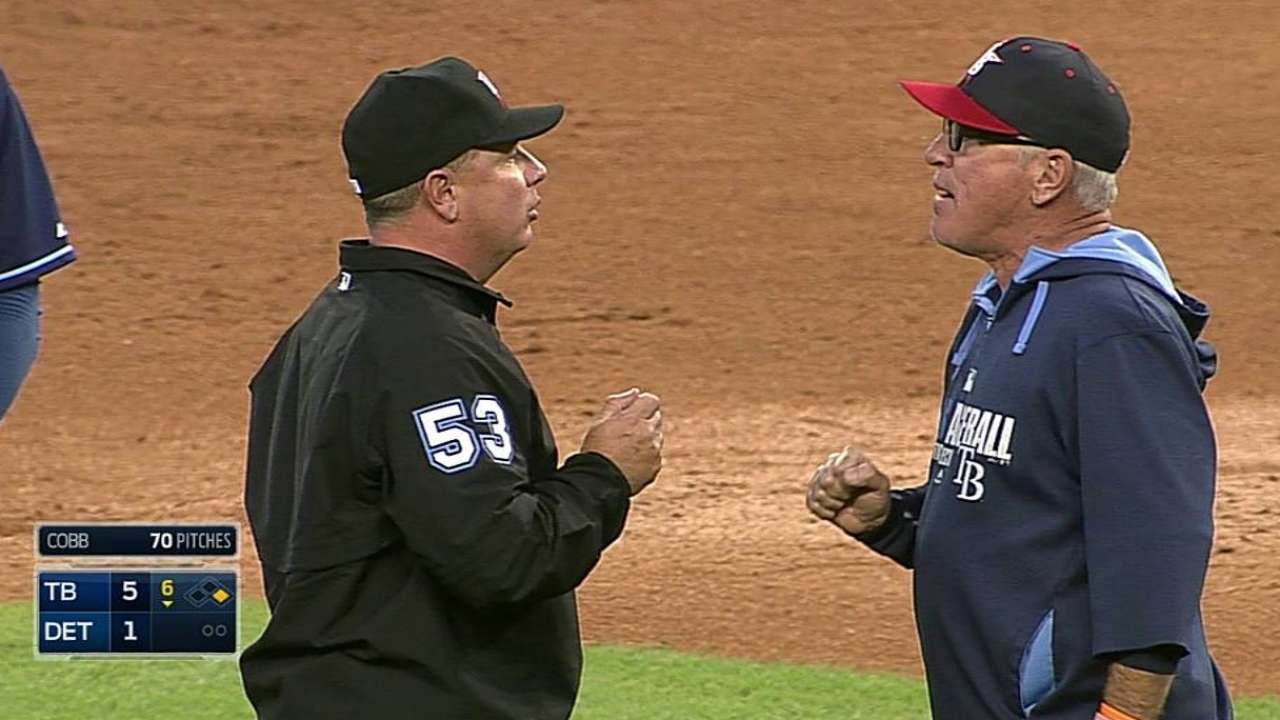 DETROIT -- Rays manager Joe Maddon was ejected from Friday night's game against the Tigers after both benches were warned following three hit batsmen.
The festivities began when Tampa Bay starter Alex Cobb hit Victor Martinez in the fourth inning. Detroit's Drew Smyly countered by beaning Rays third baseman Evan Longoria in the fifth.
But the Independence Day fireworks truly began once Cobb hit Ian Kinsler in the sixth with a curveball. Home-plate umpire Quinn Wolcott issued a warning to both benches.
Maddon protested from just in front of the Comerica Park visiting dugout. He began walking toward crew chief Greg Gibson, who signaled for him to stop. Maddon didn't oblige and was promptly ejected.
"It came down to I'm protecting my guy and he's protecting his guy ... I said I get it, I totally get it," Maddon said. "But you have to differentiate [and have some] baseball common sense there. [The pitch Cobb hit Kinsler with] was a breaking ball. Because my concern then [is] the hitters coming up after that get a free ride. They don't even think about him pitching inside. ... They don't have to worry about anything. That was my concern. If it was a fastball, I have no problem with that."
Tigers manager Brad Ausmus echoed Maddon's concern about a warning being an issue.
"It is a concern when you're trying to pitch the inside part of the strike zone on hitters, and all of a sudden you hit someone and you get ejected because of it," Ausmus said. "It makes pitchers a little bit more cautious about pitching inside. But it applies to both teams, so it doesn't give any particularly advantage, but it doesn't allow your pitchers to pitch the way you necessarily want them to."
Ausmus said there "there really wasn't anything" for the umpires to handle.
"I really didn't think there was any intent on any of the balls that players were hit," Ausmus said. "I didn't think Cobb tried to hit Victor. I didn't think Smyly tried to hit Longoria. And I didn't think Cobb tried to hit Kinsler. I think it was a situation where three guys got hit, but I don't think there was any intent or malice."
Maddon had a different take on that. When a reporter asked if Smyly deserved a warning, Maddon finished the question for him by saying, "When he intentionally hit Longo? Yes."
As for Cobb hitting Martinez, Maddon noted: "Why would we throw at Victor? Totally accident, then then they intentionally hit Longo."
Smyly said he was not surprised a warning wasn't issued after he hit Longoria. When asked if the fastball had been intentional, he replied: "No. I was trying to go in."
Cobb said the curveball he hit Kinsler "honestly slipped out of my hand."
"I'm never going to hit somebody with a curve ball on purpose," said Cobb, noting that such a message would be delivered by a fastball.
Martinez said there is no bad blood between the Tigers and the Rays.
"No, not at all," Martinez said. "In this room, I don't think anybody thinks that we have bad blood against the Rays. They have a good team. We have a good team. I don't think Cobb hit me on purpose. It's pretty obvious that it's a really close game and you don't want to hit somebody and put the tying run or whatever on base. The ball got away from him and that was it."
Maddon also noted there is no bad blood between the two teams.
"There's not from us," Maddon said. "I understand it's great for the fans. ... I understand from the fan's perspective, the excitement about it. But from our perspective [it's over]."
Bill Chastain is a reporter for MLB.com. Matt Slovin is an associate reporter for MLB.com. This story was not subject to the approval of Major League Baseball or its clubs.