Trade rumors, uncertainty putting Price in 'bad mood'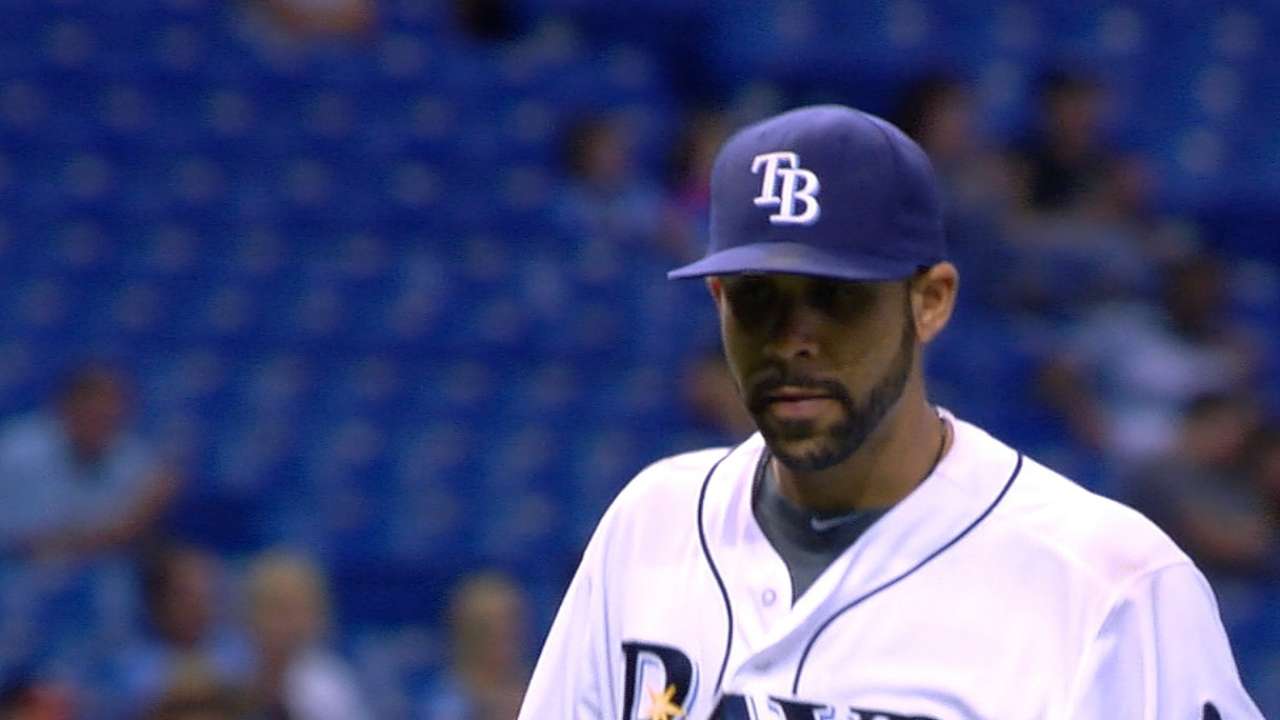 ST. PETERSBURG -- David Price trade rumors are here to stay and will continue to grow until the left-hander is traded or until after the July 31 non-waiver Trade Deadline passes.
"I'm still here," Price told reporters with a smile prior to Tuesday night's game.
The latest Price rumor comes from ESPN's Buster Olney; "rival officials" have told him that the Rays are ready to trade Price if the right deal comes along, but no deal is close now.
Olney wrote: "The expectation of rival officials is that sometime in the days ahead, some team is going to call Rays GM Andrew Friedman with the right offer, with enough pitching included to fill Tampa Bay's organizational need."
Price has pitched well lately. In particular, his fastball has been hovering around 95 mph and his control has been impeccable. He leads the American League in strikeouts (133) and home runs given up (16).
Price, whom the Rays drafted with the first pick of the 2007 First-Year Player Draft, likes playing for the Rays and would prefer to remain with the team. So he sounded honest when he admitted that the prospect of being traded is on his mind.
"I mean, obviously I think about it," Price said. "That's why I've been in a bad mood the last week and a half. I think about it. You guys know that. And it's nothing I really want to talk about. I don't have an answer for you guys. I don't know where I'm going. I don't know when I'm going. So there's nothing I can really comment on."
Rays manager Joe Maddon noted that "there's nothing I can say that is going to make him feel better, I doubt that."
"He needs to feel my support all the time, and I hope he does. Beyond all that, part of this is it's a business, and sometimes when you get caught up in the business component, it makes it uncomfortable," said Maddon, who noted that Price's performance this season "has been great."
"Mood-wise, again, I've never been traded, so I don't know what that would feel like," Maddon said. "I don't know what your name feels like being involved in trade rumors during seasons and all that good stuff. I think part of it's complimentary. Part of it is disconcerting. I think a guy like him has been through a lot of different moments and always has been able to handle them."
Olney speculated that the Giants, Dodgers and Cardinals are possible suitors for Price. Recent rumors about Price have also included the Blue Jays, Braves and Marlins.
Bill Chastain is a reporter for MLB.com. This story was not subject to the approval of Major League Baseball or its clubs.