Maddon wants Rays to put stop on Trop chops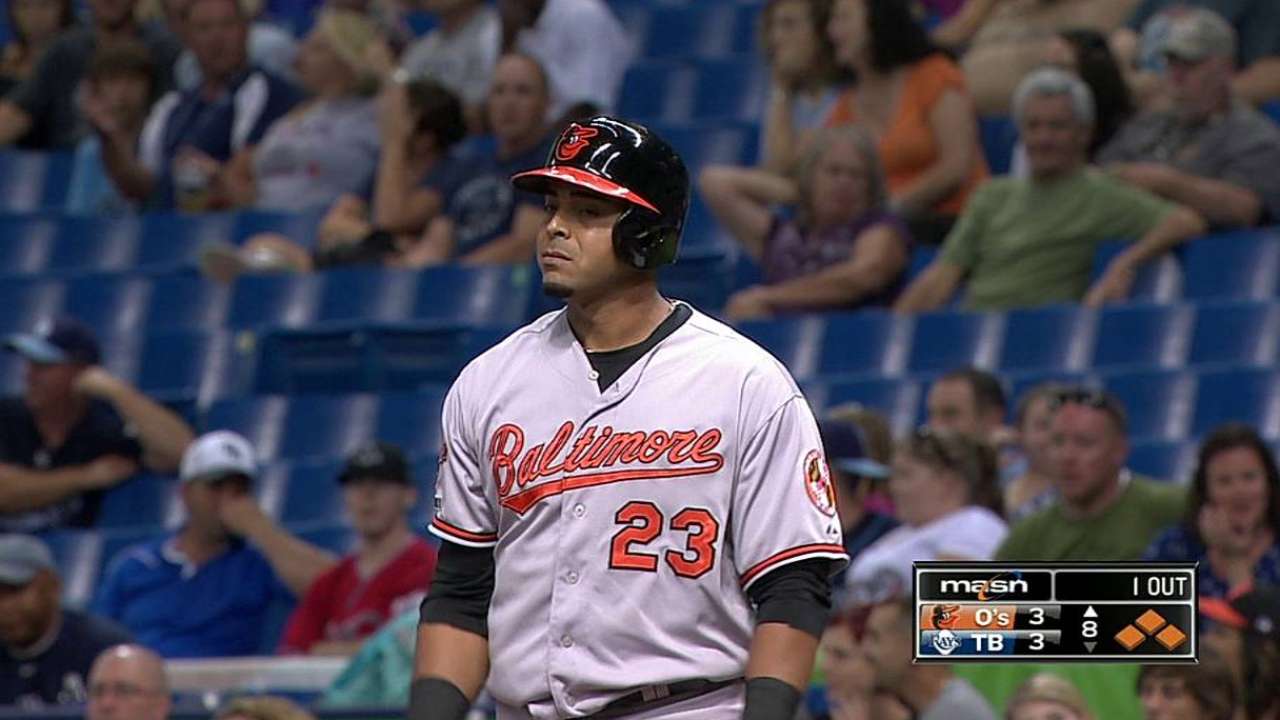 ST. PETERSBURG -- The "Baltimore chop" came into play in Monday night's 5-4 victory over the Orioles, when Nelson Cruz drove home the tying run in the eighth inning with a bases-loaded chop.
Jerry Sands' two-run pinch-hit home run in the bottom half allowed the Rays to overcome the downside of Monday night's chop, but Rays manager Joe Maddon hopes to eliminate said hops at the Trop.
"We've had a lot of [Baltimore chops]," Maddon said. "It's turning into the Tampa Bay chop or the St. Petersburg chop. We have to figure out a way to get rid of that chop. That's been a part of the game recently for us and that's something we're not used to.
"This is a great field and we know the grounds crew is working to get rid of that. ... We gotta get rid of that. I don't want it. I don't want it. I don't like it."
When asked about the cause of the hard pan in front of home plate, Maddon shrugged.
"I don't know if it's a mixture in the dirt," Maddon said. "They've watered it like crazy. But it's played a lot differently this year.
"Everything is the same. Nothing has changed. So is there maybe a reason why [the area is] getting dryer quicker? We're going to find out if that is true or not and we'll make some adjustments. But there has been nothing different in regards to the makeup of the dirt. How much they've been watering, how much they're raking it. That's all the same."
Maddon could be seen prior to Tuesday night's game talking to members of the grounds crew. But he did not tell them to do something to change the area.
"Whatever they think," Maddon said. "I don't know what to tell them. Actually, I did take care of a field one time, and I did stay at a Holiday Inn one night.
"When it comes down to the field, I used to be able to grow green grass really well, but I was never good with the dirt, quite frankly. It is about the dirt on a Major League baseball field. Anybody can grow green grass."
Rays catcher Ryan Hanigan said that he would "rather it be firmer than soft."
"When it's soft you don't know what the bounce is going to be, I don't have a problem with it," Hanigan said. "They've done different things with [the area]. I don't know exactly what, but it's been harder and softer at different points. I think they're messing with it for different reasons. I stay out of it."
Evan Longoria pointed out the significance of having a hard, rather than soft, area in front of home plate.
"We've got a lot of guys that throw ground balls," Longoria said. "Obviously Jake [Odorizzi] throws really hard, beats a lot of guys, and [Alex] Cobb and [Chris Archer], they throw ground balls. It's just been kind of an unfortunate outcome on some of the plays. But overall I feel like the field has played pretty well."
Bill Chastain is a reporter for MLB.com. David Adler is an associate reporter for MLB.com. This story was not subject to the approval of Major League Baseball or its clubs.