Rays await word on Myers; Hellickson progressing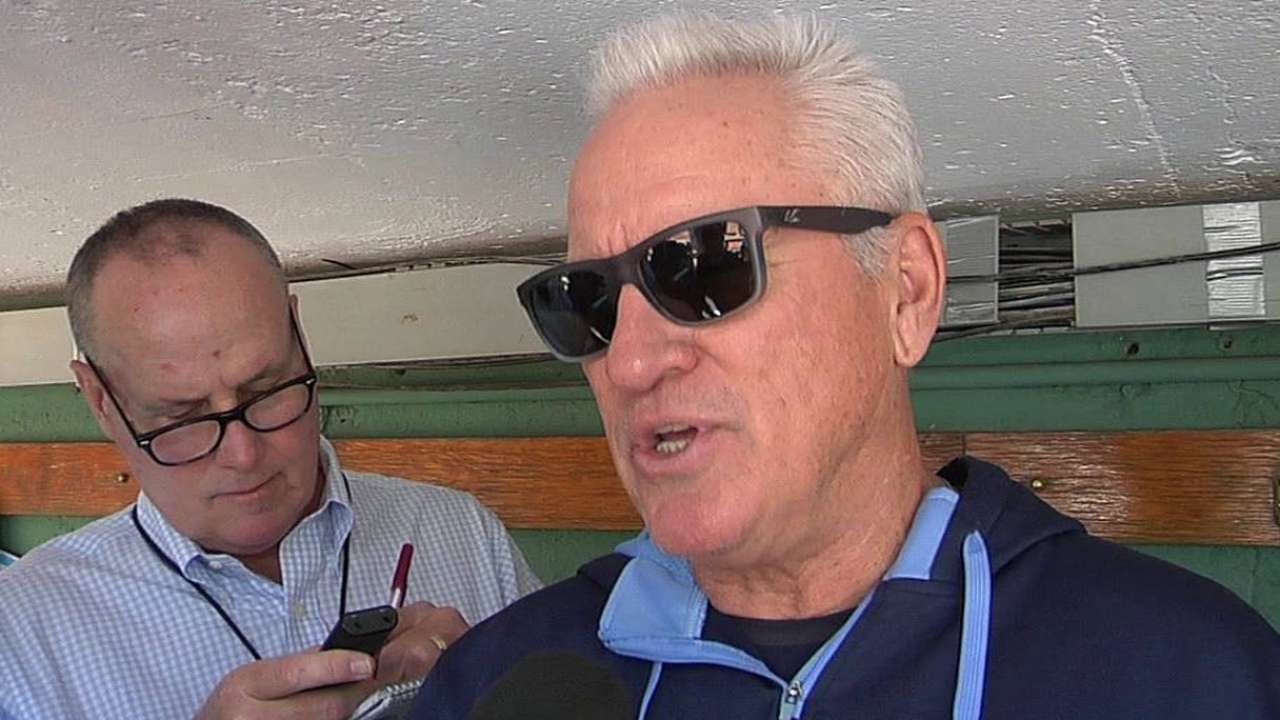 MIAMI -- The Rays' disabled list is dotted with prominent members of the team. Here's the latest as far as how they are advancing toward their returns.
Wil Myers (right wrist) went on the 15-day disabled list on Sunday. He returned to St. Petersburg to have the injury checked out by team orthopedic surgeon Dr. Koco Eaton on Monday, and he still needs to see Dr. Douglas Carlan, who is a hand specialist. That examination will likely take place on Tuesday.
"It could be not so bad, it could be worse," Rays manager Joe Maddon said. "We just have to wait for the doc to tell us."
Maddon noted that he has not heard the word "surgery" yet.
"Length of rehab seems to be the prominent concern or discussion [for Myers]," Maddon said. "... I've not heard 'broken' or 'not broken' yet, that's part of the deal. Dr. Carlan needs to see it -- he's really the expert in his field -- before we determine exactly what it is, and then how long it's going to take. Cast or no cast. Those kinds of things."
Maddon speculated that the worst-case scenario might see Myers miss a month and a half while the best-case scenario would see him miss the minimum time on the 15-day DL.
Jeremy Hellickson (right elbow) pitched a simulated game at the Charlotte Sports Complex on Monday. He threw three innings and 50 pitches and everything went smoothly.
"Helly did really well," Maddon said. "Tomorrow will be the day, the day after, to see how he feels. There's been no setbacks. If he's well tomorrow, we'll probably set out the next course. Yeah, he's probably ready to go out."
If Hellickson feels well Tuesday, he'll likely throw a bullpen on Wednesday and could be in a rehab game as early as Saturday. On the positive side, Maddon noted that in three starts, Hellickson could reach the 90-100 pitch count he needs to hit to return to the rotation. Thus, Hellickson could be back with the team in approximately 20 days.
"Yes, that's theoretically possible," Maddon said.
Catcher Ryan Hanigan (right hamstring tightness) is making good progress, according to Maddon.
"He did really well today," Maddon said. "He worked out back at the Trop. Really intense, good workout without any repercussions. But again, it's always the next day you have to look at. But today was a really good day."
On the other hand, outfielder Brandon Guyer's (fractured left thumb) return does not sound too promising.
"That's the guy that really bums me out, because he was really becoming that guy, a Major League player," Maddon said. "He got the opportunity, and it was working so well for him. Out of all the guys, especially against lefties, he was hitting the ball as well as anybody, too."
Bill Chastain is a reporter for MLB.com. This story was not subject to the approval of Major League Baseball or its clubs.