Myers uses playoff miscue as learning moment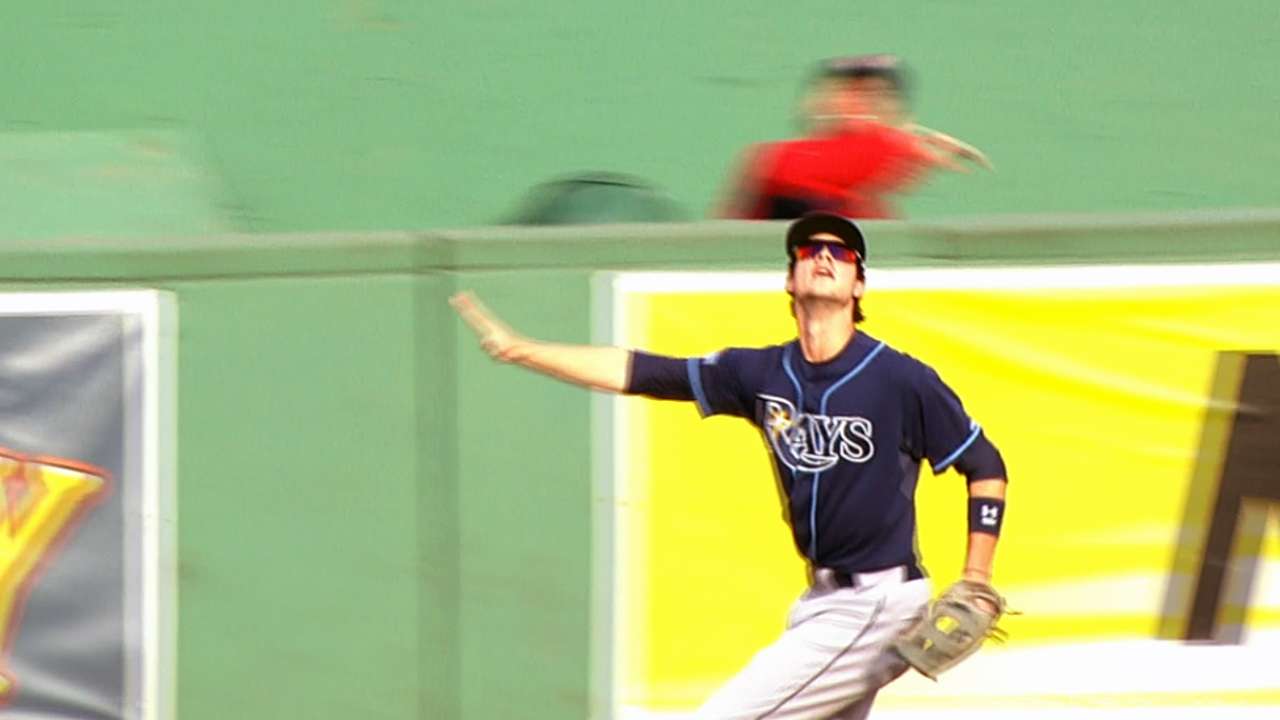 BOSTON -- Wil Myers can now smile about the notoriety he gained at Fenway Park in October.
In Game 1 of the American League Division Series on Oct. 4, 2013, David Ortiz hit a deep fly ball to right field in the bottom of the fourth. Myers, who would win the AL Rookie of the Year Award, called for the ball, but he peeled off ever so slightly when he saw Desmond Jennings out of the corner of his eye. The ball fell in for a ground-rule double, opening the door to a five-run inning and proved to be a pivotal moment during Boston's 12-2 victory.
In the aftermath of Myers' botched fly ball, Red Sox fans taunted him by chanting his name. Fenway's public flogging, though memorable, has not left a scar on Myers, who has managed to roll with the punches.
"I'm excited to get back here after the playoffs, and you know, as bad as it was last year, it was kind of cool to have all the Fenway faithful chanting my name," Myers said. "It's kind of cool. It stunk that it happened, but the whole stadium cheering my name was kind of cool."
Myers admitted to being surprised the fans reacted as quickly as they did last year.
"I was definitely not expecting that," Myers said, "but the fans here are smart baseball fans. They knew that play really turned the momentum. They're smart what they did."
Myers expected to hear from Red Sox fans Tuesday night and for the remainder of the season, so he took a proactive strike on Tuesday when he tweeted: "Where everybody knows your name. #Boston #Cheers."
"I was just trying to make light of things and just try to move past what happened," Myers said.
Myers allowed that last year's gaffe "stayed with me for most of the offseason."
"Just to know that that play kind of turned the series -- especially the momentum," Myers said. "It really helped me work hard during this offseason to get better, and it's definitely something I learned from a playoff experience."
Manager Joe Maddon conceded how difficult the moment was for Myers.
"But he's going to be playing here for many more years to come," Maddon said with a smile. "I'd like to see him make friends with the people in right field, and that would be a great thing. That's all he needs to do. The fans of Boston are spectacular baseball fans. They're having a lot of fun and Wil's a great kid himself. Hopefully it will play out in a good way."
Bill Chastain is a reporter for MLB.com. This story was not subject to the approval of Major League Baseball or its clubs.