Balfour says yelling not directed at Konerko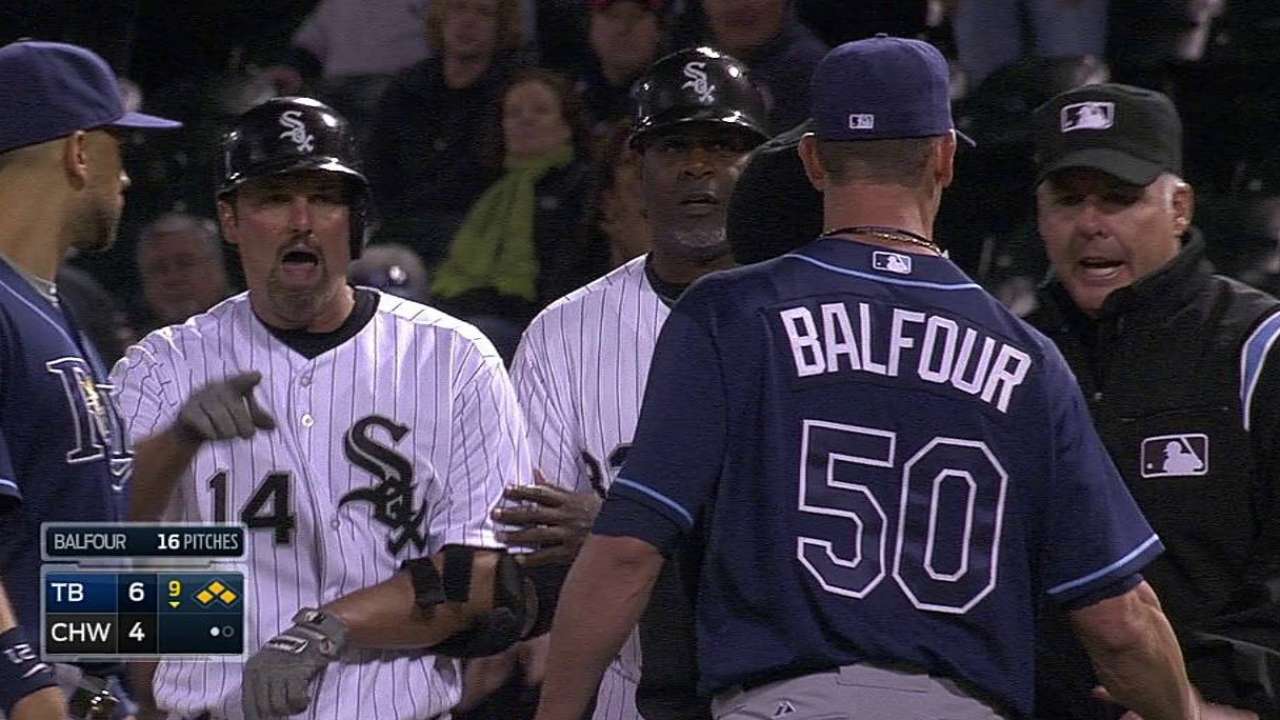 CHICAGO -- After walking Paul Konerko to load the bases in the ninth inning on Friday night, Rays closer Grant Balfour walked toward home plate and stated yelling. Konerko didn't know what Balfour was yelling about -- or why -- but he didn't like it, so he yelled back.
Balfour then returned the favor, as both players walked toward each other before cooler heads prevailed.
"I totally respect the guy," Balfour said. "He's a great player. Like I said [Friday] night, I respect him for what he's done in the game, and he's had a great career. It was definitely not towards him. If he watches when I pitch, I always walk in [toward the plate] when I pitch. It's just what I do. And I went in there to get another ball and I was just yelling.
"I was [mad] at myself. You saw how much I missed by on that pitch. That was a big pitch, and I needed outs. And I was frustrated at the fact I couldn't a pitch in the zone to get him out and I was walking guys. So I was just [mad] at myself and frustrated. I wasn't yelling at him or anyone else. I was really angry at myself with how I went about it. It was a really frustrating game."
Rays manager Joe Maddon didn't find fault with either player.
"I just think that's pretty much Grant being Grant," Maddon said. "We know that's how he is. We've known that for years. And I think that was Paulie trying to rally the troops a little bit. I saw nothing wrong wither way. I think it was no harm, no foul. Again, Grant's done that a lot. It's probably uncharacteristic for Paul, but he did what he thought he had to do, and I don't blame him."
If Konerko's goal was, in fact, to rally the troops, it worked. Two batters later, rookie Jose Abreu hit a walk-off grand slam -- his second homer of the night -- to lead Chicago to a 9-6 win.
Balfour, who walked three and allowed five runs on two hits in two-thirds of an inning, said he was trying too hard to locate pitches.
"I don't know if you deliberately do it," Balfour said. "You're just trying to more or less make the perfect pitch as opposed to just making a good pitch. Sometimes you try to be a little too fine."
Maddon has a theory as to why.
"I just think that he's not seeing 94 on the gun," Maddon said. "If the gun wasn't up there, he'd probably be throwing his fastball more with really good results. That's all it is. His fastball -- even at a little less velocity -- still has the same good movement to it, and it's a matter of trust right now. That's one moment where the gun actually hurts a pitcher because if you spend too much time paying attention to that, you're going to make mistakes."
Balfour almost got out of the inning with a save. He induced a bases-loaded ground ball from Adam Eaton that could have ended the game. The Rays got the force at second base, but Eaton beat shortstop Yunel Escobar's throw to first. Maddon challenged the play, which was confirmed.
At the time, Balfour wasn't sure if Eaton was safe or out.
"I didn't really see it," Balfour said. "I didn't really know. You're hoping he's out. It ends the game. To get a double-play ball right there would have been perfect, but it didn't work out. And I still had two more opportunities and I didn't get it done, so it's definitely on me. It's not on anyone else. I take full responsibility any time I go out there and take the ball."
Maddon said he had no reservations turning to Balfour on Saturday night, should a save opportunity arise.
"That's going to happen," Maddon said of Balfour's blown save. "It happens to all good relief pitchers, all good closers. It happens. It's just one of those bad nights. You got to just move it along and move to the next game. But absolutely, if he's good to go, he'll be back out there tonight."
Tony Meale is a contributor to MLB.com. This story was not subject to the approval of Major League Baseball or its clubs.