Shields won't get to face former teammates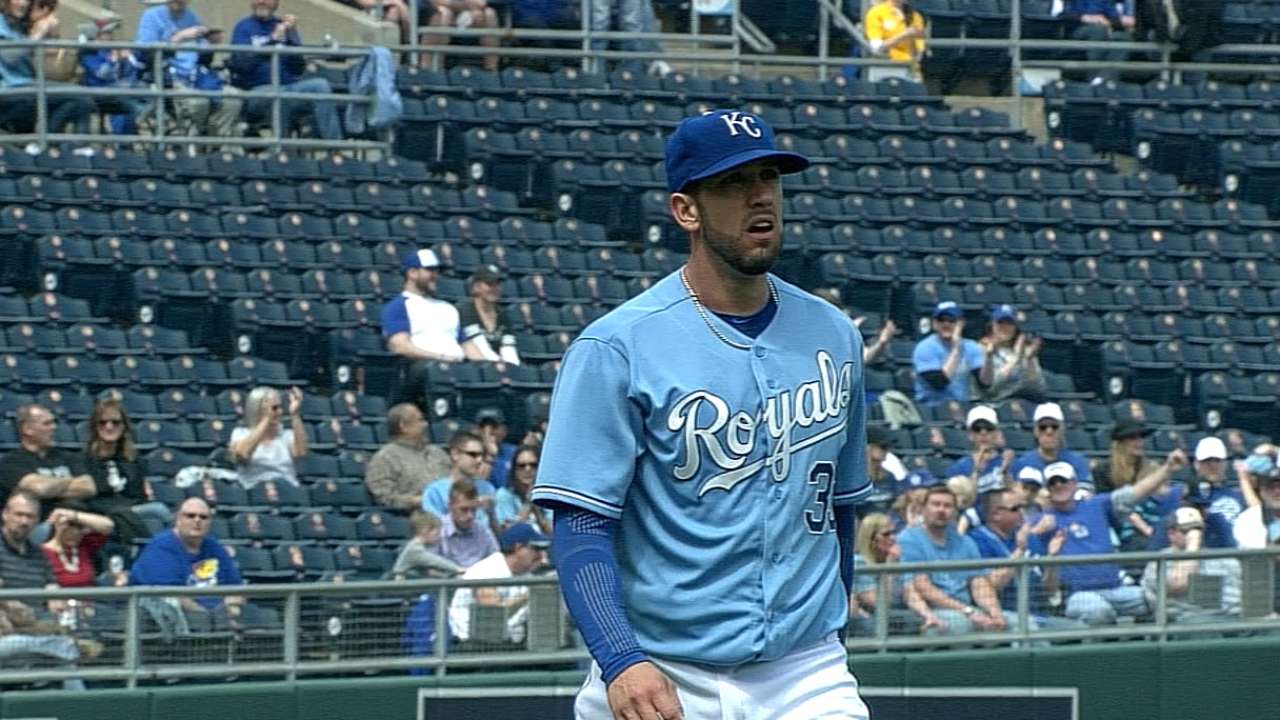 KANSAS CITY -- James Shields pitched Sunday against the White Sox, taking his first loss of the season. Since he pitched Sunday, the former Rays star won't pitch against his old team during the three-game Rays-Royals series that kicked off Monday night at Kauffman Stadium.
The Royals were rained out Thursday, but they elected to skip Thursday's starter, Yordano Ventura, who will pitch against the Rays on Tuesday night.
"If we didn't skip Ventura, I would have pitched today," Shields said. "But they wanted to keep me on the same days rest. I was looking forward to it."
Shields spent a lot of time meeting with friends on the Rays and he took time to talk to reporters about myriad subjects, including the topic of which team came out ahead on the trade that sent Shields, Wade Davis, and Elliot Johnson to the Royals for Wil Myers, Jake Odorizzi, Mike Montgomery and Patrick Leonard.
"I think it was good for both teams," Shields said. "I think our clubhouse needed a little change as far as the atmosphere in the clubhouse, the chemistry and the camaraderie, stuff like that."
Shields was asked about being a "founding father" for helping to set the tone for the run the Rays have enjoyed since 2008.
"I wouldn't go that far [as being a founding father]," Shields said. "But I feel like my time there was a good time. And we did set the tone. We changed the way the organization was. And it wasn't just me; it was a lot of guys. We had [Matt] Garza, Edwin Jackson, Cliff Floyd, all of those guys. They changed the way the atmosphere was in the clubhouse."
With Shields in their clubhouse in 2013, the Royals almost made the playoffs. When asked if Shields employed the same blueprint with the Royals he used with the Rays, Shields said simply that he "just brought over some experience."
"That's all," Shields said. "I came over here just being me. I think that the guys kind of adapted to it a little bit. There's a lot of young guys in the clubhouse who didn't really experience winning. They didn't experience playoff baseball, and last year we did.
"It came down to the last series of the year last year and we were going to face Tampa in a Wild Card game. We didn't get to do that. Now they've experienced that."
Shields remains good friends with David Price and he noted he was glad that Price is still on the Rays.
"Obviously change is tough for a player," Shields said. "Having him go through that the whole offseason, wondering if he's going to get traded or not, I think he took it really well. And I think watching me and a couple of other guys in years past kind of helped him out a little bit. So it's kind of one of those things where he took it well and he's glad he's still there."
What Kansas City did in 2013 reminded Shields of what the Rays did in 2008, even though the Royals did not advance to the World Series.
"We experienced a lot last year," Shields said. "We went through a lot of ups and downs. Second half of the season we were the best team in the American League."
Shields is in the final year of his contract with the Royals, so he will be a free agent at the end of the season. Whether he remains with the Royals or not should not affect how the big trade is viewed, according to Shields.
"I think the trade's going to work out regardless because of the experience factor [given to] these young guys like [Eric] Hosmer and [Mike Moustakas], a lot of these young guys [now have] the experience factor so they can continue to move on," Shields said. "Just like the Rays did after I got traded last year."
Bill Chastain is a reporter for MLB.com. This story was not subject to the approval of Major League Baseball or its clubs.