Maddon offers perspective on Miggy, deal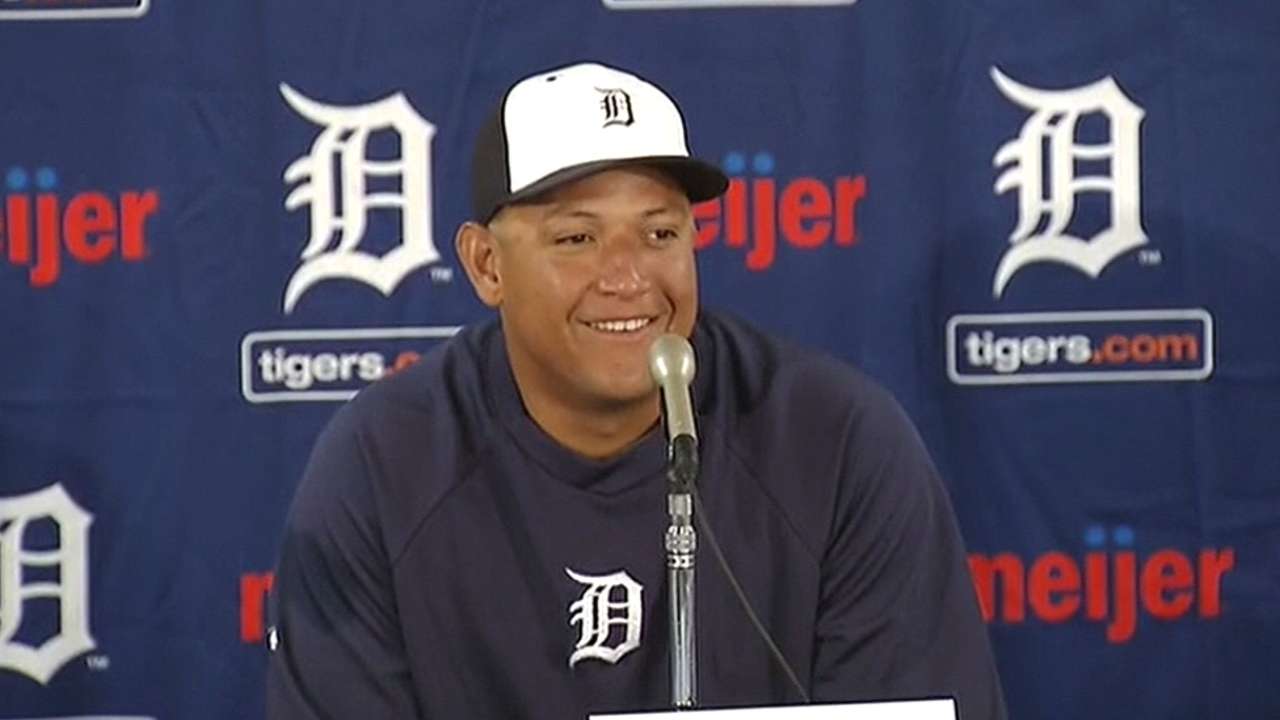 LAKELAND, Fla. -- Miguel Cabrera's record-setting contract extension was front and center on Friday, when the Rays visited Joker Marchant Stadium to play the Tigers.
The agreement extends Cabrera's current contract through at least 2023. Published reports estimate the value of the extension to be $248 million guaranteed. The pact includes vesting options for two additional years at $30 million each.
"Good for him," Rays manager Joe Maddon said. "He's really good. Heads up, Mike Trout."
Asked for perspective on where the Tigers slugger fits in historically, Maddon obliged.
"You could go back to [Barry] Bonds, [Ken] Griffey, the guys I was on the field with, A-Rod," Maddon said. "[Cabrera's] really an exceptional hitter; Edgar Martinez.
"There are probably about 10 guys, if you sat down pencil to paper, that play in another stratosphere. There are some guys that I thought would do that. Like when [Travis] Hafner had a couple of good years, I thought he was in that league, and it kind of went away from him for a bit. But I think a lot of that was injury-induced. But I think for the most part, guys that have been able to do that for a period of time."
Maddon expanded on why Cabrera is such an offensive force.
"He's such a good hitter, because he'll use this side of the field," said Maddon pointing to right field. "And the moment you begin to play into the fact that he's using this side and you try to do something differently, then the ball goes far that way." Maddon pointed to left field. "He's really good about -- I don't know if I want to use the word guessing -- but setting you up, in a sense.
"And furthermore, with really good hitters, when they see their pitch they hit it. They don't foul it off, they don't miss it. They hit it hard and they hit it fair, and that's what the really good hitters do."
Maddon noted that he did not find the money Cabrera signed for baffling, but he said: "It's incredible regarding where these numbers have ascended to. I want to believe that it speaks to the solvency of the game in some ways. And particularly to the Detroit franchise. It speaks well to all of that, I think."
Bill Chastain is a reporter for MLB.com. This story was not subject to the approval of Major League Baseball or its clubs.