Rays release right-hander Lowe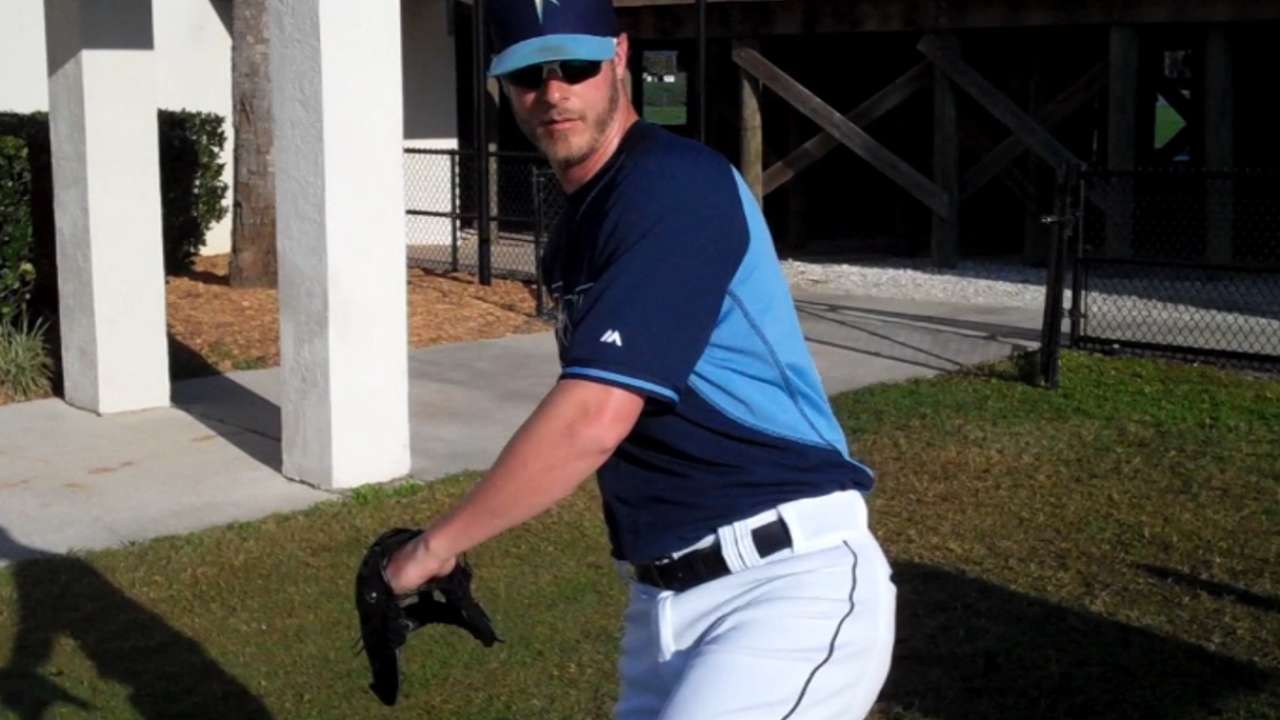 PORT CHARLOTTE, Fla. -- A day after telling Mark Lowe that he would not start the season on the Major League roster, the Rays released the veteran right-hander on Wednesday.
Rays manager Joe Maddon told reporters on Tuesday that the Rays wanted to give veterans Lowe, Jayson Nix and Wilson Betemit an opportunity to find Major League jobs, which is why they were told they would not be with the Rays at the beginning of the season. By doing so, the players were able to look for jobs before rosters were set at the end of the week.
"I'm just talking to a couple of teams, just trying to get a feel for what's the best situation for me," Lowe said. "Obviously the ultimate goal is to have an Opening Day roster spot on a big league team."
Lowe signed a Minor League deal with the Rays, and his out for his contract was not until Friday, so he appreciated the treatment accorded to him by the Rays, who will relocate to Tropicana Field after Wednesday night's game against the Orioles.
"They kind of let me know ahead of time with the workouts going to the Trop and having a wife and a daughter here and having to pack up the cars and get there and turn around and kind of be in limbo, so I have a lot of respect for this organization," Lowe said. "The reasons they brought me in here and the way that they treated me, they're a class act."
Though Lowe has been released, the Rays would gladly have him play at Triple-A Durham to add depth to their organization. Thus, a chance still remains he'll stay with the organization if no other teams offer him a Major League opportunity.
"I mean, [the Rays are] definitely on the top of my list," Lowe said. "I don't think going to Triple-A is a fun thing to think about, but that's a reality possibly and I would see no reason why not."
Lowe, 33, had a good spring, making seven appearances and allowing one earned run in 10 1/3 innings.
"I've never had a spring go this well," Lowe said. "I was throwing a lot of strikes. I had good stuff. And I was using both sides of the plate with all of my pitches. That usually doesn't happen with me during Spring Training, so I came in and did what I had to do. I'm going out healthy and find out where I end up."
Given the way his spring went, Lowe was asked if the Rays' decision caught him off guard.
"No, coming to the field [on Tuesday] I knew [a decision] was coming up at some point," Lowe said. "Going through different scenarios in my head, I've been and seen this every year in Spring Training for the last eight years. So I knew that there was a possibility that maybe [he wouldn't make the team]. I always expect the worst, so if it does happen, I don't get caught off guard. And if something really good happens, I'm surprised. That was kind of my mentality.
"If it worked out, that was awesome. If it didn't, there was nothing else I would have changed. Nothing else I could have done. I just have a lot of respect for this team and they're going to do really well."
Maddon couldn't say enough nice things about Lowe on Wednesday.
"He is good," Maddon said. "And we've been seeking him for awhile and finally got our hands on him and right now there's no room in the end. But we'd love to keep him. Because we know that things are going to change, they do change, he fits in very well.
"We love his skill set. It's just unfortunate that there's no room at this particular moment."
Bill Chastain is a reporter for MLB.com. This story was not subject to the approval of Major League Baseball or its clubs.