Moore OK, on the mend to the relief of Rays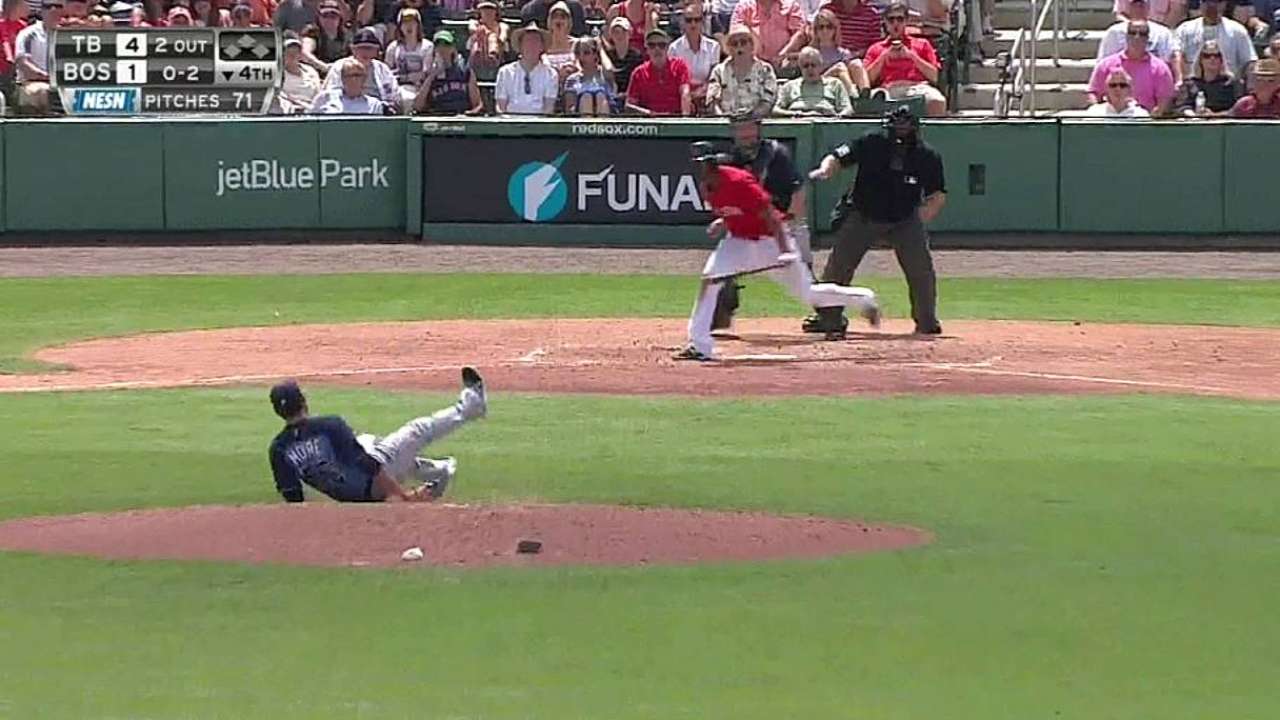 FORT MYERS, Fla. -- On Monday, Rays left-hander Matt Moore told reporters he was doing fine and the swelling had gone down some after he left Sunday's game against the Red Sox after being struck on the mouth by a comebacker off the bat of Xander Bogaerts.
Moore had X-rays at a medical office in Port Charlotte, Fla., on Monday afternoon. All X-rays were negative. He has mild soreness, but he completed a light workout. Head athletic trainer Ron Porterfield doesn't expect him to miss a start.
On the play Sunday that resulted in the scare, Moore not only looked for the ball but actually tracked it down and threw to first in time to retire Bogaerts and end the fourth inning. He then walked off the field under his own power, though a team trainer met him halfway and covered his bleeding lip with a towel.
Moore got four or five stitches on the inside of his lower lip, but he otherwise avoided serious injury. He received the stitches from Red Sox team doctors on site at JetBlue Park and had no signs of concussion-like symptoms, nor did he require a trip to the hospital.
The part Moore remains unsure about is whether the ball deflected off his glove hand, pitching hand or anything at all, though Rays manager Joe Maddon believes the ball skimmed off Moore's pitching hand before striking his lip.
Maddon could smile about the Rays' good fortune on Monday.
"For that to have happened the way it did," Maddon said. "... He didn't even realize it hit his hand. So, really lucky, just a real fortunate thing for us."
Maddon described Moore as "doing well" despite having a bruised and swollen lip.
"I talked with him at breakfast this morning and we spoke a little bit, but I could see smile naturally -- no pains, no headaches, none of this, none of that, so we may have escaped a pretty difficult moment there," Maddon said. "... I don't think he's going to miss hardly anything if he misses anything. ... We just have to talk to [pitching coach Jim Hickey] and [Porterfield], but I think he might be pretty close to normal."
The play had a sobering effect given the chilling scene less than a week ago in Arizona involving Reds left-hander Aroldis Chapman. In a Cactus League game on Wednesday, Chapman was struck above the left eye and immediately went to the ground before eventually being removed on a stretcher. He had surgery the following day to repair a fracture above his left eye and a metal plate was placed on the bone above his eye.
Bill Chastain is a reporter for MLB.com. This story was not subject to the approval of Major League Baseball or its clubs.