Oviedo a long shot to be ready for regular season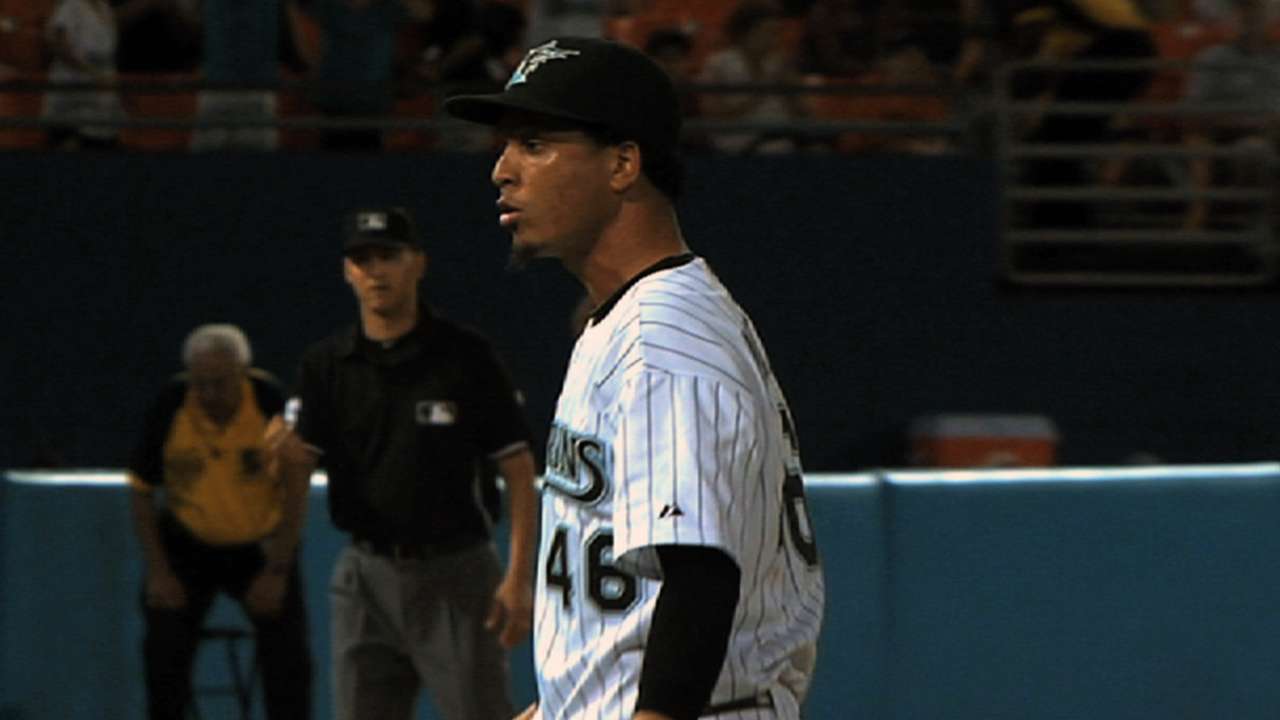 PORT CHARLOTTE, Fla. -- While right-hander Juan Carlos Oviedo finally arrived to camp on Saturday after resolving his lingering visa issues in the Dominican Republic, the Rays are proceeding cautiously until they have fully evaluated his physical condition.
"By the end of this week we should know where we are with him," Rays manager Joe Maddon said. "It's probably a long shot to be actually ready. But I'm not saying he can't."
Oviedo signed with the Rays prior to the 2013 season while recovering from Tommy John surgery to his right elbow, but he did not pitch for the Rays in 2013. The Rays re-signed Oviedo on Jan. 24 to a $1.5 million deal that can escalate to $2.9 million with incentives.
Oviedo, 31, is the pitcher formerly known as Leo Nunez. He last pitched in the Major Leagues in 2011, when he saved 36 games for the Marlins. In three years with the Marlins he saved 92 games.
Oviedo was asked how close he felt to being in the health he was two years ago.
"As good as I feel, time will tell," Oviedo said. "My arm feels great. I'm ready to go. I think I need more pitching than anything."
Maddon said they plan to have Oviedo throw to hitters in a batting practice situation as early as Monday, but maybe Tuesday. They will begin building him up from there.
"By the end of this week I want to believe you're going to see him against some actual hitters in a game," Maddon said. "What does that mean? Obviously that means he's behind a little bit right now."
Maddon noted that he needs to hear the training staff tell him that Oviedo's arm is "in really good shape" and that "he's on target to start the season."
"We have not eliminated [him starting the season with the team], because [head athletic trainer Ron Porterfield] was really impressed how he threw [Saturday]," Maddon said. "... He's just concerned that he's been doing all this throwing down there without the proper post-throwing kind of stuff that we like to do in order to prevent injuries. And the fact that he's coming off such a severe injury, all this stuff has to be evaluated."
Bill Chastain is a reporter for MLB.com. This story was not subject to the approval of Major League Baseball or its clubs.