Maddon sees elite potential in Jennings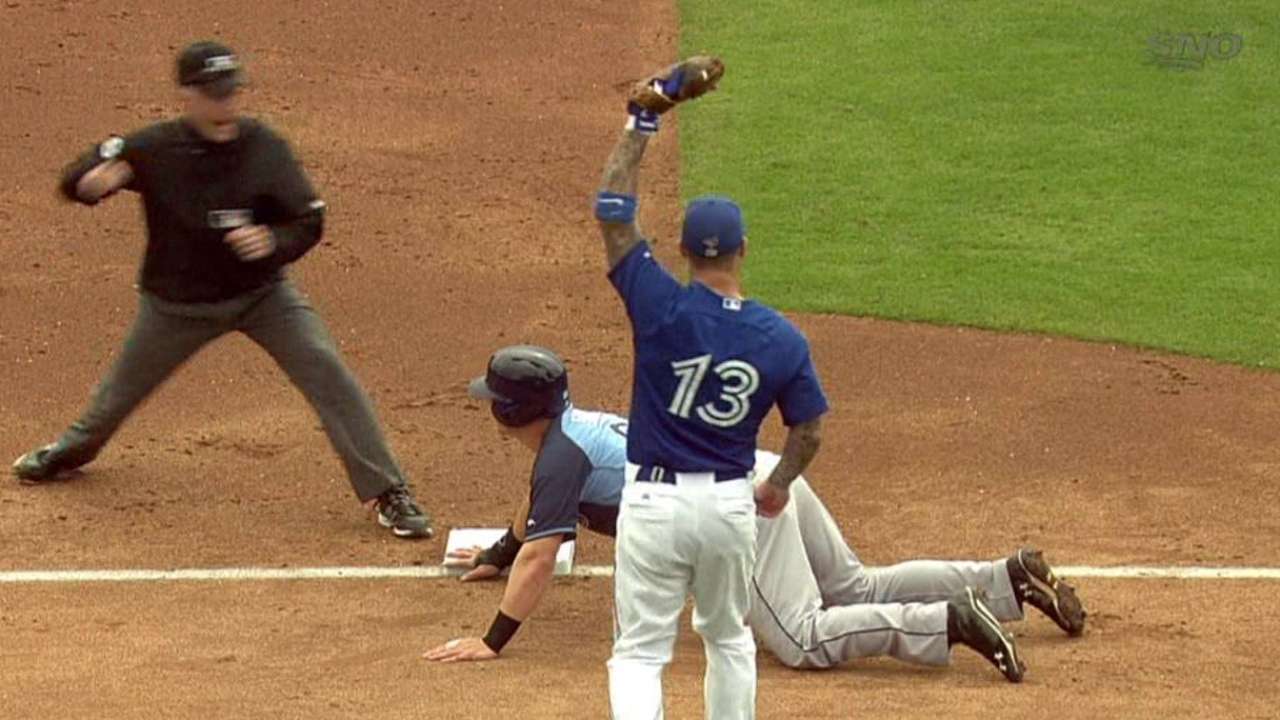 LAKE BUENA VISTA, Fla. -- B.J. Upton once played center field for the Rays. Now Desmond Jennings plays the position, which he did Friday afternoon against the Braves.
That allowed the former Rays center fielder to weigh in on Jennings, who played left field when Upton patrolled center.
Upton noted that Jennings is capable of anything he wants to do.
"He's very talented," Upton said. "He can hit for power. He can hit for average. Sometimes it takes a little while to put it together. He has all the ability in the world."
Joe Maddon is high on Jennings, too. The Rays manager sees only good things for his center fielder.
"I still think you're going to see Desmond keep getting better and better," Maddon said. "... With Des, to me, a lot of it's about his offense, being more consistent getting on base. That would be the primary thing. Once he starts doing that, everything else is really going to take off after that. His base stealing will get better. His confidence will drive up. You're going to see him do even better stuff on defense. So, as a result, his offense becomes better."
Maddon would like nothing better than to see Jennings become the guy he pencils in at the leadoff spot every day. But the Rays have not arrived at that point yet, even though Jennings led off for most of the 2013 season. Jennings has a .330 career on-base percentage.
"If he can arrive at that 35 percent for getting on base, this guy can become an elite player," Maddon said. "He's on the borderline of that right now."
While Maddon feels Jennings is on the brink of greatness, he also thinks the center fielder is still going through the learning process. Maddon allowed that he's had some "great conversations" with Jennings in which the manager told the player that he holds him in high esteem.
"I'm really trying to hold these guy to high expectations, whether it's [Jennings] or Wil [Myers]," Maddon said. "And it's not just about hitting, like I've already talked to Wil about winning a Gold Glove. I think it's within the abilities of Desmond to win a Gold Glove. I want these guys to think that way."
Maddon believes that defensive work benefits offense by keeping a player from over-thinking at the plate.
"So if we can balance this out, have them become more balanced in their work and keep them more centered in their approach, you're going to see a better complete game out of all of these guys," Maddon said, "which benefits them and us."
Bill Chastain is a reporter for MLB.com. This story was not subject to the approval of Major League Baseball or its clubs.