Rays now have three candidates for fifth-starter spot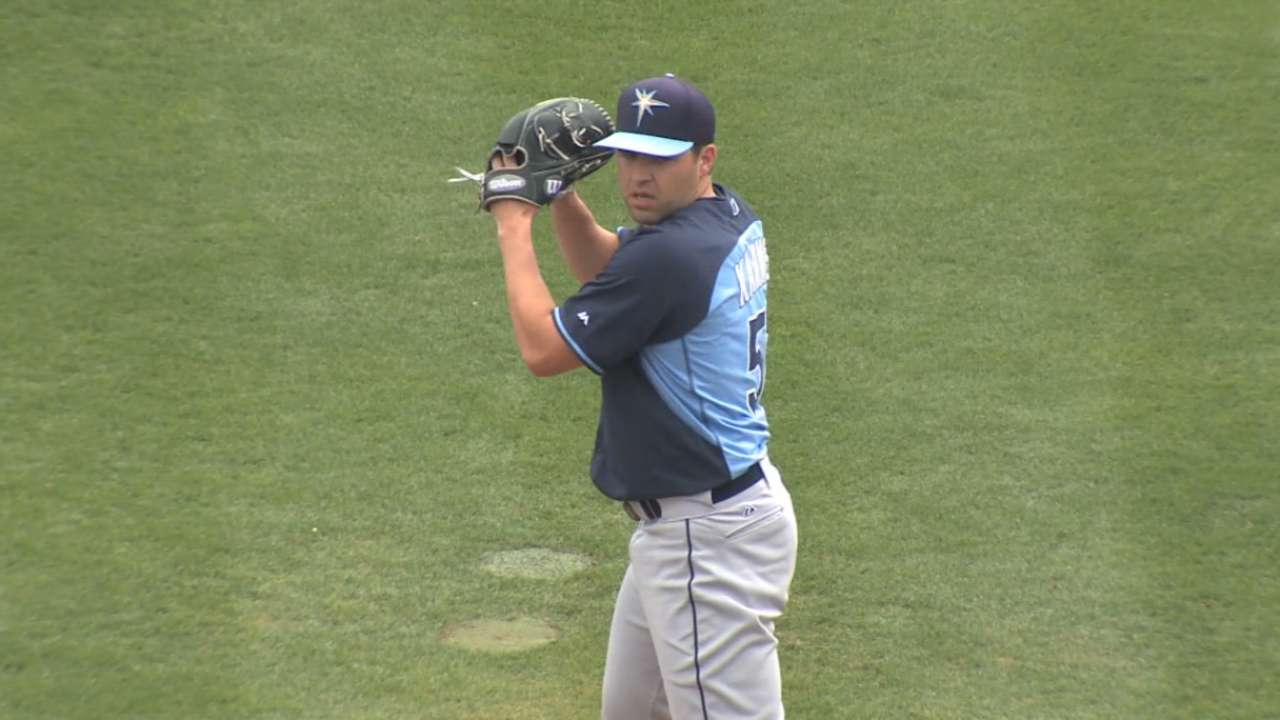 The Rays' spring roster now stands at 44, including right-hander Juan Carlos Oviedo, has yet to report due to visa issues.
Karns was acquired in a trade that sent catcher Jose Lobaton and outfielder Drew Vettleson to the Natonals.
Karns had a solid outing Wednesday in Dunedin, Fla., against the Blue Jays, when he allowed no runs on three hits, while walking one and striking out one in 3 1/3 innings. But that wasn't enough to keep him in the race, which now includes just three: Jake Odorizzi, Erik Bedard and Cesar Ramos. All three will pitch in split-squad games on Saturday.
"[Karns] threw really well yesterday," Rays manager Joe Maddon said. "I repeat, I think he's got great makeup. He's a Major League pitcher. There's a couple of things we want him to work on."
Maddon pointed out that in recent team history, the Rays have sent pitchers such as Chris Archer and Alex Cobb back to Minor League camp, and ultimately those moves have worked.
"Get this guy down, get him in a regular rotation, get him stretched out properly, give him a menu to work on a couple of different things," Maddon said. "We feel very confident he's going to help us this year and possibly help us a lot.
"We like everything about him. We just thought this is the right time to get him back, using our recent history by how successful we've been by doing it that way."
Maddon complimented all of the pitchers optioned, noting how competitive the camp has been and how remarkable the overall talent level is. That prompted another compliment, this one to the front office for assembling the group.
Maddon also took a moment to tout the merits of Lee, who missed most of 2013 after tearing ligaments in his left knee.
"The thing that I really like about Hak-Ju right now, he's gotten bigger and stronger and he's really changed his hitting mechanics," Maddon said. "I can see why he was so successful in a brief period offensively last year. Much stronger base when he hits. A much stronger swing. A more forceful swing. ... The biggest difference I see with him is that."
Maddon added that Lee still seems to be a little restricted with his movements, which the manager attributed partially to the fact that Lee has to wear a brace on his left knee for an undetermined period.
Bill Chastain is a reporter for MLB.com. This story was not subject to the approval of Major League Baseball or its clubs.