Sands, Moore stand out with impressive hitting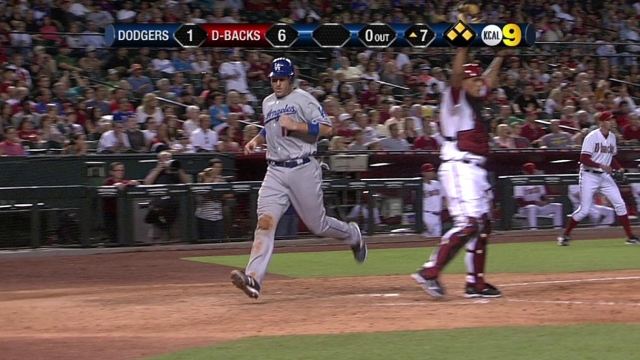 PORT CHARLOTTE, Fla. -- Jerry Sands and Jeremy Moore have used their bats to get noticed this spring.
"They happen to be hitting the ball really well right now," Rays manager Joe Maddon said. "But beyond that, they grade out well in other areas, too."
Added hitting coach Derek Shelton: "They're both strong. And the ball comes off the bat hot, and I think we're seeing that."
Sands is an infielder/outfielder Tampa Bay claimed off waivers from Pittsburgh, and Moore is an outfielder signed as a Minor League free agent.
Sands, 26, helped the Rays win Wednesday afternoon's game against the Blue Jays with a solo home run in the top of the ninth, his third this spring. Entering Thursday's action, he led the Major Leagues with a 1.100 slugging percentage and he led the Grapefruit League with a 1.600 OPS.
In addition, Sands led the Grapefruit League with seven extra-base hits, and he is tied with four Cactus League players for the Major League lead.
"It's good to be swinging the bat well," Sands said. "I know it's just Spring Training, but you're always hoping to get noticed."
Shelton said Sands has been working on a "bunch of different things."
"I think he'd been trying to do different things, and we said, 'Go with what you feel is workable and we'll kind of adjust off that,'" Shelton said. "[Sands has] gotten with something he really likes, and I think we've seen the benefit of that."
Like Sands, Moore, 26, also has three home runs this spring, including a monster blast that cleared the center-field batter's eye Wednesday in Dunedin. Rays pitcher Nathan Karns observed of the blast: "I think he hit it to Toronto."
Moore said, "I actually didn't see where it went. When I hit it, I just kind of dropped my head and ran. I'm not going to admire it. I came in the dugout. You don't want to be the guy asking, 'Where did it go?' but everybody was kind of looking at me like, 'Wow.'"
Moore has six extra-base hits this spring, and he said he feels healthy after having problems with his hips the past two seasons.
"It's been fun to be here," Moore said. "The environment has been so relaxed and enjoyable. It's absolutely the most fun I've had in a couple of years. And, obviously, the healthiest I've been in a couple of years."
Shelton complimented Moore for doing well on the things he's been working on with Tampa Bay hitting coordinator Chad Mottola.
"They have hit it off, and they've worked every morning together on specific things," Shelton said. "And I think it's really translated. I think he's in a position where he's got something he can work on."
Bill Chastain is a reporter for MLB.com. This story was not subject to the approval of Major League Baseball or its clubs.