Seeking last rotation spot, Odorizzi makes first start
Righty relies heavily on new pitch; Ramos, Bedard, Karns also in mix for job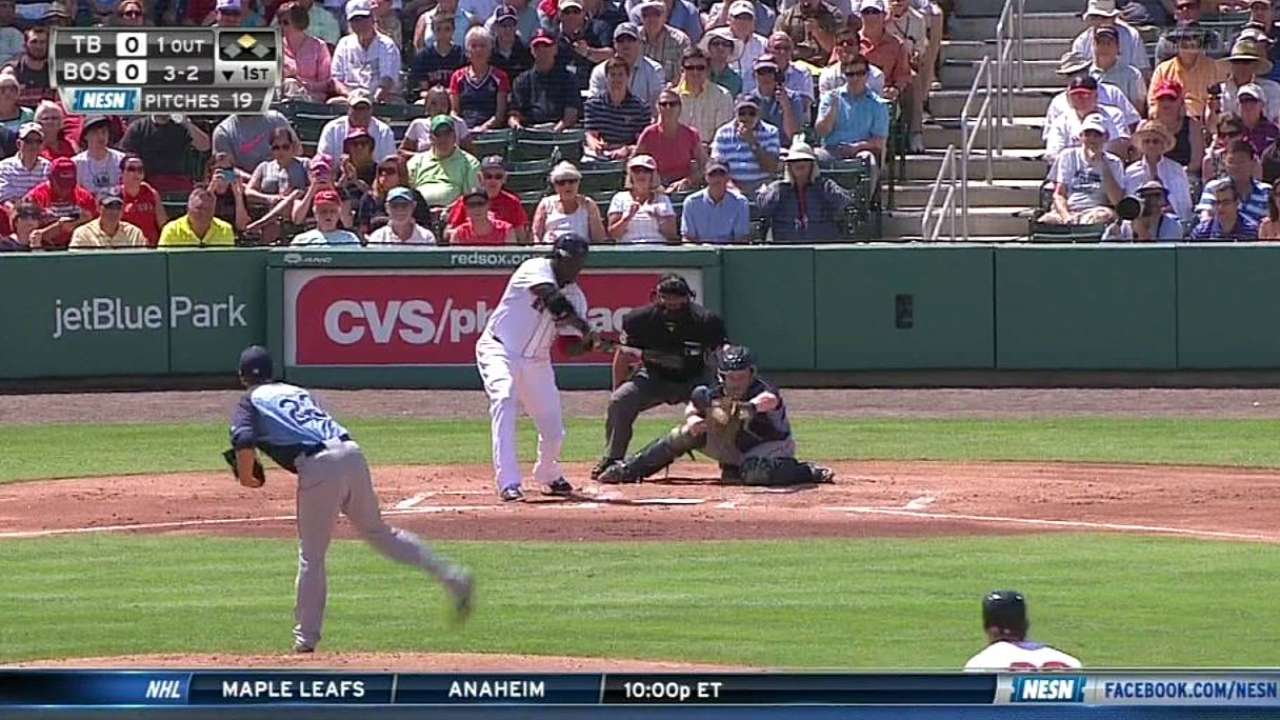 FORT MYERS, Fla. -- Jake Odorizzi doesn't care what you call his new offspeed pitch. He just hopes it helps him get outs. Odorizzi, who's firmly in the competition for Tampa Bay's fifth slot in the rotation, is working on a split-finger pitch this spring that he and Alex Cobb jokingly call "The Thing."
The pitch, which acts like a changeup with late downward break, gave Odorizzi some growing pains Monday, when he struggled with his control against Boston. Odorizzi threw 49 pitches and left with one out in the third inning, but he said it was good to test the pitch under adverse circumstances.
"It was my fault, really," said Odorizzi. "I just kept throwing it, throwing it. I got behind just about everybody because I didn't have a good feel for it. Instead of abandoning and going to something I know -- like my slider -- that I can throw for a strike, I'm going to keep throwing it right now. That's my main emphasis. I'm not going to be too fine with it or [think], 'Well, I can't throw a strike with it at first. I'm going to put it in my pocket and not work on it.' Now is the time I need to work on it."
And work on it he did. Odorizzi threw the pitch over and over, and he said that it was basically a hit-and-miss experience. Most importantly, Odorizzi kept the Red Sox from doing damage in his brief outing, casting another positive step forward in a wide-open battle for the last rotation slot.
Tampa Bay is also considering Cesar Ramos, Erik Bedard and Nate Karns for the fifth rotation spot, and manager Joe Maddon said it's getting tough to get them all opportunities. Ramos pitched in a Minor League game Monday, and Karns will pitch against Toronto on Wednesday.
"We're still looking at everybody," said Maddon of the evaluation process. "We've had such great competition here. You're going to see Jake right now, but they've all thrown the ball well. ... I'm not really performance-based in scouting Spring Training. You're going to have to look under the hood a little bit to try to determine who you think is the most ready for this minute right now."
That last part -- the delving deeper than the actual statistics -- has to be reassuring for Odorizzi, who has raised his difficulty rating by trying to learn a new pitch. The 23-year-old kept going to the same well Monday because he knows that he really needs another weapon.
And so, as the spring progresses, don't expect anything to change. Odorizzi knows exactly what's at stake this spring, but he's more concerned with raising his game for next year and beyond.
"I'm not trying to let that dictate my preparation. I know I need to work on this," he said. "If I get that spot, I've been working on that all spring and it's just a weapon going into the season that I didn't have last year. Maybe some other people wouldn't go through learning a new pitch and jeopardizing that, but I think working on it now and the success I've had is going to take me to the next level."
Spencer Fordin is a reporter for MLB.com. This story was not subject to the approval of Major League Baseball or its clubs.