Forsythe looks to build on first-base debut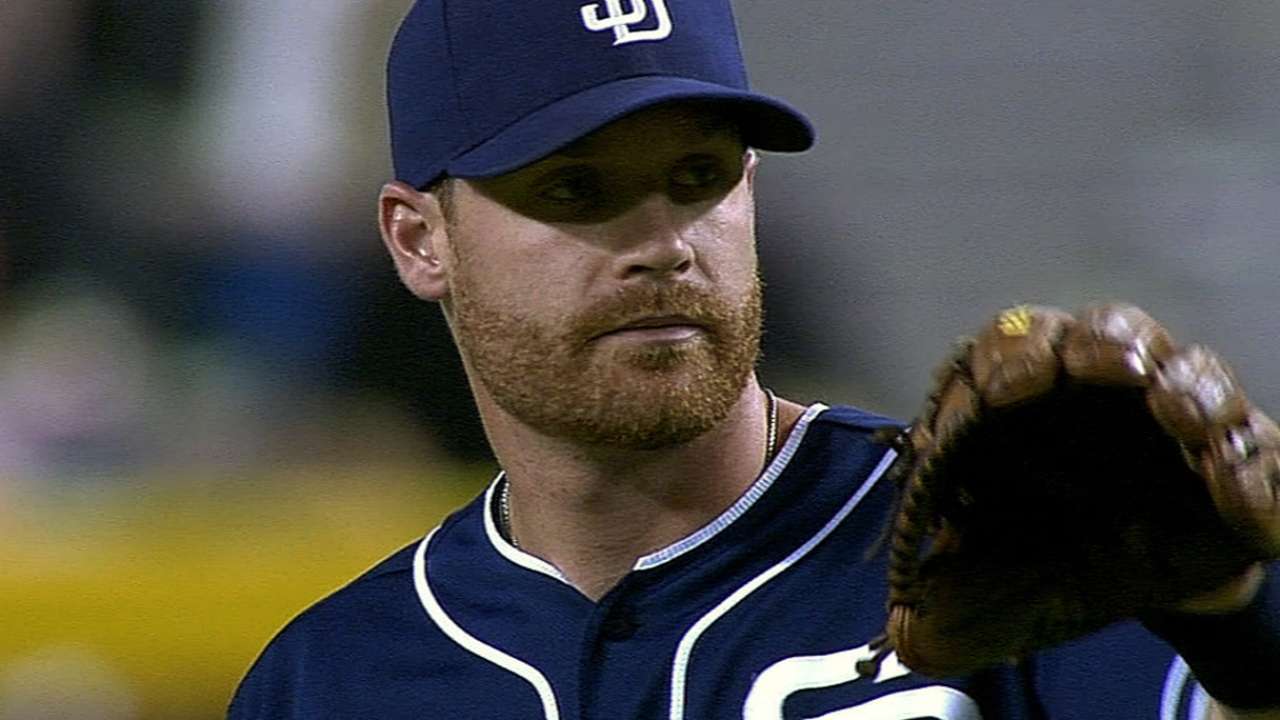 PORT CHARLOTTE, Fla. -- Logan Forsythe got his first action of the spring at first base when he started against the Phillies at Charlotte Sports Park in Monday's 6-1 Rays win.
While James Loney is the everyday first baseman and will be there most nights this summer, and Sean Rodriguez is a solid backup, Forsythe could spend some time there this season, particularly in the late innings.
"It's nice to be able to do that," Rays manager Joe Maddon said. "I think how the team's going to set up, we'll be covered there, but you just don't know what's going to happen [as the year progresses]. Injuries, other things happen. And then all of a sudden, a guy gets hot, like a Forsythe, and you want him out there more often. Yeah, you'd like him to play there [during Spring Training]. I think he is not uncomfortable, but I think he'd like to get more work there."
Forsythe has never played first base in a professional game.
"When we talked to him, he wasn't like most guys in that position," Maddon said. "[Instead], he was like, 'I can do it.' But he also did indicate that he would need more time and work. A lot of it has to do with just a road map."
Maddon pointed out the road map for playing first base is not simply about fielding ground balls.
"There's stuff that a first baseman has to do that you're not used to doing," Maddon said. "This might sound dumb, but if the ball's hit to shortstop, you have to run to first and cover the bag. You'd just be a spectator a lot of times, based on what you've done in the past. So even that, holding the runner on, getting into the hole, cutoffs and relays, pickoffs. How do you move on bunt defenses? Everything. There's a lot of different things about it. And you're involved in so much of the game."
Maddon equated a first baseman to almost being like a catcher "on the infield when so many players go through you."
Forsythe noted that going to first base is like moving from playing third to one of the middle-infield positions.
"Ground balls on the left side are going to be different on the right side," Forsythe said. "It's different when you're holding runners on and you have to come off the bag."
Forsythe has talked to Loney and Rodriguez to pick their brains about the position.
"Guys who have played multiple positions like Sean, who haven't had too much time at first but have gone over there -- what their thought process was -- but lean on the guys that are actually more everyday first basemen," Forsythe said.
Forsythe played six innings and was in the middle of a lot of the action on Monday, including a play in the first inning when he came off the bag a little early, resulting in an infield single for Maikel Franco.
"I started leaning a little too soon, a little too anxious, and I had to keep going. I tried to make it look good," Forsythe said. "Talked to [first-base umpire Bill Welke] and he said I came off a little too soon, just a timing thing."
Otherwise, he felt pretty positive about his day.
"Right side of the infield, pitchers' pickoffs felt good, nothing too crazy. Coming off the bag felt good, didn't get tripped up or mixed up while I was out there, so good day," Forsythe said.
Bill Chastain is a reporter for MLB.com. This story was not subject to the approval of Major League Baseball or its clubs.