Forsythe, Nix train to become ultimate utility men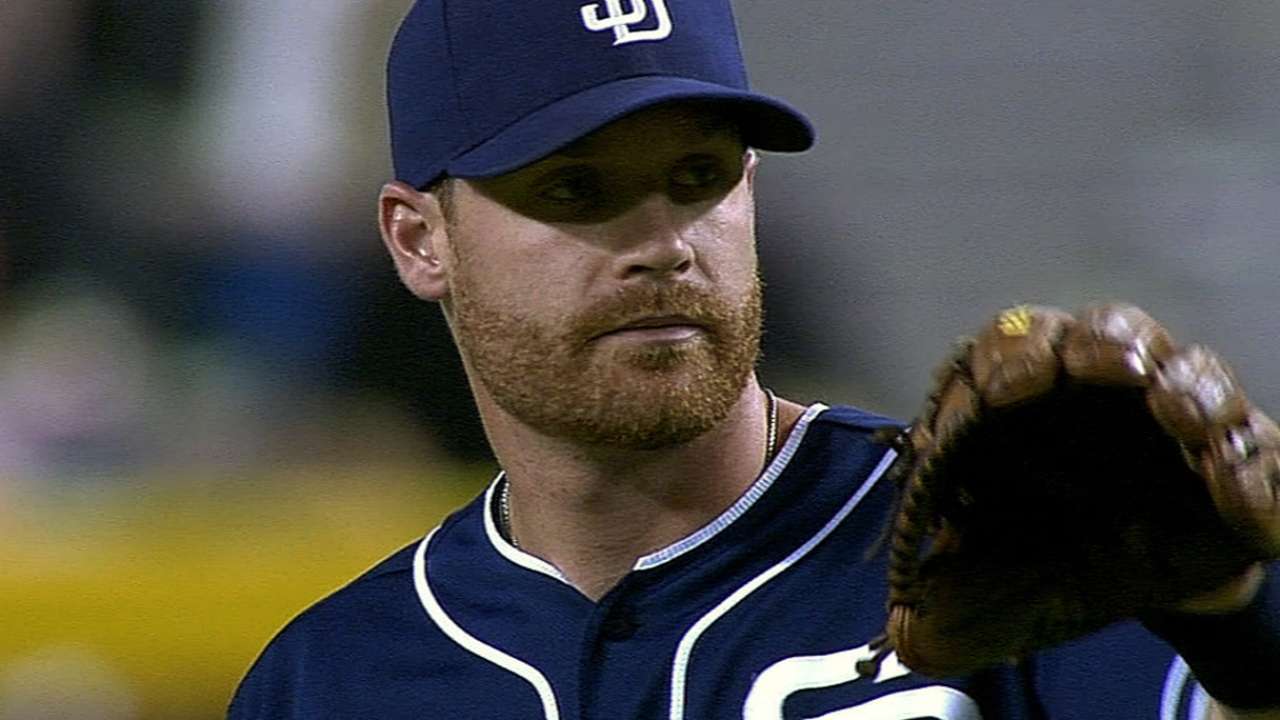 BRADENTON, Fla. -- Count Logan Forsythe and Jayson Nix among the many utility candidates in camp this spring.
Forsythe came to the Rays in a trade with the Padres on Jan. 22, while Nix signed a Minor League deal with the team on Jan. 14 with an invite to Spring Training.
Both were in the Rays' lineup Saturday against the Pirates, as Forsythe played third and Nix played shortstop. Rays manager Joe Maddon said neither will begin playing the outfield just yet, though the position is in each of their respective skill sets.
"I think Logan, we're talking about keeping him on the infield a little bit right now, as well as Nix before we put them both out there," Maddon said.
Both players have already begun taking fly balls in the outfield, but they are fine with the gradual process of getting prepared to play the outfield in games.
"First, I kind of want to get my feet wet in the infield, get my rhythm there first," said Nix, who carries five gloves for playing first, second base, shortstop, third base and the outfield. "But I think pretty soon, I'll start working out there more. I've already gotten some work out there at camp. The next week or two, I'll start working out there.
"... The rhythm of defense during Spring Training is important, to be able to get that rhythm. ... Bottom line is, if they tell me to go out there, I'm going out there. But I think I'll be out there sooner than later."
Forsythe has four gloves: one for first base, one for the middle infield positions, one for third base and one for the outfield.
"You definitely want to get comfortable in the infield first," Forsythe said. "Our primary positions are in the infield, so we want to make sure our footwork and our angles and everything are right first before we jump into the outfield and start taking fly balls out there.
"... You ease into each position. With the games beginning now, we're going to be moving around -- the guys who play multiple positions. We'll be in one position one day and another the next, but they're really good about it here. They let us know in advance."
The makeup of this season's bench will be a difficult and complex decision based on the number of players in camp who play multiple positions. Maddon noted that he is eager to see both Forsythe and Nix play all of the positions they play to get an idea about where he's comfortable using them.
"We want to see all that," Maddon said. "You just don't know how it's all going to work out, what the bench is going to look like exactly."
The idea is to have a flexible group that allows Maddon to plug in players at different positions on different nights to maximize the matchups against opposing pitchers.
"The tough left-handed pitcher on a particular night," Maddon said. "You have a fly-ball pitcher pitching, there's a ground-ball pitcher pitching. For us, there are different reasons why you do different things. And if this guy's comfortable doing different things, like a Logan Forsythe, then you don't even hesitate to make these particular moves.
"Then again, it's Spring Training. Sometimes you find out guys are uncomfortable doing certain things. It's just a matter of getting them out there and kind of researching it a little bit and see what we have."
Maddon said that using Forsythe and Nix in the outfield will be more of a situation to expand the bench at the end of the game, rather than starting them in the outfield.
"Injuries occur, different things happen," Maddon said. "Who knows, but more than likely [both are] being groomed more for the in-game moves as opposed to starting out there."
Forsythe said his use just depends on how the game goes.
"The matchups, the bullpen, late-inning games, how Joe moves his guys around," Forsythe said. "Guys like us who play multiple positions, if we can help the team win, they're going to throw us out there if they're comfortable with us."
Nix is ready for use wherever Maddon sees fit, even the outfield in late-inning situations.
"That's something I've done the last couple of years, and I'm comfortable with it," Nix said.
However, Nix does not yet have a catcher's mitt among his collection of gloves.
"Not yet, but I probably ought to get one of those working," Nix joked.
Meanwhile, Forsythe noted that not all of his gloves are broken in just yet. When a visitor noted that he could wear himself out breaking in those gloves, Forsythe smiled.
"I'll get someone else to do that for me," Forsythe said.
Bill Chastain is a reporter for MLB.com. This story was not subject to the approval of Major League Baseball or its clubs.