Seeking job, Bedard enjoys vibe of Rays camp
Veteran left-hander competing for fifth spot while Hellickson recovers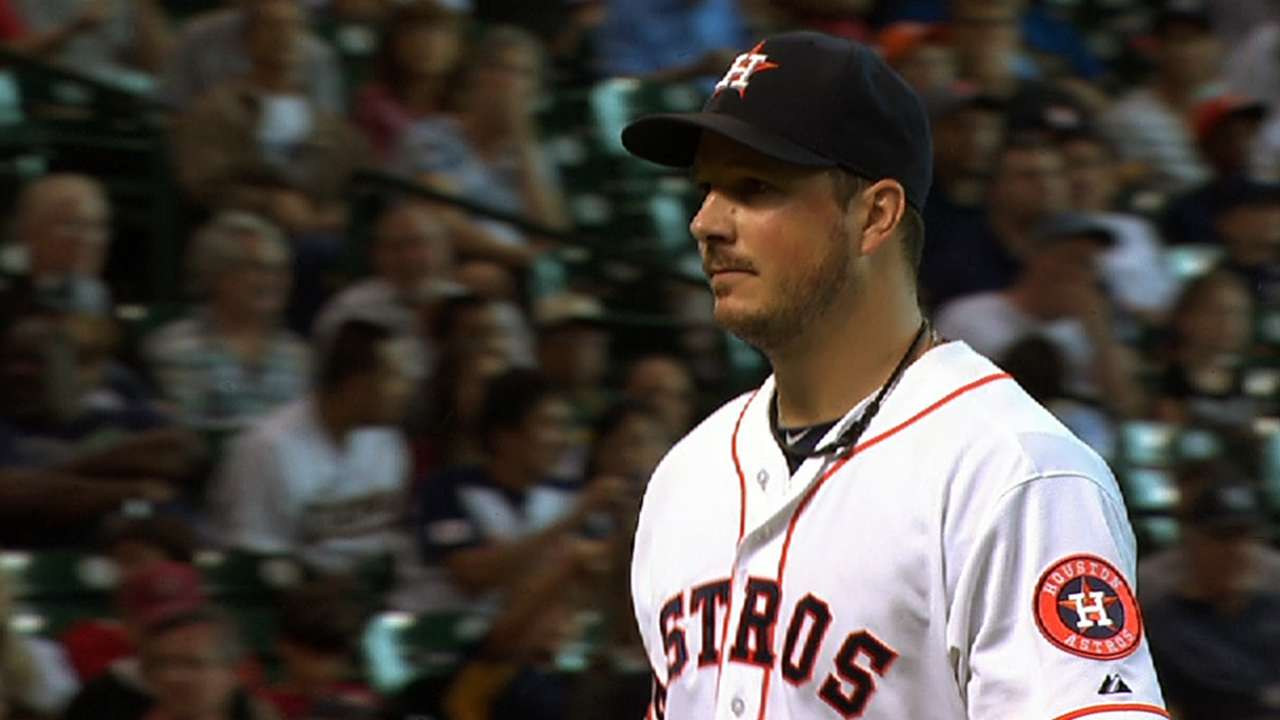 PORT CHARLOTTE, Fla. -- Erik Bedard is in Rays camp after signing a Minor League deal with an invitation to Major League camp just prior to the start of Spring Training.
Bedard, 34, spent last season with the Astros, going 4-12 with a 4.59 ERA. The veteran left-hander made 26 appearances as a starter, which marked his highest season total since making 28 starts in 2007 with the Orioles. He attributed the Rays' success as a driving factor for signing with the team.
"They're a winning organization," Bedard said. "And they've been consistent the last five or six years. And everybody wants to be a part of that. I've always heard good things from other players that it's fun to be here. And it's relaxed. Just play ball."
Thus far Bedard has found the atmosphere to be just as he imagined.
"Everybody's having a lot of fun, but we're doing the work at the same time," Bedard said. "It's always fun to be around that."
Bedard sounded like the veteran he is when asked about what he's trying to accomplish at this point of camp.
"Right now I'm just trying to throw strikes, get your arm in shape for games, and go from there," Bedard said. "It's a process, you don't try and make the team in BP, you just gradually work to get your arm strong.
"...Throwing strikes, that's the main thing. Not everything is sharp right now, but it'll get there and just get better."
Rays manager Joe Maddon has always been a Bedard fan.
"Loved him," Maddon said. "... He was able to throw something other than fastball in a fastball count for a strike. He was uncanny with that and that's why I thought he really ruled when he was with Baltimore."
Bedard is in contention for the No. 5 spot in the rotation since Jeremy Hellickson is out for now while rehabbing after elbow surgery.
"When you look at his numbers last year -- his won-loss record wasn't the greatest -- but, again, we don't look at that," Maddon said. "He did a lot of things well last year and pitched better than those numbers indicated. ... The stuff we looked at was a lot better. You'd like to think putting him in front of his defense is going to make that even better."
Maddon pointed out that Bedard seems healthy and his stuff is "still really good."
"He gets out both righties and lefties," Maddon said. "We had some ideas for him to think about when we did our work on him. So we'll see how he goes out there and plays. But him being well and getting an opportunity here, he could be better than a .500 pitcher."
In addition to liking Bedard on the mound, Maddon noted that he has taken a shine to his personality.
"I never knew, the guy is gregarious," Maddon said. "He's affable. He talks. He's funny. And you never got that from watching from a distance. I kind of like his personality. I think he fits in well here."
Given the fact his manager called him "gregarious," Bedard was asked what he would call the Rays manager, a question prompted a chuckle.
"I'll have to think about that one," Bedard said. "That was not a layup question."
Bill Chastain is a reporter for MLB.com. This story was not subject to the approval of Major League Baseball or its clubs.