Belnome, Riefenhauser knocking on Rays' door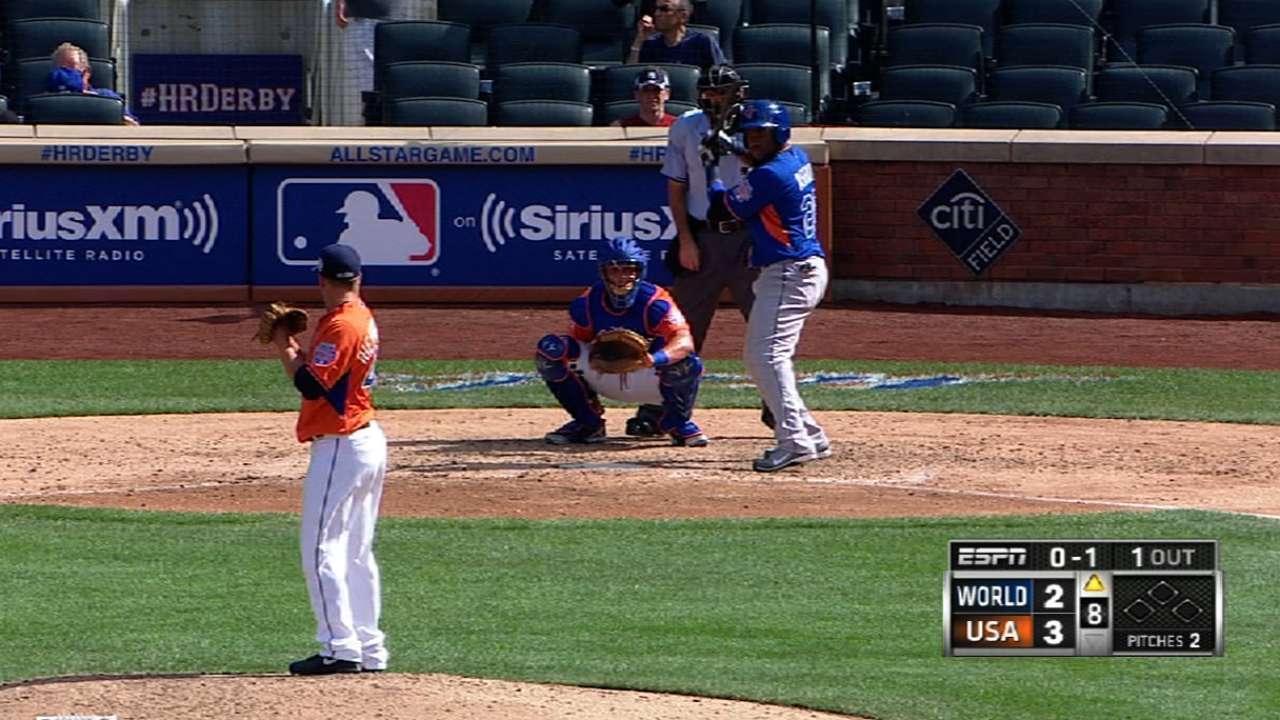 ST. PETERSBURG -- In a clubhouse full of most of the Rays' top Minor League prospects, C.J. Riefenhauser and Vince Belnome still managed to stand out a little bit.
It's not just that Belnome, 25, was the oldest one in the room Wednesday for the Rays' Winter Development Camp, or that the 23-year-old Riefenhauser has already pitched under the spotlight of the All-Star Futures Game. They're both on the 40-man roster, but so are right-handers Jesse Hahn and Kirby Yates, though the latter was unable to make it to the camp from Hawaii.
No, it's more so that the two of them are realistically not far from the Majors. Belnome is an infielder who put up excellent offensive numbers last year with Triple-A Durham and presents the kind of defensive versatility that Tampa Bay desires. Riefenhauser is a bulldog lefty reliever who posted a 1.22 ERA in 2013 between Double-A Montgomery and Durham.
Riefenhauser was a 20th-round Draft pick in 2010, and Belnome was taken by the Padres in the 28th round a year earlier.
"Draft position only really matters in terms of your signing bonus -- and while that matters, once you get into the system, it's much more about who you are, how you perform and how your skills evolve," Rays executive vice president of baseball operations Andrew Friedman said. "Both of those guys are examples of not letting the Draft round affect their desire and quest to get to the big leagues."
Belnome said he believes he's ready to make the leap, and he hopes his versatility -- he's comfortable at second, third and first, and is willing to play anywhere -- will help make that a reality. Riefenhauser, meanwhile, worked more in the second half on a changeup that could help make him more than just a situational lefty in the Majors, and he said Wednesday he's "starting to get a good feel for it, so I'm excited."
Farm director Mitch Lukevics praised both players' professionalism, and they showed it when asked about being only a step away from the Majors.
"It's definitely exciting that it's in the mix. When, or when I'm ready, I have no idea. That's for them to decide," Riefenhauser said. "They're great at it. Look at their track record. I'm going to try to get better day in and day out, and see where it goes from there."
"Nothing's out of reach. No rosters are set or anything. They have guys that are obviously going to be on the team, but you never know," added Belnome. "If I go out there and do well, I could get sent down or I could make the team."
Adam Berry is a reporter for MLB.com. Follow him on Twitter at @adamdberry. This story was not subject to the approval of Major League Baseball or its clubs.