Shaffer impressed Rays with effort in first year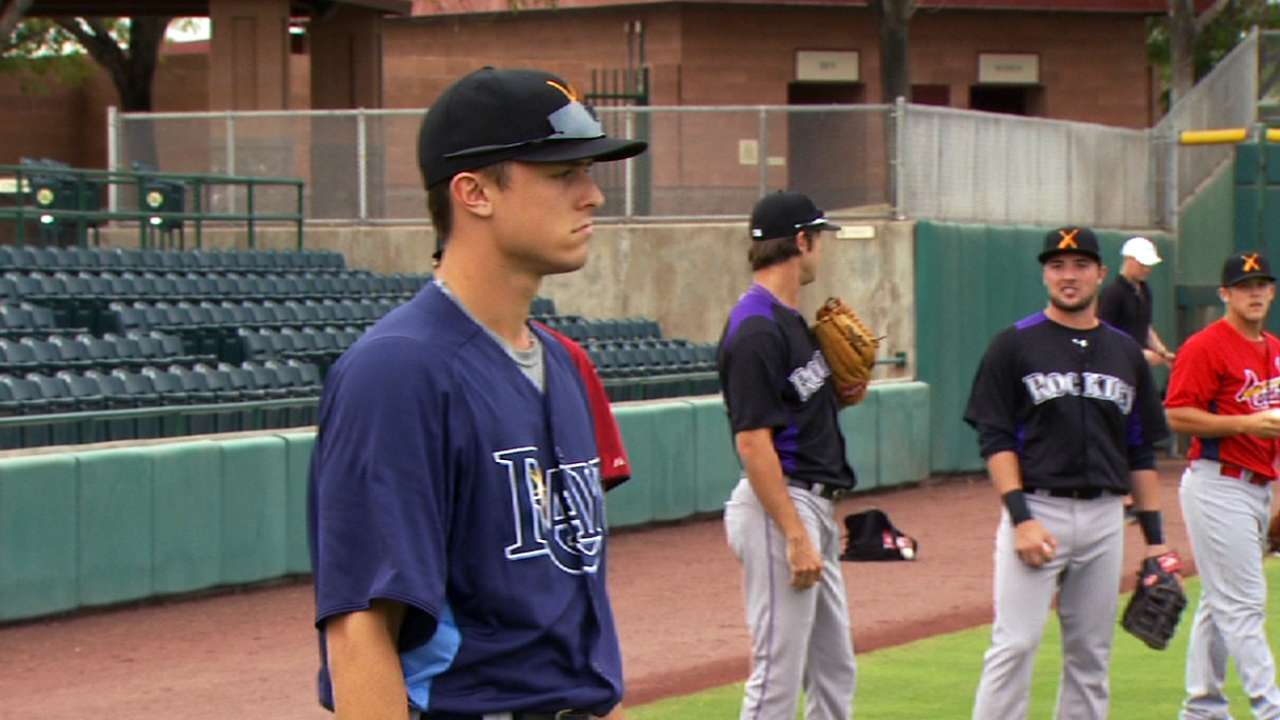 ST. PETERSBURG -- The way Mitch Lukevics describes it, Rays infield prospect Richie Shaffer is the poster boy for the difficult jump to a full-season Minor League team.
The Rays' director of Minor League operations said Shaffer, Tampa Bay's first-round pick in the 2012 First-Year Player Draft, "near wilted" during an often-challenging 2013 season with Class A Advanced Charlotte. But the 22-year-old corner infielder bounced back with a strong performance in the Arizona Fall League, hitting .277/.478/.362, and Lukevics said he was excited about Shaffer's next step.
"He survived it. He went to the Arizona Fall League and did well, and we expect him to be in Double-A and contribute and keep making progressions. But it wasn't easy," Lukevics said. "He came to us and we put him right in the fire. Mentally, he handled it. Physically, it was a challenge, but what a great learning experience. We expect great things from him at Double-A this season."
"I made my mistakes, just like every first-year player did, with poor eating choices or poor sleeping choices or whatever," added Shaffer on Wednesday at the Rays' annual Winter Development Camp. "But those are things that I've learned and that I can properly plan now this next season, and in the future, with how I go about preparing for games and preparing for the season."
Now, Shaffer will focus more on making himself a more versatile defensive player. He's only played third base professionally but also has past experience at first. Rays executive vice president of baseball operations Andrew Friedman said Shaffer will probably play third base again next season, but Tampa Bay hasn't decided whether he'll see some time in the outfield. The Rays have third base locked up for a long time with Evan Longoria on board, and first baseman James Loney just signed a three-year deal.
"Versatility is huge with any player in the Rays organization, and that includes myself. So the more positions that I can play, the more valuable I am to this organization," Shaffer said. "No other players can really affect what I have to do. I just have to focus on myself. I can't worry about who's ahead of me or whatever, because every player in the Major Leagues is an incredible player. I just have to handle my business, and when or if my time ever comes, then I need to make sure that I'm ready."
"Any guy that we can add some multipositional flexibility with, it just adds to their value," Friedman said. "He's a guy that has a lot of ability, and it's about kind of harnessing it and figuring it out. He's getting there. His work ethic is off the charts and something that I feel like he's on the right path."
Adam Berry is a reporter for MLB.com. Follow him on Twitter at @adamdberry. This story was not subject to the approval of Major League Baseball or its clubs.