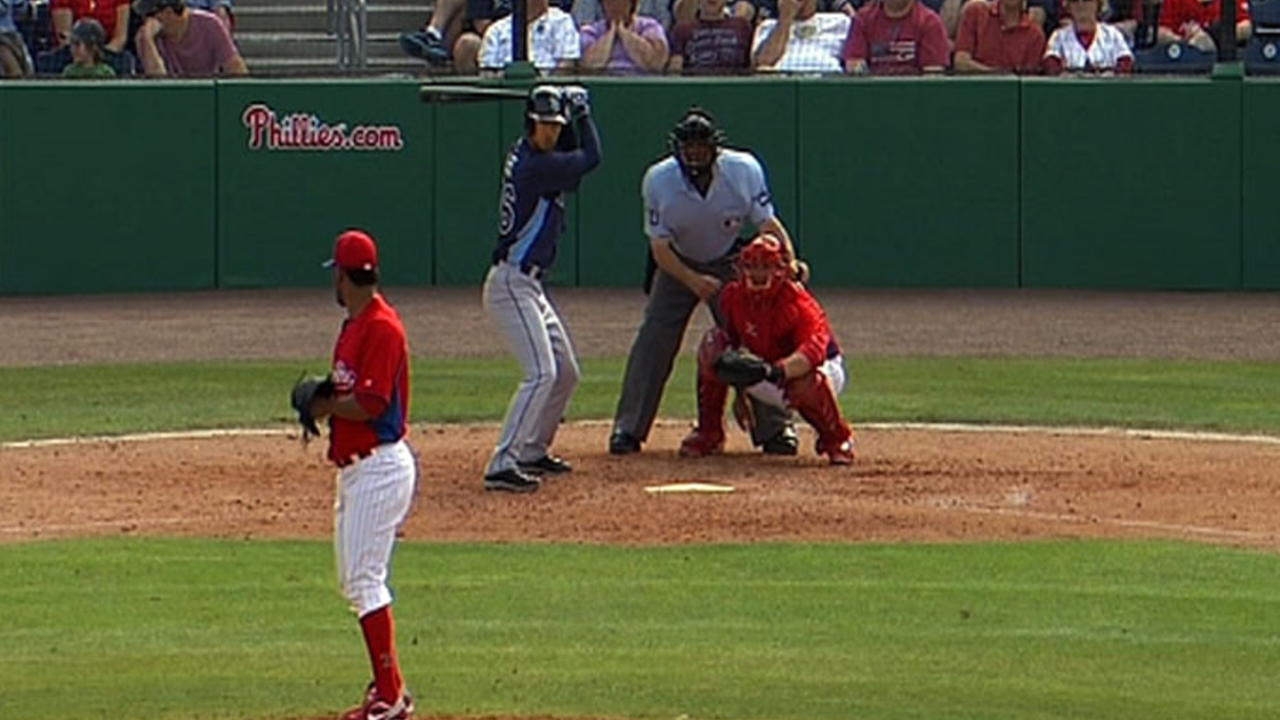 • Friedman said dealing with the Rays' seven arbitration-eligible players, including David Price, is his top priority leading up to Friday's 1 p.m. ET deadline to exchange figures. But Tampa Bay's front office is still "tinkering" with the roster, he said, though he added he has "no idea" if the roster will change at all before Spring Training begins.
"We're focused on how we can get every bit of value out of our 40-man spots, and also the depth behind it," Friedman said. "There are certain areas that we don't feel as covered as we'd like to, so we're kind of playing around with different scenarios of ways to address that."
• The Rays' season opener against the Blue Jays on March 31 will begin at 4:10 p.m. ET. Most of their Monday-Friday games will still start at 7:10 p.m. and Sunday games at 1:40 p.m. Saturday games will begin at 1:10, 4:10 or 7:10 p.m.
• Lukevics said shortstop prospect Hak-Ju Lee, who missed almost all of last season after tearing ligaments in his left knee, is recovering well and should be ready for Spring Training.
"Everything's expected for him to start the season, but there's a lot of offseason left," Lukevics said. "We're very encouraged with Hak and have our fingers crossed, because he's a key component for our organization."
• Held back by pitch-count limits each of the past two seasons, Jesse Hahn expects to be at full strength come Spring Training. The 24-year-old right-hander, a sixth-round pick in 2010 out of Virginia Tech, said he feels he is "at that stage where I can stay healthy throughout a season. ... I'm really looking forward to that."
Hahn, who was added to the 40-man roster this winter, hasn't been told yet if he'll be restricted to a certain number of innings in 2014, or where he'll be pitching, "but I'm going to go in there and compete for a spot, wherever that takes me."
• Shortstop Jake Hager will begin next season at Montgomery, Lukevics said. The 20-year-old hit .258/.318/.305 in 113 games for Charlotte last season and can make all the routine plays at his position, according to Lukevics. Drafted 32nd overall out of high school in 2011, Hager said he was "very excited" to be moving up and feels "real comfortable" knowing that Tampa Bay believes in him as a shortstop.
Adam Berry is a reporter for MLB.com. Follow him on Twitter at @adamdberry. This story was not subject to the approval of Major League Baseball or its clubs.