Speculation on Price's future rampant as Rays pack up
Speculation on Price's future rampant as Rays pack up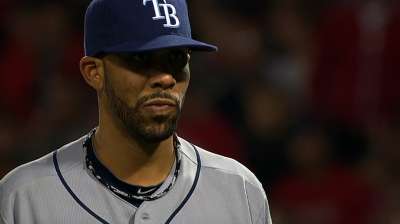 ST. PETERSBURG -- Tampa Bay's biggest question during the offseason is whether David Price will be back with the team in 2014.
Speculation about trading the 2012 American League Cy Young Award winner is already rampant. Other options for the Rays include going to arbitration with him or signing him to a long-term deal.
Rays players cleaned out their lockers on Wednesday afternoon after their season ended in the early morning with a 3-1 loss to the Red Sox. Price cleaned out his locker and did not stick around to talk to reporters, but he did speak via a conference call on Wednesday night.
When asked how he was approaching the offseason with all the uncertainty surrounding his situation, Price was candid.
"I mean it's definitely something that weighs heavy on my mind," Price said. "It's not something that I have discussed with Andrew [Friedman, executive vice president of baseball operations] or anything like that. But see what happens in the next couple of months and take it from there."
Pressed further for what he felt in his gut, Price replied: "If you go from what's kind of been done in the past, I guess you're going to have to think you're going to get traded. That's kind of the way it's happened with this organization with pitchers when they get to this period of their career. We've seen it happen a couple of times already. And I don't know what's going to happen. But I know what's happened in the past."
In recent years, the Rays traded Matt Garza to the Cubs following the 2010 season and James Shields to the Royals after the 2012 season.
Price said he wasn't frustrated or disappointed by his situation.
"It's just part of baseball," Price said. "I've seen it going on, so it's something I've prepared myself for."
Fellow starter Alex Cobb realizes there's a chance of not having Price back as a teammate next season.
"I've given it a lot of thought and so has he," Cobb said. "It's a sad thought. It really is, because this group has gotten really close. David has really morphed into our go-to leader, our go-to guy that we look to for direction. It's not a thought that I want going on the whole offseason. I really hope they can figure something out, and at least squeeze another year out of him and hopefully longer. I know it's been a thought in all of our minds this year that it could be our last year together. It's been tough at times to think about that."
Cobb was asked if the Rays had enough pitching to pick up the slack if Price was moved elsewhere.
"You're not going to fill that," Cobb said. "Just like you're not going to fill James [Shields] when he left. You're taking a huge chunk out of this rotation, and nobody can replace the Cy Young, you know. We'll have to make do with what we have. But he won't be replaced."
Added Evan Longoria: "I mean, sometimes the decision is taken out of your hands. I know if David had his way, he would be here. And if I had my way, he would be here also. ... It's not only what's in the best interest of the player, but the organization as well. ... I'd be very disappointed not to have David. He's been that leader for us. He's been a face in this city and a face for this franchise. It remains to be seen what happens, and hopefully he's here next year."
Rays manager Joe Maddon noted that the Rays are faced "with a lot of this stuff on an annual basis."
"That's part of who we are," Maddon said. "We understand. I'm hoping that it will turn different and he will be here. I don't know how it's going to turn out. Players like David Price, you always want to have on your side."
Friedman said the Rays "don't comment on what ifs," but he did offer praise for what Price has done for the organization on and off the field.
Bill Chastain is a reporter for MLB.com. This story was not subject to the approval of Major League Baseball or its clubs.