Maddon staying even-keeled in tight spot
Maddon staying even-keeled in tight spot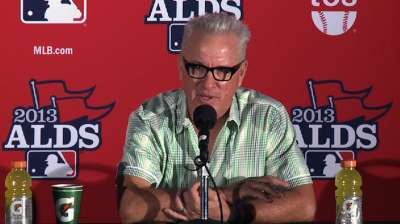 ST. PETERSBURG -- Even though the Rays were facing the prospect of elimination, manager Joe Maddon's demeanor was no different on Monday than any other day hours before Game 3 of the American League Division Series vs. the Red Sox.
"I swear to you, no, [the mood is the same]," Maddon said. "I don't look at it any different. I'm thinking about [Jeremy] Hellickson pitching tomorrow. What's going to happen after that? But not getting too far into the future. Just about winning tonight's game. Trying to set it up to win tonight's game, but definitely believing tomorrow's going to happen."
Maddon noted that his team's mindset is anything but uptight.
"They've been good. We didn't play well in Boston, no question, we did not," Maddon said. "But it wasn't because we were too tired or anything. We just didn't play well. They beat us. But it wasn't because we were lacking in any area. They just beat us."
Maddon finds himself in the difficult position of using virtually any player just to advance to Game 4 without looking too far forward.
"The difference between today's game and what we've just gone through [was] there was a bigger bench," said Maddon, citing the fact that the Rays do not have an expanded roster as they did in September.
"... Even the Cleveland game was a bigger bench, because it was a Wild Card Game, you were still able to stack the bench [because it was just one game]. You felt more comfortable doing things earlier [in the game]. This is a regular-season kind of an affair. You still do whatever you can to win this game, absolutely, but you don't have the same kind of backup you had in the previous moments, in the September games. … It's different."
Bill Chastain and Adam Berry are reporters for MLB.com. This story was not subject to the approval of Major League Baseball or its clubs.