Price issues apology for Twitter comments
Price issues apology for Twitter comments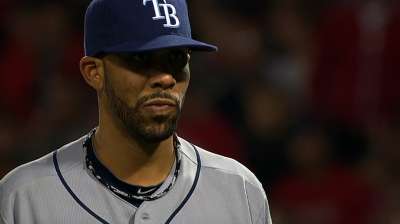 ST. PETERSBURG -- Rays left-hander David Price issued an apology via his @DAVIDprice14 Twitter account Sunday afternoon for several comments he posted late Saturday night, including one critical remark about two analysts on the TBS postgame show.
Price tweeted at 2:40 p.m. ET on Sunday that "Last night got out of hand and I apologize for the things that I said on here...if I offended you I am very sorry for doing so...#thatsnotme."
Price, who gave up seven runs against the Red Sox and lost Game 2 of the American League Division Series at Fenway Park on Saturday, was not available to speak to the media at Tampa Bay's optional workout at Tropicana Field on Sunday.
Last night got out of hand and I apologize for the things that I said on here...if I offended you I am very sorry for doing so...#thatsnotme

- David Price (@DAVIDprice14) October 6, 2013
"I don't want to take one isolated incident and try to make more out of it than it actually is. I have a lot of faith in David," Rays manager Joe Maddon said. "I think David did the right thing after he had done the wrong thing. And I believe in the future, you're going to see better judgment."
A few hours after Game 2 ended, Price responded to a few fans' tweets about his performance, his career, fellow Vanderbilt alum Sonny Gray's outing for the A's and, eventually, his faith that the Rays will bounce back from two ugly losses in Boston. Shortly afterward, Price sent a tweet that was critical of TBS analysts Dirk Hayhurst, a former Rays pitcher, and Tom Verducci, a well-regarded national baseball writer.
Hayhurst jokingly referenced the comment on his own Twitter account, @TheGarfoose, while most of the TBS crew downplayed the situation and reacted with humor on Sunday's pregame show. Maddon said he had only seen one of Price's Twitter posts before hearing that Price had apologized.
"Dangerous world we live in D -- the ability to put out information so quickly, you really need to process it before you hit the send button. We all do. I haven't seen the apology, but through that, [he] probably has reconsidered what he had written and, obviously, felt as though what he had written was incorrect," Maddon said. "I appreciate the accountability. I really don't like to censor our guys. Where we live in this country, obviously, freedom of speech is everybody's prerogative.
"Sometimes, when we have that freedom, we choose to make bad decisions with it. However, we still have that freedom. Hopefully, in a moment like this, he's going to learn from that and you're not going to see it again."
Maddon has always encouraged his players to speak freely, and said he didn't have any interest in a social-media policy like many college athletic programs employ.
"We have media training from Spring Training, where we try to cover all of these items. Again, I really hate to try to legislate behavior when it comes to those kind of moments," Maddon said. "Just like your kids, you try to give them the right thoughts or right ideas, the correct word is warn them in advance of the potential consequences. But sometimes you've got to make a mistake in order to come out on the other side and be better for what you do.
"I don't like legislating anything, actually, when it comes to personal behavior. I do like trying to set a good example or trying to conversationally. If you ask me, I'm going to tell you what I think. I don't necessarily try to impose my morals on you, even as a manager. I think philosophically with us, I've talked about it a lot, one of our strengths is that we do permit a lot of freedom. When you permit a lot of freedom, you normally get a lot of respect in return from accountable people. And I think that's what you normally get here."
Bill Chastain is a reporter for MLB.com. Adam Berry is a reporter for MLB.com. Follow him on Twitter at @adamdberry. This story was not subject to the approval of Major League Baseball or its clubs.