Maddon: Rays were 'out Fenway-ed' in Boston
Maddon: Rays were 'out Fenway-ed' in Boston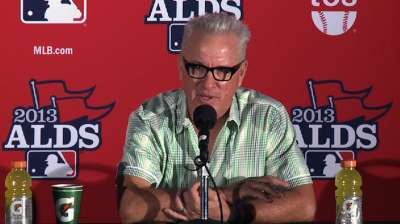 ST. PETERSBURG -- Manager Joe Maddon introduced a new term Saturday night for what happened to the Rays over two uncharacteristically sloppy losses to the Red Sox in Boston.
"I think we got out Fenway-ed," Maddon said after a 7-4 loss in Game 2. "The ballpark itself, the quirks that they're used to, we were not used to enough to play them properly. I'm not complaining. I'm just saying that's what happened."
Indeed, Tampa Bay's left fielders struggled to handle Boston's line drives and high fly balls off the Green Monster in Games 1 and 2 of the American League Division Series, with those miscues contributing to some of the Red Sox's 19 runs over the weekend.
"I don't want to take anything away from what Boston did these last two games. They're a very aggressive offense. They played to their advantages of their home ballpark," said right-hander Alex Cobb, who will start Monday's do-or-die Game 3 at Tropicana Field (Monday, 6 p.m. ET on TBS). "There's a lot of balls hit off that wall that were typical outs here, a lot of balls finding holes for them, a couple of 90-feet doubles they hit.
"I felt we pitched a lot better than what the box score looked like. I'm not taking away those 19 runs that they got, but there's definitely a different game to be played outside of Fenway Park. ... The game is played differently in Tropicana than Fenway Park."
Third baseman Evan Longoria pointed out the obvious -- that Tampa Bay will have an advantage playing at home -- but he didn't seem surprised that Boston played so well at Fenway. Longoria said he always expects the home team to win each game, so he likes the Rays' chances Monday and in a potential Game 4 on Tuesday.
Red Sox manager John Farrell wasn't quite buying into that idea, as Boston has plenty of experience at the Trop, but he did admit that the Rays might have indeed been "out Fenway-ed" in the first two games.
"I think we've all seen that Fenway can create some interesting moments. Our left-handers have the ability to go the other way quite frequently. And they can take advantage of that wall, which I think played out in the first two games," Farrell said. "But regardless of where balls landed, it comes back to ... the baserunning side of it. Our guys get a good read on it, because of the familiarity and number of games played in there, and we can be that much more aggressive running the bases after a ball caroms off the wall. And I think we were able to tack on a run or two over the first two games."
Bill Chastain is a reporter for MLB.com. Adam Berry is a reporter for MLB.com. Follow him on Twitter at @adamdberry. This story was not subject to the approval of Major League Baseball or its clubs.