Maddon proud of how Myers is handling mistake
Maddon proud of how Myers is handling mistake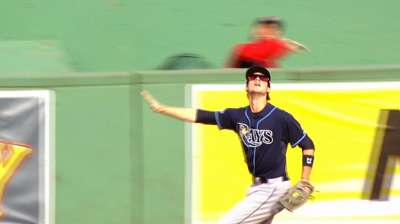 BOSTON -- Wil Myers' botched play in the fourth inning of Game 1 on Friday was the kind of gut-wrenching incident that a lot of players might have a problem putting behind them.
But manager Joe Maddon doesn't believe Myers' missed fly ball will lead to any problems. Why? Because a smiling Maddon noted that the rookie right fielder is "oblivious" to such things.
"I visited with him last night and this morning," Maddon said. "I assured him that I threw an interception once when I was in high school. ... Well, it was more than one, but one that was critical."
Maddon feels that Myers has handled the situation "great."
"Not good," he said. "Great. He couldn't have handled it any better by his accountability postgame. I didn't hear it or see it, but I was told how accountable he was in the moment, and I think that is a true indicator of why he's going to be as good of a player as we think he is."
Myers does not feel that he'll have a problem putting Game 1 behind him.
"You know what? It's something that happens," Myers said. "It wasn't a non-hustle play, and it wasn't a mental lapse. It was one of those things where I thought [center fielder] Desmond [Jennings] was right behind me waiting to make the catch, and I didn't want to bump into him to interfere with the catch.
"Looking back on it, he wasn't even close to me. So it's one of those things that happen. It happens to everybody, but it was tough that it happened like ... it did yesterday, in a big game. It's one of those things where we have to rebound as a team and come out today."
Myers is appreciative of the treatment he received from his teammates.
"I thought it was big when I first came into the clubhouse today, and [Game 1 starter] Matt [Moore] came up to me and was like, 'Hey, man, don't worry about it. Those things happen,'" Myers said. "I felt like everybody on the team was behind me. They didn't hold it against me at all, for something like that, in that big of a situation that changed the momentum of the game that much. I thought it was big of my teammates to do that."
Myers watched the play for the first time on Saturday.
"It looked a lot different than what I thought happened," he said. "The camera view I saw there, it was following the ball all the way, so it wasn't on me or Desmond. And all of a sudden, when it came down, it just had me kind of running away from the play.
"I kind of thought I'd just backed away, but it looked like I literally just ran in away from the ball. But you know, it's one of those things that just happen, and you learn from it with the crowd as loud as it was. You just have to learn and not let it happen again."
Myers has no animosity for the Boston fans, who tauntingly chanted his name after his miscue.
"I just think they are knowledgeable fans, and they knew that what had happened was a big play," he said.
Bill Chastain and Adam Berry are reporters for MLB.com. This story was not subject to the approval of Major League Baseball or its clubs.