Hellickson on tap to start Game 4, if necessary
Hellickson on tap to start Game 4, if necessary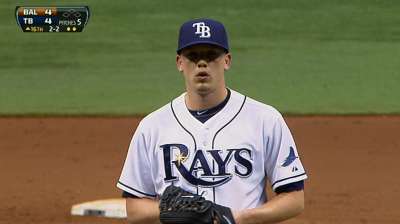 BOSTON -- Jeremy Hellickson knew that he wasn't necessarily guaranteed a chance to pitch in the postseason, not after a frustratingly inconsistent season that ended with his posting a 5.17 ERA.
But he found his name on Tampa Bay's American League Division Series roster, and if this series against Boston goes beyond three games, he'll find himself on the mound starting Game 4.
"I am very happy. It's a little fortunate. I haven't really given them a good reason to send me back out there these last few months," Hellickson said. "It's really nice that they still have confidence in me to go out there. Hopefully, it doesn't even go to a Game 4, but if it does, I'm glad I'm going to be that guy."
Considering how poorly this year has gone for him, Hellickson is excited about the chance for a "new beginning."
"The last few years, I felt confident every time I went out there," he said. "That's not saying I haven't these last couple of months, but it kind of gets to you a little bit when you're going out there every five days and coming out before the fifth.
"I'm confident. I know what I can do out there, what I'm capable of doing. It's just a matter of going out there and doing it. I'm feeling really good. Bullpen [session] went really good. Body's feeling great. So I've just got to go out there and put it together."
Manager Joe Maddon said the Game 4 assignment could change if Hellickson has to work in relief before then, but for now, Hellickson is set to start on Tuesday. Maddon picked Hellickson over Chris Archer because of "little esoteric stuff" regarding the way Hellickson matches up with Boston's lineup. Hellickson has made three solid starts against the Red Sox this year, going 1-0 with a 3.44 ERA and 20 strikeouts over 18 1/3 innings.
Archer, meanwhile, could be used in long or short relief against the Red Sox.
"I still think [Archer] has some meaningful innings, whether it's [as] a starter or reliever, the rest of the postseason," Maddon said.
Bill Chastain and Adam Berry are reporters for MLB.com. This story was not subject to the approval of Major League Baseball or its clubs.