MLB.com Columnist
Anthony Castrovince
Rays prove they're a difficult out
Rays prove they're a difficult out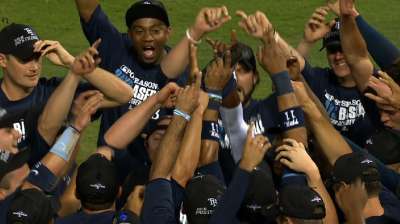 We wrap up with the Tampa Bay Rays, who locked up the second AL Wild Card spot by beating Texas, 5-2, in Game No. 163.
In Major League Baseball, there is a big difference between surging into relevance one year and sustaining that standing over a serious stretch of time.
That's what makes the Rays' low-budget behemoth status so impressive. Their run to the AL pennant in 2008 was the beginning of an era in which the Rays -- a veritable laughingstock for the first 10 bedeviled years of their existence -- have established themselves as an AL elite, despite payroll limitations and divisional difficulty.
And that era has continued in 2013, in the dramatic fashion of a tiebreaker victory over the Rangers on Monday night in Arlington.
The Rays have five 90-win seasons since 2008, the most in the Majors in that span. And now, in the AL Wild Card Game on Wednesday night in Cleveland on TBS at 8:07 p.m. ET, they'll be making their fourth postseason appearance in the past six seasons. Only three other teams -- the Yankees, Cardinals and Phillies, each with four appearances -- share that trait.
So no matter how Wild Card Wednesday turns out, know that the Rays remain a savvy, sophisticated and all-around special organization, with a culture that ekes the most out of the assembled talent. Before a game, you might find a cockatoo, a magician, some penguins, a DJ or perhaps even a python in their locker room. After the game, you might find a few of them shaking hands while wearing a Chewbacca or Kiss costume.
Between the lines, though, the Rays are all business.
If there was any fear that the Rays might take a competitive step back this season with James Shields and his bankable 200 innings taken out of the picture, those fears were alleviated not just by the way Wil Myers easily assimilated to the big leagues, but also in the way Chris Archer assisted a rotation that lost David Price, Matt Moore and Alex Cobb to injuries for significant stretches and could have gone off the deep end.
That's the way the Rays are built. That's the way they have to be built. And it is a credit to Andrew Friedman, Joe Maddon and Co. that, in 2013, the Rays built yet another contender from a cast of homegrown talent in Evan Longoria, Price, Moore and Desmond Jennings, wily acquisitions in Myers, Archer, Yunel Escobar, Kelly Johnson, Ben Zobrist, Matt Joyce and Alex Torres, and reclamation projects in James Loney, Delmon Young and Fernando Rodney.
There was certainly frustration on the part of the Rays in the way the final weekend of the season unfolded. In control of the top spot in the AL Wild Card standings, they dropped two of three in Toronto to necessitate the tiebreaker. Now, they'll be playing another win-or-go-home against a rested Indians club that has won 10 straight.
But the Rays are an extremely difficult team to count out at this or any stage of October. They generally don't beat themselves in the field, and their pitching is so often poised and prepared.
Play not just one but two must-win games in succession just to get to the Division Series is a huge hurdle. But if any organization knows how to leap hurdles, it's the Tampa Bay Rays.
The bats: The Rays ranked ninth in the 15-team AL with 4.29 runs per game. There was a stretch from Aug. 24-Sept. 11 when the bats were averaging an MLB-worst 2.67 runs, and it seemed the offense might cost the Rays an October opportunity. They righted themselves, however, and in the final analysis, they received better-than-average offensive production from seven positions, with a big boost from Myers in the final 3 1/2 months and even some encouraging output from late-season addition Young in the designated-hitter spot down the stretch.
The arms: This was definitely more of an uphill battle for the pitching staff than the Rays, who had the top rotation ERA in all of baseball last season, are accustomed to. For starters, they had to use a free-agent acquisition -- Roberto Hernandez -- in their rotation for the first time since 2005, and Hernandez certainly had his ups and downs. Jeremy Hellickson regressed, and Price, Moore and Cobb all spent time on the disabled list. In the bullpen, Rodney came back down to earth after his absurd 2012. But the Rays nonetheless wound up with the fifth-lowest staff ERA in the AL, with a very respectable mark of 3.74, all things considered.
The MVP: Maybe someday Myers will supplant him in this standing, especially if Myers' standout first September (.918 OPS), which made such a difference this season, is any indication. But Longoria is such a game-changing presence on both sides of the ball (6.0 WAR), and he remains the Rays' MVP, as demonstrated so convincingly in his performance in the tiebreaker against Texas.
The ace: On May 15, Price left his start against the Red Sox with a 5.24 ERA. And triceps soreness. When he went on the DL, it seemed his 2013 season was going to be absolutely brutal. But since returning July 2, Price has very closely resembled the guy who earned the AL Cy Young Award a year ago, and on Monday night, he stepped up in a must-win setting against a Texas team that had given him fits in his career. The expectation is that at some point -- perhaps even this winter -- the Rays might have to swallow hard and move Price elsewhere to restock their system before he reaches free agency. For now, though, they enter October with an ace at the top of his game.
The unsung hero: He's 38 and he's in his 18th Major League season. That's not a typical point for a guy to reach his peak, but Jamey Wright has done it. Wright has been an essential weapon in the Rays bullpen, working in any role in any situation and delivering, with a 3.09 ERA through 70 innings. One of the Rays' great strengths over the years has been their ability to build an effective bullpen on the cheap, and Wright is the latest example of an unheralded addition who has made a big impact.
The pressing question: No team in history has had to play back-to-back must-win games against different teams (and yes, we'll regard the tiebreaker as a playoff, even if it was technically part of the regular season). Will the Rays be invigorated or exhausted by the experience?
Anthony Castrovince is a reporter for MLB.com. Read his columns and follow him on Twitter at @Castrovince. This story was not subject to the approval of Major League Baseball or its clubs.