Stumble sets Rays up for quite a Wild finish
Stumble sets Rays up for quite a Wild finish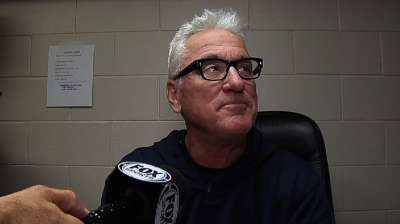 TORONTO -- With a 7-2 loss to the Blue Jays on Saturday, Tampa Bay has now lost two in a row after winning seven straight.
Despite the losses, the Rays have still won 12 of their last 17 games. Meanwhile, the Indians and Rangers have rolled on. Rays manager Joe Maddon saluted his team, along with its competition, for how well they have played down the stretch.
"It's been great," Maddon said. "The fact we've been running the table. We hiccuped a little bit yesterday, and the other teams did not. But we've got to keep going. It's just been really fascinating, nobody wants to give in. And it's been really tightly contested, and it's been interesting. And we're still in that situation to control our own fate."
Earlier in the month, each of the teams now contending for the Wild Card seemed stalled in the playoff push.
"It went on for a while that nobody seemed to want to get this thing," Maddon said. "We just started to play better regarding offense, I think as much as anything. We continue to pitch as normally, and defense. Last night was unusual for us, defensively. But I think our offense has pick up a bit to the point that's what's permitted us to be as hot as we've been."
Bill Chastain is a reporter for MLB.com. This story was not subject to the approval of Major League Baseball or its clubs.