Rolling Rays relish stretch run
Rolling Rays relish stretch run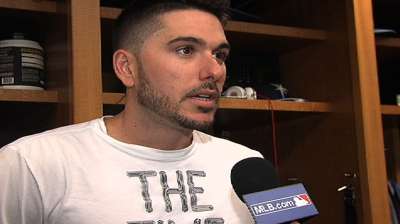 TORONTO -- The Rays carried a seven-game winning streak into Friday night's game against the Blue Jays. The buzz generated by that success can be felt in the clubhouse.
Jose Molina knows what it feels like for a team to be on a roll, since he played for the 2002 Angels when they went on a tear to win the World Series. The veteran catcher said the team now has that same feeling.
"But there was a time where I didn't have the feeling," Molina said. "When we were in Minnesota, and the series before that here at home. I didn't feel that from the guys, like they wanted to win. I just saw something different. But as soon as we hit that series with Baltimore, it just changed everything.
"Everyone was into the game and we got the sweep. And they were in the game all four games. So that tells you that their heads were in that series."
Evan Longoria noted that the prize is in front of the Rays.
"It's right there," Longoria said. "We've put ourselves in a good position. All we have to do is go out there and continue to play the game the way we've been playing and not tighten up and have some fun.
"The game is still fun, even if you struggle personally. I've said it before and I'll say it again. If we win the World Series, it will be my best year. No matter how I did personally, because there's no more satisfying feeling than being the best team at the end of the year."
Longoria noted that he tweeted a while back that the "real power of a team, a united group, is immeasurable."
"And I feel like we've really gotten on that roll the past week or two weeks," Longoria said. "And that's the kind of thing that you need to ride into the playoffs and just be an unselfish group of baseball players that is just unified in one goal, and that's just winning the game no matter what."
Bill Chastain is a reporter for MLB.com. This story was not subject to the approval of Major League Baseball or its clubs.