Myers has some fans in Darling, Ripken
Myers has some fans in Darling, Ripken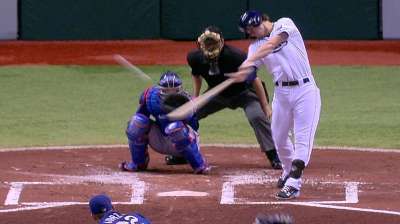 NEW YORK -- TBS held a postseason conference call on Thursday, and former Major Leaguer and analyst Ron Darling had this to say about Wil Myers:
"When I watch him hit, no batting gloves, old school, he reminds me of [the Flintstones' Bamm-Bamm], how he would hit," said Darling. "He just stands in there and dares you to throw it over the dish. He doesn't even follow through. He just swings and pounds it. In this day and age, when guys have the perfect swing, get the head out here, head on the ball, all those teaching tools, Wil Myers just seems to swing and hit it. Old school."
Added Cal Ripken: "To me it seems like he's not intimidated, a big swing with tremendous amount of power, can make adjustments. With the newness of the league, you go through it and you have quick success and it goes away. But he seems to make adjustments. It's important to have the physical talent to play well, but what happens when the pitchers start changing up how they pitch to you, do you make the adjustments? That's what impresses me about him."
Bill Chastain is a reporter for MLB.com. This story was not subject to the approval of Major League Baseball or its clubs.