Jennings, Lobaton, Escobar out of Wednesday's lineup
Jennings, Lobaton, Escobar out of Wednesday's lineup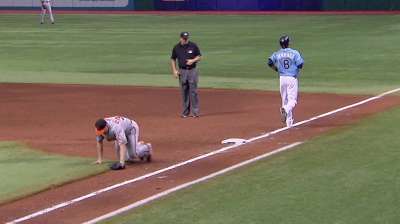 NEW YORK -- Center fielder Desmond Jennings, shortstop Yunel Escobar and catcher Jose Lobaton were all out of the starting lineup on Wednesday night due to injuries.
Jennings, who has a strained left hamstring, did step up his activity prior to the game.
"First time I actually did anything as far as running or anything like that, but it was all right," said Jennings, who has not played since leaving Sunday's game against the Orioles in the sixth inning. "Just went and jogged a little bit, just to see where we stood right now. It was all right. Obviously, it's not like I can go all out right now, but it's a start."
Escobar and Lobaton had to leave Tuesday night's series opener against the Yankees because of a sore left ankle and a bruised right elbow, respectively.
All are considered day to day. Manager Joe Maddon indicated that Jennings had improved enough to where he might be available for pinch-hitting duties on Wednesday. Lobaton and Escobar were also available to play.
Bill Chastain is a reporter for MLB.com. This story was not subject to the approval of Major League Baseball or its clubs.