Odorizzi reveling in first Major League save
Odorizzi reveling in first Major League save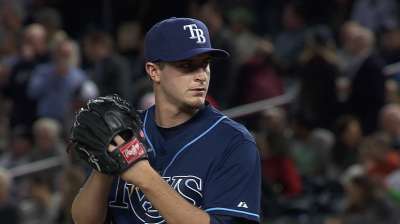 NEW YORK -- Jake Odorizzi pitched three scoreless innings on Tuesday night to record his first career Major League save and first professional save since April 11, 2010, when he pitched for the Class A Wisconsin Timber Rattlers.
"I got the ball and gave it to [equipment manager Chris Westmoreland to be saved]," said Odorizzi, ranked by MLB.com as the Rays' No. 2 prospect.
Usually a starter, the 23-year-old right-hander was recalled on Friday from Triple-A Durham and pitched 3 2/3 scoreless innings in that night's 18-inning win over the Orioles, giving him his first career scoreless appearance.
"It's fun [being in the bullpen during the game]," he said. "It's not like it's a chore."
Despite recording a save, Odorizzi isn't about to come up with any kind of display along the lines of Fernando Rodney's firing of an imaginary arrow.
"I think I'll just stick with high-fiving [catcher] Jose [Molina]," he said.
Rodney laughed when asked about the team's newest closer, Odorizzi.
"Three-inning save, he can have that," Rodney said.
In his last four appearances (two starts) spanning two stints with the Rays, Odorizzi has a 1.04 ERA and 10 strikeouts. He has made it clear that he will do anything to stay with the team, especially during a pennant race.
Bill Chastain is a reporter for MLB.com. This story was not subject to the approval of Major League Baseball or its clubs.