Rays lose Escobar, Lobaton; both day to day
Rays lose Escobar, Lobaton; both day to day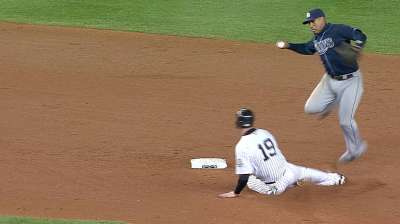 NEW YORK -- Rays shortstop Yunel Escobar and catcher Jose Lobaton had to leave Tuesday night's series opener against the Yankees due to injuries.
Escobar has a sore left ankle, and Lobaton has a bruised right elbow. Both are considered day to day.
In the bottom of the fourth, Yankees catcher Chris Stewart slid hard into Escobar, who was covering second base on a forceout with Ichiro Suzuki at the plate. Escobar remained in the game, but when his turn to bat came in the top of the fifth, Kelly Johnson pinch-hit for him.
Ben Zobrist moved from second base to shortstop, while Johnson filled Zobrist's spot at second.
Lobaton caught through the fifth inning before Jose Molina pinch-hit for him in the sixth and took over the Rays' catching duties.
Bill Chastain is a reporter for MLB.com. This story was not subject to the approval of Major League Baseball or its clubs.