Gomes a fresh, reliable arm out of Rays 'pen
Gomes a fresh, reliable arm out of Rays 'pen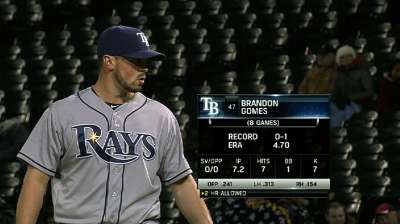 NEW YORK -- Brandon Gomes has been a force out of the Rays' bullpen in recent outings.
The right-hander entered Tuesday's series opener against the Yankees having recorded the win in three of his last six appearances. On Monday, he entered Tampa Bay's 5-4 win over the Orioles in the top of the fifth to face Adam Jones after Chris Davis walked with one out. Gomes struck out Jones swinging for the second out, then gave way to Alex Torres.
Gomes struck out both batters he faced on Sunday against the Orioles, and on Wednesday against the Rangers, he struck out Ian Kinsler swinging to end the inning before the Rays won, 4-3, in walk-off fashion in the 12th.
Gomes missed much of the season with a right lat strain, but he now feels healthy and fresh.
"I felt good earlier in the year, prior to the lat strain, but I feel like right now, mechanically, it's the best I've felt in a couple of years," Gomes said.
Gomes has not been scored upon in his last six outings and has allowed just two baserunners while striking out five in 3 2/3 innings. His recent success followed a rough outing against the Angels on Sept. 2, when he allowed four runs in two-thirds of an inning.
In the aftermath of that outing, Gomes rediscovered a missing element to his mechanics.
"I got kind of hit around by the Angels," Gomes said, "so I went back and looked at some film and kind of adjusted some things. I went back to what I had been doing prior to last year. I just feel like I have a little more whip in my arm and better control of my offspeed stuff. I'm just trying to continue to do it and pick the team up whenever I can."
Gomes is healthy, he's found his mechanics and he's fresh at a competitive time of the season, which are all pleasing aspects to the native of Fall River, Mass.
"Things happen for a reason," Gomes said. "I have a lot fewer appearances than a lot of these guys. The fact that I am fresh, comparatively speaking, is a good thing. I can pick up some guys if they're tired or need a day here or there. I'll gladly take the ball whenever they need me.
"We're all here to pitch in big games. I think we all thrive in that situation, and that little extra adrenaline definitely helps, as far as sharpness."
Bill Chastain is a reporter for MLB.com. This story was not subject to the approval of Major League Baseball or its clubs.